BUSINESS NEWS
Plans to ease rules for pubs and restaurants serving customers outside during coronavirus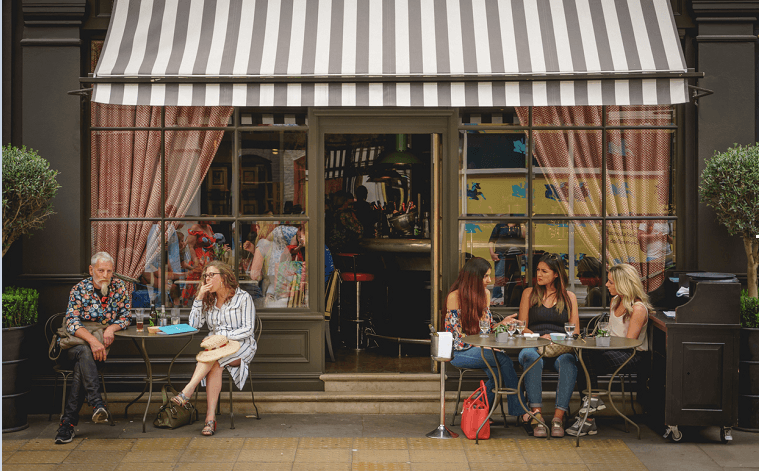 ---
Posted: Fri 26th Jun 2020
The government has announced plans to simplify regulations so pubs, bars and restaurants in England can more easily serve customers outdoors while the COVID-19 pandemic continues.
The proposals will mean hospitality businesses can use car parks and terraces as dining and drinking areas.
Other changes will allow outdoor markets, pop-up car-boot sales and summer fairs to be set up without a planning application and temporary licensing law changes will allow more premises to sell alcohol for consumption off the premises.
In addition, the government intends to reduce the consultation period for applications for pavement licences from 28 calendar days to five working days and grant consent after 10 working days if the council does not respond. A lower application fee for a pavement and street cafe licence of up to £100 will also be set.
The measures are aimed at helping food and drink businesses trade safely during coronavirus. It follows the announcement by prime minister Boris Johnson that pub, bars and restaurants in England can welcome customers back on 4 July.
The two metre social distancing rule has been reduced to one metres but there are several safety measures companies need to introduce including keeping a temporary record of customers and visitors for 21 days.
Communities secretary Robert Jenrick said: "I know we all look forward to seeing our pubs, cafes and restaurants open their doors again and I'm determined to give them a helping hand to get back on their feet and their staff back to work safely.
"That's why we are introducing changes to make it quicker, easier and cheaper for them to set up outdoor seating and street stalls to serve food and drink."
The alcohol provisions apply to England and Wales. Other measures apply to England only.
Several councils are making efforts to help businesses by closing streets to vehicles as well as other measures.
In Bristol, the Street Space programme involves closing several streets so that bars and restaurants can use the area for serving customers
Similarly in Liverpool, roads are being closed to traffic as part of the Liverpool Without Walls scheme which also provides grants of up to £4,000 to purchase furniture to use outside.
Helping founders #OpenforBusiness
Enterprise Nation has resources and case studies to help small businesses of all types reopen and trade successfully during the coronavirus pandemic:
I'm a freelance content creator and event host who helps small businesses and the organisations that support them. I have 18 years of experience as a small business journalist having interviewed hundreds of entrepreneurs from billionaires like Sir Richard Branson to the founders behind brand new start-ups. I've worked for a range of leading small business publications and support groups, most recently as head of content at Enterprise Nation where I was responsible for the prolific output of content on the company's blog and social media. I'm based in Bristol where I run and host regular events with the local small business community and have strong connections to major business organisations in the south west region. In total, I've hosted over 50 events; from intimate meet-ups to conferences with an audience of hundreds including events for international brands like Facebook and Xero. I'm also a big fan of podcasts having hosted Enterprise Nation's Small Business Sessions as well as lots of online events including Facebook Live interviews, webinars and three live web chats from inside 10 Downing Street. With my partner, I co-run Lifestyle District, a lifestyle blog focused on culture, art, theatre and photography. I'm here to help. I'm volunteering free advice calls of up to an hour as part of the Recovery Advice for Business scheme, over the next 6 months. Please get in touch to see how I can help your business.