BUSINESS NEWS
Celebrating small companies that are #OpenforBusiness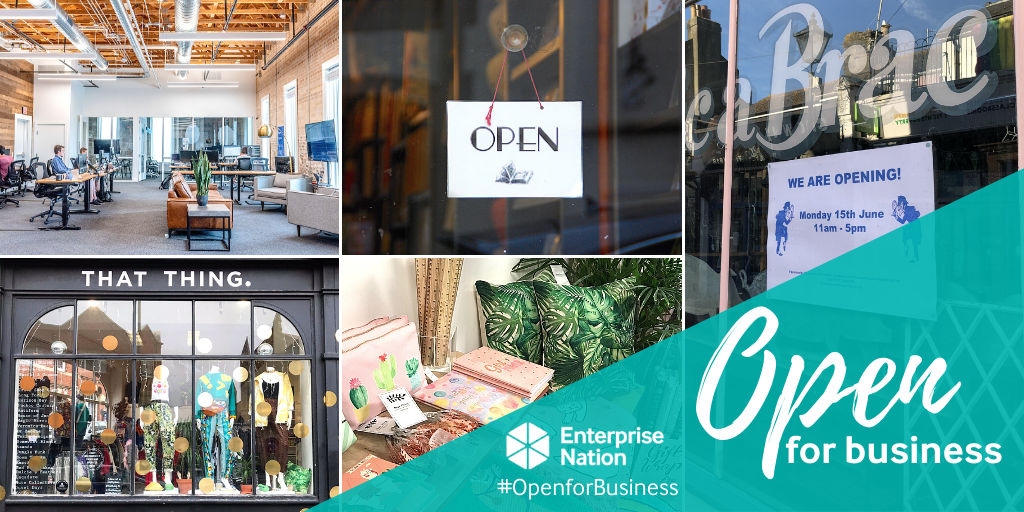 ---
Posted: Mon 15th Jun 2020
With non-essential retailers reopening in Northern Ireland and England, we want to shine a light on small businesses that are trading during the coronavirus pandemic.
As lockdown measures continue to be eased, Northern Ireland became the first part of the UK to allow retailers selling goods other than essential products to reopen last Friday if they comply with safety guidelines.
Stores across England are allowed to do the same today and thousands of shop doors are opening for the first time since the lockdown was announced on 23 March.
One business reopening this week is independent stationery chain Papersmiths. Founder Sidonie Warren furloughed her staff and single-handedly kept the business running online. She told us her story including how stores which usually welcome up to 30 people at once will be restricted to three or four customers.
Bristol fashion retailer That Thing is also trading on the High Street once again. Founder Joh Rindom has faced many challenges having launched her business in 2008 and she's hoping to overcome the latest stumbling block. The shop is reopening with hand sanitiser by the door, a click and collect service and restrictions on the number of shoppers.
Helping founders who are #OpenforBusiness

Even though many can now start selling again, we know it's going to be tough for small businesses. Our shopping experience is very different to what it used to be and we don't yet know how many customers will feel comfortable heading back out to their favourite stores.
But we want to help by promoting those companies that are back open and trading safely to encourage people to support small businesses.
And it's not just retailers. We want to shine a light on other entrepreneurs who are trading through the pandemic including online businesses and business advisers.
To tell us what you're up to, respond to this Twitter post or Instagram post and let us know that you're #OpenforBusiness. We'd love to see pictures of you inside or outside your business too.
You can also download a special badge here and here to let customers know you're around. If you use the badge on social media, make sure you use #OpenforBusiness and tag @e_nation on Twitter or Instagram and /enterprisenation on Facebook.
As well as sharing your posts on social media, we'll also look out for the most interesting stories from Enterprise Nation community members and profile them on the website.
We look forward to spreading the word about how Britain's brilliant small companies are #OpenforBusiness.
I'm a freelance content creator and event host who helps small businesses and the organisations that support them. I have 18 years of experience as a small business journalist having interviewed hundreds of entrepreneurs from billionaires like Sir Richard Branson to the founders behind brand new start-ups. I've worked for a range of leading small business publications and support groups, most recently as head of content at Enterprise Nation where I was responsible for the prolific output of content on the company's blog and social media. I'm based in Bristol where I run and host regular events with the local small business community and have strong connections to major business organisations in the south west region. In total, I've hosted over 50 events; from intimate meet-ups to conferences with an audience of hundreds including events for international brands like Facebook and Xero. I'm also a big fan of podcasts having hosted Enterprise Nation's Small Business Sessions as well as lots of online events including Facebook Live interviews, webinars and three live web chats from inside 10 Downing Street. With my partner, I co-run Lifestyle District, a lifestyle blog focused on culture, art, theatre and photography. I'm here to help. I'm volunteering free advice calls of up to an hour as part of the Recovery Advice for Business scheme, over the next 6 months. Please get in touch to see how I can help your business.