BUSINESS NEWS
Safety guidance for businesses in England that can reopen on 4 July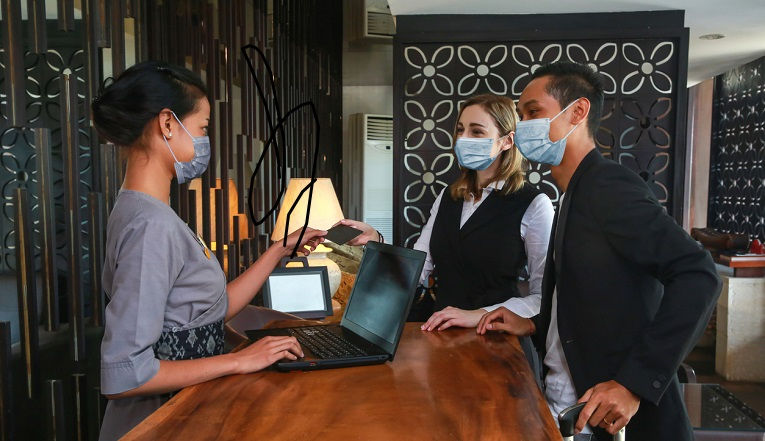 ---
Posted: Wed 24th Jun 2020
The government has published official safety guidance for the businesses in England that can reopen on 4 July.
Prime minister Boris Johnson announced on Tuesday that various businesses can welcome customers back next month.
The government has also reduced the two metre social distancing rule to 'one metre plus'. Where two metres isn't possible, people can stay one metre apart if they take other safety measures such as wearing masks.
The full list of businesses that can reopen in England on 4 July is as follows:
Hotels, hostels bed and breakfast accommodation, holiday apartments or homes, cottages or bungalows, campsites, caravan parks or boarding houses

Places of worship

Libraries

Community centres

Restaurants, cafes and workplace canteens

Bars

Pubs

Cinemas

Bingo halls

Theatres and concert halls, but no live music

Museums and galleries

Hair salons and barbers

Outdoor playgrounds

Outdoor gyms

Funfairs,  theme parks and adventure parks and activities

Amusement arcades

Outdoor skating rinks

Other indoor leisure centres or facilities, including indoor games, recreation and entertainment venues

Social clubs

Model villages

Indoor attractions at aquariums, zoos, safari parks, farms, wildlife centres and any place where animals are exhibited to the public as an attraction
Businesses can only open if they introduce safety measures. General guidance for all businesses including carrying out a risk assessment and developing cleaning, handwashing and hygiene procedures
The government has published the following new guidance for specific sectors:
Key measures include:
requiring use of table service where possible instead of ordering at the bar and assigning a single staff member per table

encouraging use of contactless ordering from tables where available, such as through an app

discouraging non-essential trips by staff within venues, such as between the kitchen and front of house, by using radios and other electronic devices to communicate

encouraging customers to use hand sanitiser or handwashing facilities as they enter the venue

keeping a temporary record of customers and visitors for 21 days, in a way that is manageable for the business. This is to assist NHS Test and Trace with requests for the data and could help contain clusters or outbreaks

Reconfiguring indoor and outdoor seating and tables to maintain social distancing guidelines between customers of different households or support bubbles

managing entry numbers through reservation systems, social distancing markings, having customers queue at a safe distance for toilets or bringing payment machines to customers, where possible

minimising customer self service of food, cutlery and condiments to reduce risk of transmission. For example, providing cutlery and condiments only when food is served

providing only disposable condiments or cleaning non- disposable condiment containers after each use

reducing the number of surfaces touched by both staff and customers such as asking customers to remain at a table or to not lean on counters when collecting takeaways
Close contact services (including hairdressers and barbers): Read safety guidance here.
Key measures include:
as social distancing is difficult, workers should wear a clear visor that covers the face

spacing appointments to allow for frequent cleaning of work areas and equipment between uses

clearing workspaces and removing waste and belongings from the work area at the end of a shift, including not providing magazines in waiting areas

sanitising any reusable equipment, including client chairs, treatment beds, and equipment such as scissors used after each appointment, and at the start and end of shifts

using disposable gowns for each client. Where this is not possible, use separate gowns (and towels in the normal way) for each client, washing between use and disposing appropriately as required
Tourism and visitor attractions: Read safety guidance here
Key measures include:
hotels and accommodation providers to introduce deep cleaning regimes between guests

meal services including breakfasts to be pre-booked and timed

timed tickets to be introduced for exhibitions, theme parks, galleries and attractions to reduce the number of visitors in locations at the same time

one way systems, clear floor markings and a queue management system should be in place to maintain social distancing measures at all attractions and help to limit contact between both staff and visitors

organisations should encourage cashless payments throughout to avoid cross contamination

visitor attractions should introduce regular deep cleaning regimes and some interactive displays should be temporarily closed
Helping founders #OpenforBusiness
Enterprise Nation has resources and case studies to help small businesses of all types reopen and trade successfully during the coronavirus pandemic:
I'm a freelance content creator and event host who helps small businesses and the organisations that support them. I have 18 years of experience as a small business journalist having interviewed hundreds of entrepreneurs from billionaires like Sir Richard Branson to the founders behind brand new start-ups. I've worked for a range of leading small business publications and support groups, most recently as head of content at Enterprise Nation where I was responsible for the prolific output of content on the company's blog and social media. I'm based in Bristol where I run and host regular events with the local small business community and have strong connections to major business organisations in the south west region. In total, I've hosted over 50 events; from intimate meet-ups to conferences with an audience of hundreds including events for international brands like Facebook and Xero. I'm also a big fan of podcasts having hosted Enterprise Nation's Small Business Sessions as well as lots of online events including Facebook Live interviews, webinars and three live web chats from inside 10 Downing Street. With my partner, I co-run Lifestyle District, a lifestyle blog focused on culture, art, theatre and photography. I'm here to help. I'm volunteering free advice calls of up to an hour as part of the Recovery Advice for Business scheme, over the next 6 months. Please get in touch to see how I can help your business.