BLOG
Our favourite business books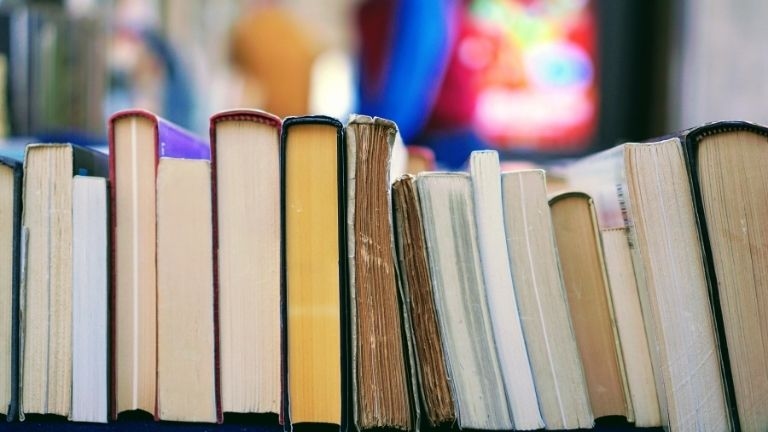 ---
Posted: Mon 27th Mar 2023
Ever read a business book you couldn't put down? We have! We pick them up again, we pass them round and today we're sharing our favourites with you.
Find out what's on Enterprise Nation's bookshelf...
As chosen by Enterprise Nation founder Emma Jones (@emmaljones)
"After reading this book – over a decade ago – I went straight out and bought another 10 copies to send to people who I thought would love it too. I loved it so much, in fact, I begged the US-based author to come and speak about the book in the UK, which he did and for which I'll always be grateful!"

"Not only is it beautifully written, but it's a book that is still as relevant today as it was when first published. That's quite a feat for any author and this one got it spot on. It's also the book that inspired me to start Enterprise Nation. Thank you, Dan Pink."
The Modern Maverick sets out a roadmap for a different way forward. A way that combines purpose and profit. A way that helps you figure out your own definition of success and gives you the courage and tools to pursue it.
It moves beyond a general question around purpose and instead focuses on identifying what you are truly passionate about, what you are uniquely good at, what you can get paid enough for – and how all of that dovetails with what the world needs.
As chosen by Enterprise Nation PR and media whiz Liz Slee (@lizziepin)
"The 80/20 rule is true. And it's often the jobs that will make the most difference and earn you the most points that you tend to put off. Well, I do. I am guilty of procrastination.

"This book makes some very, very obvious points. But they are good points, worth making. Also - it's quite a small and unassuming book.  It doesn't take long to read!"
This book purports to be about the rather dry subject of web usability, but its lessons apply to many aspects of business – from planning to copywriting, web design and marketing.
If you come away with nothing more than the title, you'll learn to put yourself in the shoes of your potential customers and start to build a better business because of it.
Freakonomics by Stephen J Dubner and Stephen D Levitt
As chosen by Enterprise Nation PR and media whiz Liz Slee (@lizziepin)
"Freakonomics is awesome! It's the chaos theory of economics. The co-authors take conventional economic analysis and apply it to some crazy questions – coming up with some bizarre but equally robust and logical conclusions. There's also a website and blog which keeps things up-to-date."
As chosen by Enterprise Nation CMO Lorna Bladen (@lornabladen)
"This thought-provoking pocketbook of anecdotes only took me a few minutes to read, but I revisit it often as it never fails to move me with each simple insight into achieving personal and business success.

"Author Paul Arden is a creative genius and makes you think outside of the box at times when you might be feeling that you can't achieve the unachievable, you might not have the right qualifications, or it simply can't be done.

"Each page shares a real-life example of how individuals and organisations have made the unthinkable happen with fearless determination and creativity. This is the ideal book to have on your desk if you need a bit of oomph now and again!"
This authorised account of Apple founder Steve Jobs's life isn't quite as spotless and gleaming as the Apple products we know and love. Jobs comes across as flawed, difficult, petulant even, but, above all, a single-minded visionary.
One of the best examples of this is Jobs's dogged insistence on controlling the hardware and software experience for its customers. That was tested when Microsoft started to beat Apple by licensing its software to hardware manufacturers, but Jobs's long game and his commitment to quality paid off, when he returned to the company that ousted him and took it to the very top of the business world.
As chosen by Enterprise Nation CMO Lorna Bladen (@lornabladen)
"TOMS founder Blake Mycoskie leaves out the waffly business jargon in this book and shares a transparent insight into the story behind his successful shoe venture.

"What I love most is that this book truly shows that you don't necessarily need to be an expert in your field when starting a business, because Blake knew very little about fashion or retail before launching TOMS.

"However, he's been able to build it to the success it has today by having a focused vision, building a dedicated team and having a relentless passion for a cause to make the world a better place. Great read if you want to start a business that makes a difference!"
Enterprise Nation has helped thousands of people start and grow their businesses. Led by founder, Emma Jones CBE, Enterprise Nation connects you to the resources and expertise to help you succeed.