BUSINESS NEWS
Only 52% of Irish firms feel 'well informed' on sustainability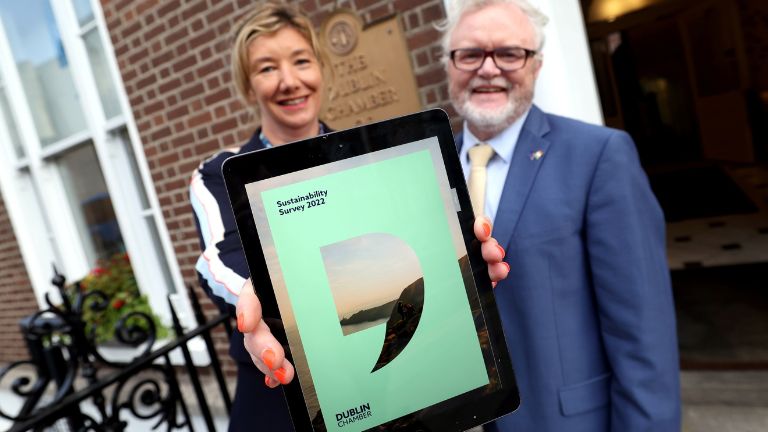 ---
Posted: Fri 7th Oct 2022
According to Dublin Chamber's 2022 Sustainability Survey, just over half (52%) of Irish firms consider themselves well informed on sustainability - a significant decrease from the 71% who stated the same in 2021. 
The study, conducted by Amarach Research, found when it comes to what businesses associate most with "sustainability", organisations primarily identify sustainability with improvements in waste (86%), energy efficiency (73%), and in reducing their carbon footprint (64%).
Circular economy
Interestingly only 25% of those surveyed noted "Moving to a business strategy that is in keeping with circular economy principles" as a priority.
"The sharp decrease in firms who consider themselves well informed on sustainability indicates the increasingly nuanced approach to sustainability that is developing within public discourse," said Dublin Chamber CEO Mary Rose Burke. "The phrase has grown in its scope and the conversation around sustainability is becoming increasingly sophisticated."
"The disparity between those that identified waste reduction with sustainability and those that opted for enacting circular economy principles, suggests a lack of knowledge of the term "circular economy" and its relation to reducing waste. It reinforces the idea that much of the jargon around sustainability isn't widely known - this is an stumbling block that many members have noted as a barrier to feeling confident in adapting sustainability strategies," she said.
Staff engagement
Mary Rose Burke did however remark positively on the signs of the rise in staff engagement, in sustainability, found throughout the study.
In 2021 21% of respondents stated that "team expertise or knowledge in the sustainability agenda" was a main barrier, only 9% reported likewise this year. Similarly, whilst 12% noted that "staff are not enthusiastic about sustainability" in 2021 the figure dropped to 8% this year.
Over half of firms surveyed (53%) reported prioritising suppliers who have strong sustainable and ethical practices, this is a positive progression from the 37% that reported likewise in 2021.
Energy choices
The energy crisis in Ireland has highlighted the importance of accelerating the switch to indigenous, renewable energy systems and reducing reliance on imported fossil fuels. Nearly half (46%) of those surveyed reported that recent trends in energy costs - have prompted a change in their company's energy usage, whilst 33% stated that it was too early to say. Yet just over half (55%) of organisations prioritise energy suppliers who produce energy from sustainable sources. 
"In the context of high inflation, businesses are doing what they can to keep costs low. Often the more sustainable option is not the cheapest, and this is why the Chamber has called on numerous occasions for the supports available to businesses, particularly SMEs, to be expanded upon," added Mary Rose Burke.
You can read the full report here.
---
In partnerships with Enterprise Nation, AIB and GS1 the Plan it with Purpose programme is free for all Irish small businesses.
The Plan it with Purpose programme, designed to upskill 10,000 small Irish businesses with sustainable practices, includes a free diagnostic tool on the Enterprise Nation platform and free country-wide events.
You can find the diagnostic tool and information on upcoming events here.
Enterprise Nation has helped thousands of people start and grow their businesses. Led by founder, Emma Jones CBE, Enterprise Nation connects you to the resources and expertise to help you succeed.