MEMBER STORIES
On a ski lift, in hospital and up a mountain! How entrepreneurs keep their businesses running in weird and wonderful places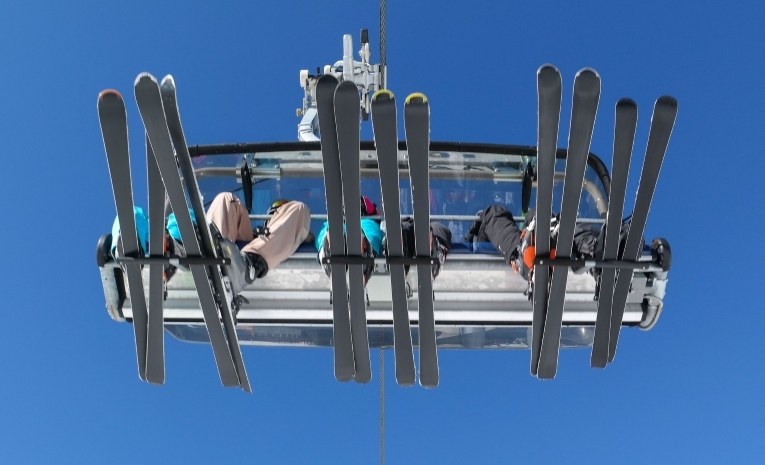 ---
Posted: Wed 22nd Aug 2018
Running your own business means you often have to do it alongside everyday life such as another full time job, looking after the kids or while on holiday. We asked some Enterprise Nation members about the unusual places they've worked from and what role technology had to play.
This article is part of the Scale-up Series with O2 Business, a series of events featuring top entrepreneurs discussing how they've scaled their businesses with a particular focus on technology. Find out more and book tickets here.
****Working from the snowy wastes in Bavaria
Hannah Saunders, Toddle
I started my skin care start-up for adventurous families whilst in the armed forces. The job took me around the world, so I had to squeeze in my business around full time hours (sometimes 18 hour days!). I've worked in a bivouac in a wood whilst on exercise and in a tent in RAF Akrotiri Cyprus.
I went cross country skiing and answered emails from the snowy wastes in Bavaria and on a chair lift (excellent signal there actually!)
I've also managed to work on a yacht out at sea, on top of a mountain, and whilst as a passenger in various aircraft!
The apps I've used:
iCloud: Invaluable for working on documents through several different platforms; iPad Pro, laptop, phone. It's great to be able to retrieve a file, work on it and send it, no matter where you are in the world.

Tethering! I tethered my phone a lot to use my 3G to send emails and stay in touch.

FaceTime: I have FaceTimed from all over the world, to China, to the US. It's so easy even if you have a small amount of 3G.

Battery pack: My battery on my iPad Pro is pretty good, but after a day of work I'd need added battery, battery packs were my go to when I was very remote.

Anything that allows collaborative working, such as Keynote so my non-exec directors and I could all work on our pitch together, for example.
Working as a journalist in Iraq
I started my coaching business back in 2012 while I was working as a journalist in Iraq and setting up a TV station for Syrian refugees. It meant that I would fly back to the UK to do my coaching postgraduate diploma, and then fly back for work.
It meant that I was doing Skype calls with clients in the UK, and also training former doctors, guerrilla soldiers and refugees to improve their video and storytelling skills, and set up a TV station.
Nowadays I use my iPhone for Facebook Lives on the go, and use DJI Osmos to create videos outside and on the go. It's great for vlogging, and doing videos for my Facebook groups.
There's some great video editing software on my iPhone that I use: Clips, Pocket Video and iMovie so if you shoot something on your phone, you can edit while you're away too. These are easy fun ways to create videos while you're away from your desk, and still have much greater reach and engagement than just posting some text.
Running your small business from your car
As a mum of two-year-old twins, I'm often forced to work in unusual places. The car is a current favourite. Some days it's the only way I can get them to have a nap. But I've also taken client calls in the park, soft play, and even the hospital once when they were just a couple of weeks old! The show must go on, right?
Technology plays a vital role in helping me run my business, especially because our team works flexibly and often remotely.
Apps like Trello and HubSpot, which we can access from our laptops and from our phones, keep us connected and working from the same page in real time. Whether I'm catching up with emails in the car while my children nap or editing client copy from abroad while on holiday, technology gives me the freedom to work in a way that suits my lifestyle.
Working when on holidays
A couple of years ago, I went on a family holiday to France.
I took my laptop because the holiday coincided with monthly invoicing and running payroll.
It was early on in the business before I had discovered the delights of the efficiency of Xero and before I had outsourced our payroll. I was still doing everything manually and using Excel spreadsheets.
We were staying in a campsite near Versailles, with accommodation that was supposed to look like gypsy caravans. It was pretty rustic, but at least there was campsite wifi.
Having discovered Xero's functionality and repeating invoices (for monthly retainer invoices) and having outsourced our payroll, I can now go on holiday without having either of those two tasks interrupt my break.
Share your business tech challenges or ambitions with O2's Digital Advisors here and they will be in touch with a solution.
I'm a freelance content creator and event host who helps small businesses and the organisations that support them. I have 18 years of experience as a small business journalist having interviewed hundreds of entrepreneurs from billionaires like Sir Richard Branson to the founders behind brand new start-ups. I've worked for a range of leading small business publications and support groups, most recently as head of content at Enterprise Nation where I was responsible for the prolific output of content on the company's blog and social media. I'm based in Bristol where I run and host regular events with the local small business community and have strong connections to major business organisations in the south west region. In total, I've hosted over 50 events; from intimate meet-ups to conferences with an audience of hundreds including events for international brands like Facebook and Xero. I'm also a big fan of podcasts having hosted Enterprise Nation's Small Business Sessions as well as lots of online events including Facebook Live interviews, webinars and three live web chats from inside 10 Downing Street. With my partner, I co-run Lifestyle District, a lifestyle blog focused on culture, art, theatre and photography. I'm here to help. I'm volunteering free advice calls of up to an hour as part of the Recovery Advice for Business scheme, over the next 6 months. Please get in touch to see how I can help your business.