BLOG
Are you our next Local Leader in Ireland?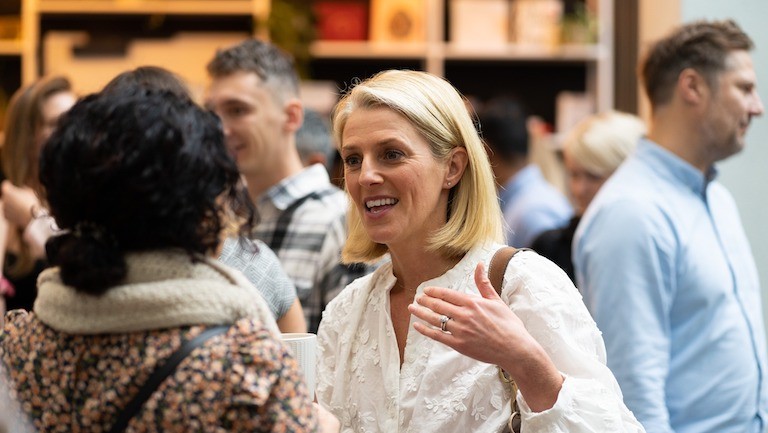 ---
Posted: Wed 8th Feb 2023
Do you love to chat with other businesses and build your network? Well, how about building one of your very own by becoming an Enterprise Nation Local Leader?
Through local meet-ups, Enterprise Nation Local Leaders are on a mission to cure those entrepreneurship blues. Local meet-ups offer a relaxed, informal environment for small business owners to connect with fellow entrepreneurs in their area.
A ready-made support network
Meet-ups provide a ready-made support network and an opportunity to collaborate, share ideas, discuss challenges and hold one another accountable. These events have provided a lifeline for many small business owners over the last few years.
Local meet-ups wouldn't exist without our network of phenomenal Local Leaders. Small business owners in their own right, these amazing individuals have a commitment to their local community and are passionate about supporting small businesses in their regions.
We like to think of them as our 'eyes and ears', reporting back on the challenges faced by small businesses in their region.
Meet Cork's Local Leader
Tara Elzingre is the Cork Local Leader and she kindly shared some of her Local Leader wisdom with us.
Describe your experience of being a local leader.
It gives me a few different things, including the opportunity to understand other businesses out there. Some of the stories are absolutely fascinating about how people got into business and why they are attending the meet-up.
People want to learn about Enterprise Nation because it's quite new to Ireland. Some people join because they're looking to expand into Ireland and are assessing what the space is like.
I've had small meet-ups and big meet-ups and I really enjoyed both. I love to see people coming to the meet-ups more frequently; it's validating seeing the people that you know coming back.
One thing I love, when I'm hosting, is learning to listen more, out of curiosity. I love the power of networking – I've referred on some of the businesses that have joined the meet-ups. Just having that "I know someone who could potentially help you" is really powerful, I think.
I'm really looking forward to having more of those 'local experts' in my Cork meet-ups as well, so we can really support each other.
What are your plans and topics for 2023?
I'd really love for the businesses themselves to get involved and give talks for 15 minutes on a topic they're interested in.
And I'm open to hearing what the businesses of Cork would like from my local meet-up so it can best serve them.
Also, if someone has a particular issue in their business that we can all come together and use that brain power to help. Entrepreneurship has this bad rep for being quite lonely but when you have a network behind you it can actually be very powerful.
Are you our next Local Leader in Ireland?
Want to know how to become a Local Leader in Ireland and set up your own local network? We'd be delighted to talk to you! Register your interest with Enterprise Nation.
To try out an Enterprise Nation local meet-up, Tara has an online Cork meet-up on Thursday 16 February 2023.
Enterprise Nation has helped thousands of people start and grow their businesses. Led by founder, Emma Jones CBE, Enterprise Nation connects you to the resources and expertise to help you succeed.