MEMBER STORIES
Meet the member: The business selling feel good fashion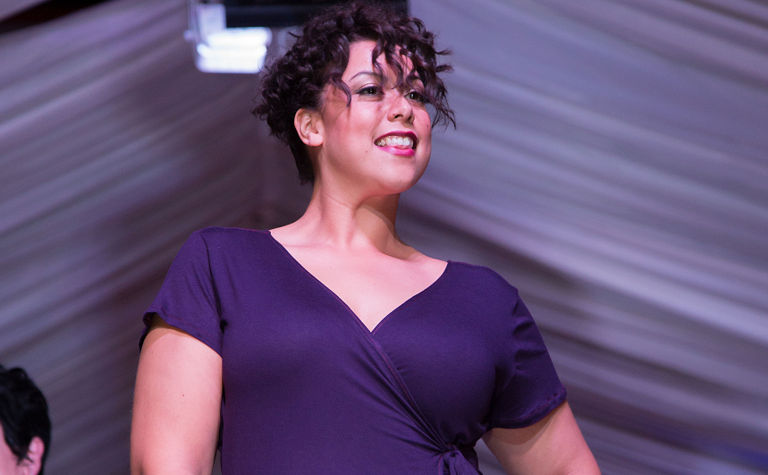 ---
Posted: Fri 4th Mar 2016
In this week's Enterprise Nation member profile, we meet Liz Smith, the founder of 16+ size women's fashion company, Apples & Pears Clothing.
If you'd like us to profile you and your business, join Enterprise Nation today.
What was your motivation to start your own business?
I had always had an ambition to have my own business. I love fashion but found it hard to find fun colourful clothes in my size, so I founded Apples and Pears, which provides just that; pretty clothes for sizes 16+,
Whilst you were starting up how did you balance home life with work?
I am a bit of a workaholic! I had just finished a degree so I was quite used to planning working at home around a part time job. Now Apples and Pears is up and running and my only job, I do make a concerted effort to plan in social and family activities so that I have some balance!
What's your top tip for effective sales and marketing?
As an online business its hard to make an impact if you are just online. Finding ways to meet my customers face to face, and get them really interested in the brand has helped Apples and Pears grow. Last year we did a few pop up shops, just for a weekend or so, which worked really well - we're planning more this year. Also catwalk events are great, where potential customers can see the clothes in person.
Which tools could you not live without in your business?
My tablet. It means I can work anywhere. If you work from home its good its nice to have a change of scenery and relocate to a coffee shop for a few hours. Also I can have my tablet in my bag - you never know when you will get chatting to someone, and show them the website.
What movie, song or book offers you the most business inspiration and why?
I read Richard Branson's autobiography a while ago which really inspired me, as he started from very small beginnings.
What's been your biggest business success to date?
Last year we had a stand and catwalk show at a plus size fashion event called the Curvy Convention. It was a really good event and got people talking about the brand.
If you had to live on a desert island with one entrepreneur who would it be and why?
Someone innovative enough to build a boat to get us home!
What are your ambitions for the next five years?
To do more of what we are doing! Build Apples and Pears to be a brand that our customers know and love. This year we are starting to work with a few seamstresses and designers to create a handmade collection, and give us the ability to go up to any size, which will be a really exciting offer.
How does being a member of Enterprise Nation help your business grow?
I first discovered Enterprise Nation through the Go and Grow events, and have attended quite a few. I found them really inspirational, and helpful. I met some great people there too - its really good to chat to other business owners. I also love the wealth of knowledge on the site, and have read quite a few of the eBooks on offer.
For more information visit the Apples & Pears Clothing website and follow the company on Twitter and Facebook.
If you'd like to join Liz and become an Enterprise Nation StartUp or Small Business Classic member to access exclusive benefits, sign up now and we'd be happy to profile your business.
_
You can meet lots more Enterprise Nation members here.
_
Enterprise Nation has helped thousands of people start and grow their businesses. Led by founder, Emma Jones CBE, Enterprise Nation connects you to the resources and expertise to help you succeed.