MEMBER STORIES
Meet the Member: Roddy Campbell, Vrumi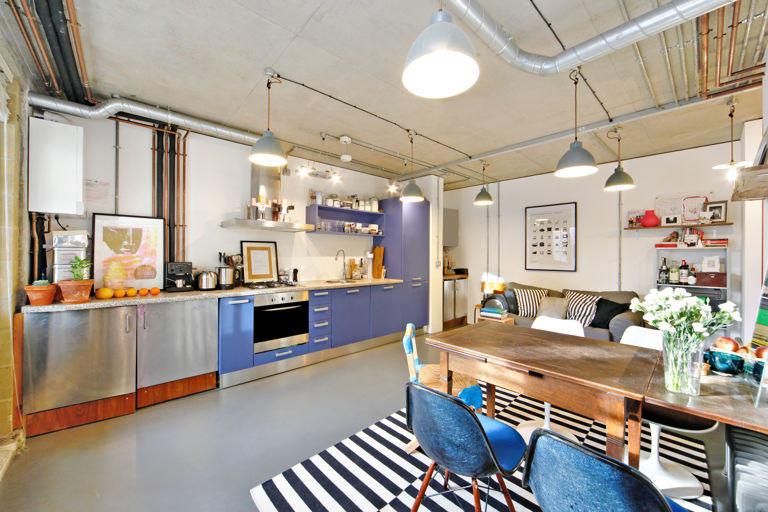 ---
Posted: Fri 10th Apr 2015
Roddy Campbell had the idea for Vrumi 17 years ago. After building and selling a successful company in the world of finance, he decided the time was right to launch a platform that connects homeowners who have space, with small businesses wanting that space. It's a business that sits well in the burgeoning sharing economy.
What was your motivation to start your own business?
I had the germ of the idea for Vrumi in 1997 when I was working at home, and the man next door rented his flat to a singing teacher 3 days a week. That his home was being used during the day, which made him money and enabled the singing teacher to have a business stayed with me for 17 years. In 2014 I asked Matthew the Physiotherapist who was treating my broken femur (I'd always wanted to come off the ski slopes glamorously lashed to a sledge) why he didn't rent a room in my house to work from and he said he would, like a shot; it would enable him to cut back on clinic work and start building his own practice and earn more money.
I knew that most households would at least consider renting a day-room out, there's hardly a home that couldn't do with some extra income, and that the need for rooms on flexible arrangements for a myriad of professions was there, you just had to find it.
It's rare you find something where it's a genuine win-win. Airbnb is perhaps the best example. Most businesses involve persuading people to buy something, often in preference to something else. This was different, and could really help both parties. I wanted to do it because it excited me.
That week Vrumi started, in partnership with my friend William. I told him the idea and he said we start tomorrow. The first member of the Vrumi community, Charles the Novelist, rented a little study in my house shortly after, and the website went live six months later.
Whilst you were starting up how did you balance home life with work?
I was a house-husband - my partner goes out to work every day, and Vrumi arrives in my dining area half an hour later. An hour before she gets back we pack up, and she can't see the difference when she arrives home. I think. My children are fairly grown-up: three are at work, one of which lives with me, one's at school, they come and go as usual.
The only material change is that my partner's dinners may have declined in quality.
What's your most effective sales and marketing tip?
Marketing and PR - journalists. They are all interesting people interested in stuff, and if you have something of interest they will sniff it out.
Sales - get out there. My motto is the Lean Start-up - you have to start with a Minimum Viable Product, in practice something that probably doesn't work very well. Nothing beats shoe leather for learning as you sell. Interview everyone you meet about what they do, and how. Be unembarrassedly evangelical. Ask. Listen. Don't sit at home planning, and building the perfect product in the expectation that people want it. Approach people in coffee shops.
Which tools could you not live without in your business?
Since Vrumi is a 'marketplace' website, where a community of people with all kinds of rooms to let in the daytime meet with people looking for all kinds of space to work in to do whatever they do, the answer is fairly easy - the internet, and the incredible things it offers, perhaps especially in the peer-to-peer space.
What's been your biggest business success to date?
I started a fund management business on my own in 1998 which I sold in 2005. I was Vrumi-ing even then, in a way - I borrowed some space in my Vrumi co-founder William's publishing office when I started it in 1998, so we and our customers wound our way through the Tesco Clubcard section to get to our area. Then I sub-let five desks in someone else's trading room for a couple of years - I'm a long-term sharing economy practitioner!
What are your ambitions for the next 5 years?
To grow Vrumi like Airbnb grew

To make Vrumi a revolutionary new way of finding workspace, and help people run successful micro-businesses by solving their workspace needs

To generate millions for householders

To make the world more efficient and a little bit better. I love the sharing economy and the way it connects people, and would like Vrumi to play its part
How does being a member of Enterprise Nation help you grow as a business?
Enterprise Nation's strapline is 'We help people turn a passion or idea into a great business.' which is what I want Vrumi to be, and what I want Vrumi to help other people do.
In particular Vrumi reaches out to exactly the sort of people who are members of Enterprise Nation, both as Vrumi Hosts and Guests. It's our world.
Become an Enterprise Nation member today to access business support and advice to help you start and grow your business.
Enterprise Nation has helped thousands of people start and grow their businesses. Led by founder, Emma Jones CBE, Enterprise Nation connects you to the resources and expertise to help you succeed.