MEMBER STORIES
Meet the member: Patrizia Galeota, SensiChic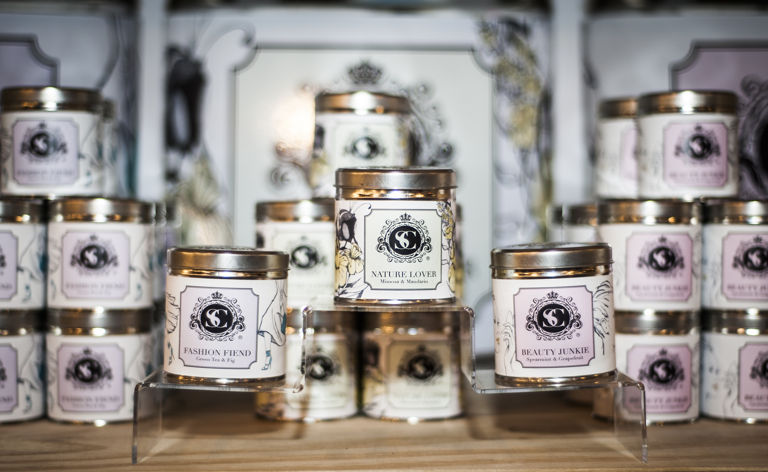 ---
Posted: Fri 2nd Oct 2015
Enterprise Nation member Patrizia Galeota shares the story behind her scented candle brand, SensiChic.
What was your motivation to start your own business?
I have always dreamed about being my own boss so it was only a matter of time!
The idea was born in 2011 with a wedding of Southern Italian origin and trying to decide on the perfect 'bomboniere'. In Italian culture, it's customary to present each household with a gift known as a 'bomboniere'. It is the perfect way to thank guests for taking part in a special celebration whether it's a wedding, Baptism, first holy communion or confirmation with five sugared almonds included symbolising health, wealth, happiness, fertility and long life.
One thing was for sure, the bride-to-be (me) wanted something original, quintessentially English and personal for her Italian family and friends, so hand-blended and hand-poured scented candles in beautiful vintage style teacups were to be it. This immediately became a craft love affair with the dream that one day would turn into a family business.
SensiChic launched in December 2013. A tiny one-woman run boutique brand offering exquisite scented candles in a variety of equally stunning designs without the luxury price tag for all to enjoy and most importantly using 100% natural soy wax from renewable sources.
Whilst you were starting up how did you balance home life with work?
A lot of juggling, planning, discipline and support from friends, family and husband.
I only had one month to go until the birth of my first child so it was important that I stayed calm and focused on this exciting project for the future
What's your tip for effective sales and marketing?
To always be present and evolving in the market place.
Which tools could you not live without in your business?
High quality materials and the internet.
What movie, song or book offers you the most business inspiration and why?
Anyone Can Do It: Building Coffee Republic from Our Kitchen Table by Sahar Hashemi and Bobby Hashemi. I loved this book as it's full of real life examples and scenarios that provide lots of food for thought.
What has been your biggest business success to date?
Gathering the courage to give up a well paid corporate job to actually start a business with a high level of uncertainty.
If you had to live on a desert island with one entrepreneur who would it be and why?
That's a tough one! I like both Sir Alan Sugar and Richard Branson, both of whom I consider kings of entrepreneurship.
What are your ambitions for the next five years?
To have many boutique retailers as stockists and possibly a flagship boutique in London.
How does being a member of Enterprise Nation help your business grow?
Access to interesting seminars with industry experts offering help and advice.
For more information visit the SensiChic website and follow on Twitter and Facebook.
If you'd like to join Patrizia and become an Enterprise Nation member to access exclusive benefits, sign up now. We may even profile your business which is great PR.
You can meet lots more Enterprise Nation members here.
Enterprise Nation has helped thousands of people start and grow their businesses. Led by founder, Emma Jones CBE, Enterprise Nation connects you to the resources and expertise to help you succeed.