MEMBER STORIES
Meet the member: Nikki Spencer, Haven't Stopped Dancing Yet!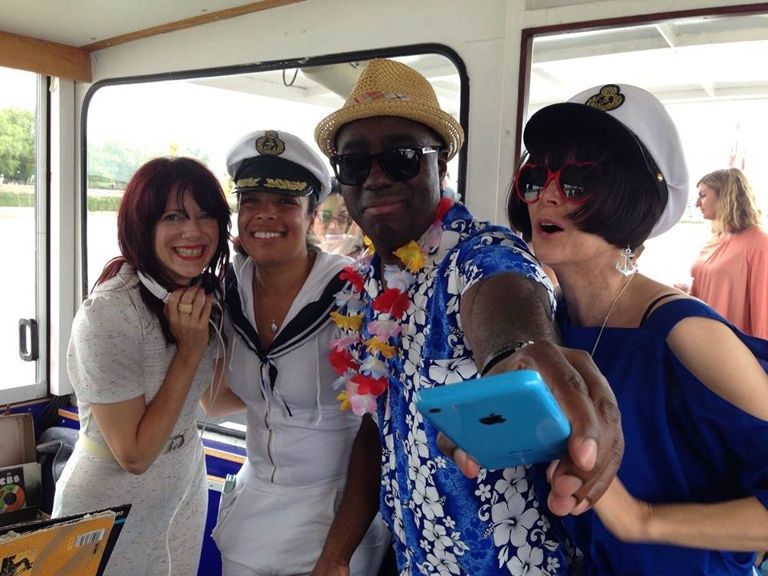 ---
Posted: Fri 7th Aug 2015
A song on the radio was a lightbulb moment for Enterprise Nation member Nikki Spencer. Hearing the 1970s hit Haven't Stopped Dancing Yet inspired the journalist to start her own club nights for the over 40s. Nikki shares the story behind her brilliant brand.
What was your motivation to start your own business?
In my 40s I noticed there was nowhere for people for my age to go dancing so I decided to start my own club night. I had organised charity events before, for my daughters' school and for Cancer Research, and they'd gone well so I already had some experience. In the end though the only way to know if something will work is to try it and thankfully our launch night five years ago went brilliantly.
I still work as a journalist and media tutor but as Haven't Stopped Dancing Yet! is becoming more successful I am concentrating on the club nights more. We are holding our first night in Birmingham in October which is very exciting as until now we have only run events in South East London.
Whilst you were starting up how did you balance home life with work?
As a single parent it can be especially tough. For most of my working life I have worked from home and often carried on working when my daughters were in bed. On the plus side I was in charge of my own schedule and I could make the time to go on school trips etc.
One thing that did help hugely was having my own workspace ( I call it the iShed) at the bottom of my garden especially during the summer holidays when the house was full of teenagers.
Now my daughters are older and the club is more established it is easier. I often pay them and their friends to do the door or run the cloakroom at my nights. It's the family business!
What's your tip for effective sales and marketing?
Don't underestimate the power of media coverage and the local press in particular if you have a good story. We managed to get a great article all about HSDY and why I was starting it in the local press (thanks Mandy at Greenwich Mercury). People really identified with that and we sold a lot of tickets because of it. Having a great picture helped too. Getting good professional images is always money well spent especially now there are so many websites and blogs for events.
Being lucky enough to feature on Radio 4's Saturday Live took us to another level too. That was all because I gave another journalist a flyer one day.
Which tools could you not live without in your business?
Twitter and Facebook both work well for us but for events, old-fashioned, high quality flyers are also brilliant, especially for our demographic. I always try and ask where people first heard about HSDY and there are always some who say "you gave me a flyer" or "I picked up a flyer". Ours also make good fans when it's hot so people like taking them!
It goes without saying that I would be totally lost without Excel spread sheets.
What movie, song or book offers you the most business inspiration and why?
What a great question! Of course it has to be Haven't Stopped Dancing Yet!, the late 70s hit by UK band Gonzales. I have always loved soul, funk and disco and one night I was working in my office listening to the radio. I had been thinking about starting a club where people my age could just go and dance without feeling uncomfortable and when that track came on the idea just came together.
What has been your biggest business success to date?
Selling out the fabulous Blackheath Halls at Christmas last year was awesome. Standing at the back of the hall and watching 850+ people having the time of their lives was just the most wonderful feeling. And this December we are doing it all again.
Getting picked by JWT as a 'trailblazer' to watch in their report on the over 50s market was a great endorsement as was getting a Best of Lewisham award. I love where I live and its great HSDY is helping putting South East London on the map. We get people travelling from hundreds of miles away to come to our nights.
If you had to live on a desert island with one entrepreneur who would it be and why?
It would be Lynne Norledge who runs a fabulous vintage cafe and florist called You Don't Bring Me Flowers where I live in Hither Green. She also now DJs at my nights so we'd have good tunes!
What are your ambitions for the next five years?
To keep doing what we are doing but also to spread the disco love! Finding good venues is always a challenge but we are delighted that we are now heading to the legendary Moseley Dance Centre in Birmingham on 17 October and are also going north of the river to Islington Assembly Hall on April 16 2016. This summer we also did our first Sunday afternoon boat party from Greenwich and that was really successful so we will be doing more in 2016.
We also want to do more private parties and office parties as we reckon HSDY would be fabulous for that.
How does being a member of Enterprise Nation help you grow as a business?
I am a huge fan of Enterprise Nation and tell everyone I come across who is setting up their own business to join. I have been to lots of really useful events over the years and the newsletters are a great way of keeping in touch with what's going on. Running your own business is hard at times and it's always good to know that you are not on your own.
Find out more on the Haven't Stopped Dancing Yet! website and follow the company on Twitter and Facebook.
If you'd like to join Nikki and become an Enterprise Nation member to access exclusive benefits, sign up now. We may even profile your business which is great PR.
You can meet lots more Enterprise Nation members here.
Enterprise Nation has helped thousands of people start and grow their businesses. Led by founder, Emma Jones CBE, Enterprise Nation connects you to the resources and expertise to help you succeed.