MEMBER STORIES
Meet the member: Jules Gray, Hop Hideout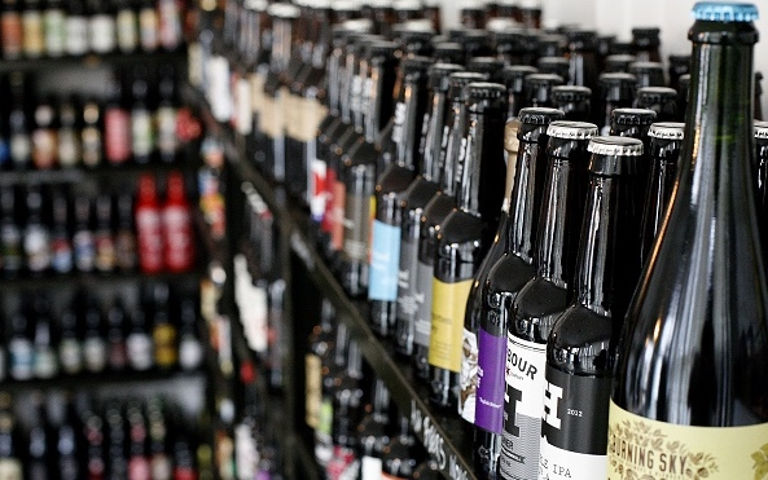 ---
Posted: Fri 27th Nov 2015
A passion for a good pint led Jules Gray to set up Hop Hideout, a specialist beer and cider shop Sheffield. The Enterprise Nation member tells the story behind the brand.
What was your motivation to start your own business?
Myself and my partner love beer! I've worked in beer for seven years and my other half specialises in photography and websites so we combined our skills in order to run our own business, Hop Hideout. We're both hugely excited to be a part of the growing indie beer scene in the UK as it's a thrilling time to be involved.
Whilst you were starting up how did you balance home life with work?
To be honest, it's a chosen lifestyle for us. We live and breathe beer so there's no defined line we felt we needed to create.
What's your top tip for effective sales and marketing?
Really listen and talk/engage with your customers; then your sales and marketing will be natural. Keep your own voice and really define who you are, as this uniqueness will keep your voice heard in the crowded market.
Which tools could you not live without in your business?
Social media. It's vital for a small business with little marketing budgets!
We love social platforms for being able to engage direct with our beer drinkers and customers. We're a very social business online and in person so they're perfect platform for us.
What movie, song or book offers you the most business inspiration and why?
I love soul music and we play music in the shop which keeps us motivated and inspired. There's a certain similarity in vinyl diggers/enthusiasts and beer geeks; always searching, discovering and sharing their passion! (Can you tell I've worked in record shops...)
What's been your biggest business success to date?
2015 has been an incredible year. We won a national award, 'North Retailer of the Year', from trade publication Off Licence News and went to the Houses of Parliament in January to collect the award.
Another highlight was hosting one of the UK's top beer writers, Pete Brown, as part of Sheffield's literature festival Off The Shelf. We had 50 people captivated by Pete's beery stories for an evening back in October. It was wonderful to watch and be a part of; can't wait for his new book to be published, It's all about the ingredients of beer.
Oh and brewing a beer with neighbours Abbeydale Brewery was a laugh! Marshmallow Meltdown Stout a big, rich, stout with chestnut, cacao nibs and coffee. It was wonderful to brew for the day and then see our beer on bars across Sheffield and nationwide.
If you had to live on a desert island with one entrepreneur who would it be and why?
Kim Gordon of Sonic Youth. I could talk to her endlessly. She's hugely inspiring and she was at the forefront of a musical wave and is incredibly relevant to this day. You must read her autobiography, Girl in a Band, that came out at the beginning of 2015!
What are your ambitions for the next five years?
Becoming a credible, go-to retailer for beer and cider. Growing and sharing the beer scene by putting on more events such as Meet the Brewer, beer tastings, beer festivals, beer and food pairings.
How does being a member of Enterprise Nation help your business grow?
It provides access to useful courses to help me expand my skill base and apply it to my business. It offers face to face event and workshops, not just online, which is great for networking and inspiring fresh ideas for Hop Hideout.
For more information visit the Hop Hideout website and follow on Twitter and Facebook.
If you'd like to join Jules and become an Enterprise Nation member to access exclusive benefits, sign up now. We may even profile your business which is great PR.
You can meet lots more Enterprise Nation members here.
Enterprise Nation has helped thousands of people start and grow their businesses. Led by founder, Emma Jones CBE, Enterprise Nation connects you to the resources and expertise to help you succeed.