MEMBER STORIES
Meet the member: Jeremy Paratilla, The Natural Wine Cellar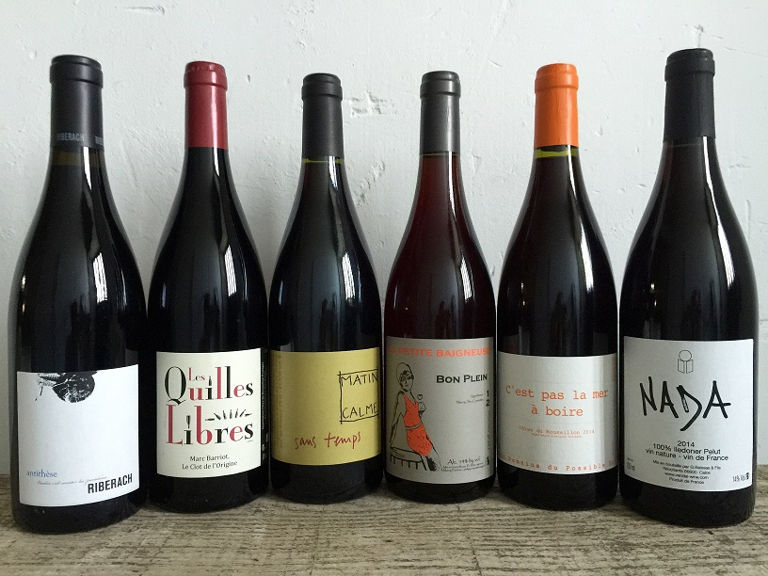 ---
Posted: Fri 16th Oct 2015
Enterprise Nation member Jeremy Paratilla explains the story behind The Natural Wine Cellar, which provides natural wine made from organic grapes with nothing else added.
What was your motivation to start your own business?
As the grandson of a winemaker and a wine lover myself, I have had the opportunity to discover a wide variety of wines. A city such as London offers the chance to sample wines from around the globe. However, some time ago I began to realise that discovering these was offering me less and less pleasure. It was as though, despite coming from the four corners of the world, they were all more or less the same.
Being from Perpignan in the south of France, I was introduced, a few years ago, to the world of natural wine, and so decided to bring to Londoners and UK residents the opportunity to rediscover the diverse tastes of authentic wine. There is a handful of bars where natural wine can be found but for a significant price. I therefore with my business partner Sebastian decided to make these wines available to the UK consumer at a more affordable price by sourcing them directly from the small producers themselves.
Whilst you were starting up how did you balance home life with work?
I ensured that I was well prepared from the beginning. I carefully organised my time and spent the initial five months researching, planning and preparing the launch. Careful organisation of how to manage your time and tasks is fundamental to the success of your project and to maintain a healthy home and work life balance.
What's your tip for effective sales and marketing?
It is essential to conduct intensive market research to inform both your offer and your marketing strategy. Getting to grips with how to interpret SEO data and understanding how to use keywords strategies to increase website qualified traffic is also very important.
Which tools could you not live without in your business?
As The Natural Wine Cellar is an online business, internet marketing is essential and I rely heavily on Google Analytics to constantly evaluate the impact of our actions so as inform our development and improve our performance.
What movie, song or book offers you the most business inspiration and why?
I have worked in large international corporations where I had the opportunity to learn a great deal but also understood first hand the impact of globalisation. With a background and an interest in sustainable development, I am determined to create a business which offered equal benefit to the consumer as to the artisans at the beginning of the chain.
And for the more challenging moments, I always have to hand a small handbook, reminding me how to prioritise my values and rest mindful in all that I do.
What has been your biggest business success to date?
Until now success was not necessarily directly linked to profit. We are at the beginning of our adventure and yet the fact that our first clients are satisfied with our products and our service is, for me, a first success! Further to this, we are providing an opportunity for small producers to broaden their markets in a fair and sustainable trading environment.
If you had to live on a desert island with one entrepreneur who would it be and why?
To say Steve Jobs is perhaps a little predictable, however having worked many years for Apple, I found him to be an exceptional leader who never took anything as assumed, who questioned everything, and freed himself from constraints. These are values I believe to be present in many successful entrepreneurs. I am not sure how good company he would have been on a desert island though!
What are your ambitions for the next five years?
The objective is to secure a solid and loyal client base here in the UK to then be able to broaden our offer to include wines from other regions, beginning with Italy and Spain.
The next step would be to grow The Natural Wine Cellar in others countries such as the US and Japan where natural wine is in great demand.
How does being a member of Enterprise Nation help your business grow?
The path to launching a business is long and difficult. At times it can be lonely and hard to remain focus. Being a member of Enterprise Nation has enabled me to develop my knowledge and skills in key areas such as online marketing and PR .
Attending a wide range of affordable workshops and free webinars was a great way to gather different point of views hence helping me making right decisions at crucial stage of the project. Furthermore, it has provided the opportunity to network with others entrepreneurs to exchange ideas, solve problems and develop relationships.
For more information visit the The Natural Wine Cellar website and follow on Facebook and Instagram.
If you'd like to join Jeremy and become an Enterprise Nation member to access exclusive benefits, sign up now. We may even profile your business which is great PR.
You can meet lots more Enterprise Nation members here.
Enterprise Nation has helped thousands of people start and grow their businesses. Led by founder, Emma Jones CBE, Enterprise Nation connects you to the resources and expertise to help you succeed.