MEMBER STORIES
Meet the member: Hiromi Stone, Kinomi Nuts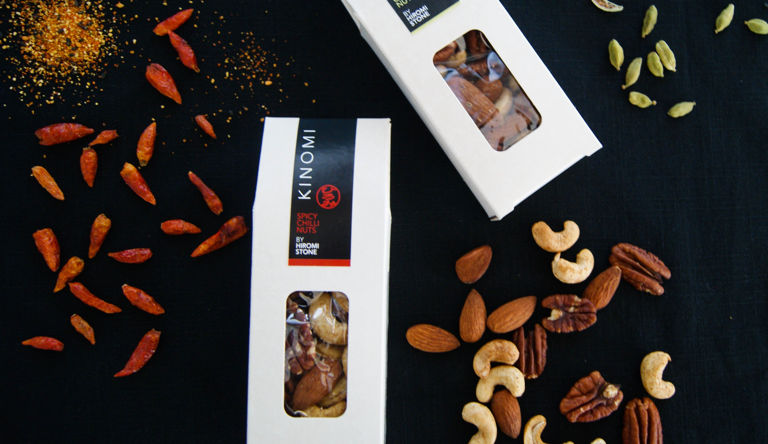 ---
Posted: Fri 3rd Jul 2015
Enterprise Nation member Hiromi Stone explains how her Japanese cooking business evolved into a new brand of nuts.
What was your motivation to start your own business?
With empty nester looming, I wanted to start something that I could grow slowly. I was passionate about good natural food and thought teaching Japanese cooking was a great outlet. Traditional Japanese cooking uses the best ingredients you can find and adds subtle seasoning to enhance the flavour of the raw ingredients. Home cooking is a very simple way to connect with that ethos. I began teaching from home which kept my overheads low. I served nuts I had made as nibbles for my students. They were dry roasted nuts coated with umami rich soy sauce, kombu and sake. The flavour needed to be subtle so as not to overpower the other flavours in the lesson. They were a big hit and soon people started asking to buy them. One thing led to another and Kinomi was born. I continued to do both until last year when the nuts became my sole focus.
Whilst you were starting up how did you balance home life with work?
As the business grew so slowly, it was not really an issue. Both kids were out of the house and I have a very understanding husband who disappeared on class nights. I still work from home and that is key to my success.
What's your tip for effective sales and marketing?
Be genuine and passionate about your product. Say yes to things your brain tells you you're crazy for considering. Things work out in the end and you learn tons from the process. Going to networking events helps work on your elevator pitch as you explain what you do to your fellow networkers.
Which tools could you not live without in your business?
Twitter and Quickbooks. With Twitter, really engage with your audience. Don't just favourite a tweet; respond and that may start a dialogue. Everyone likes getting personal responses to their tweets, I've made many great contacts. Quickbooks keeps all my accounting in order and is easy to use for someone who is number challenged like me.
What's been your biggest business success to date?
I had been teetering on the edge of hobby and business when I got an order for 80kg a week. For six months I produced from home but ultimately outsourced my production which greatly expanded the scope of my business. Saying yes to what seemed like an impossible task turned Kinomi into a business.
What are your ambitions for the next five years?
I would like to establish Kinomi as a brand which stands for wonderfully delicious natural products with a strong social conscience. I'd like to expand into more markets not just in the UK but also globally.
How does being a member of Enterprise Nation help your business grow?
The workshops and events are a great way to hear from people who have achieved success in their own way. Networking with other members is invaluable, running your own business can be a lonely venture and the sense of community Enterprise Nation fosters is great.
Find out more on the Kinomi website and follow the company on Twitter and Facebook.
If you'd like to join Hiromi and become an Enterprise Nation member to access exclusive benefits, sign up now. We may even profile you and your business
You can meet lots more Enterprise Nation members here.
Enterprise Nation has helped thousands of people start and grow their businesses. Led by founder, Emma Jones CBE, Enterprise Nation connects you to the resources and expertise to help you succeed.