MEMBER STORIES
Meet the member: Alexandra De Faucigny, Tendre Deal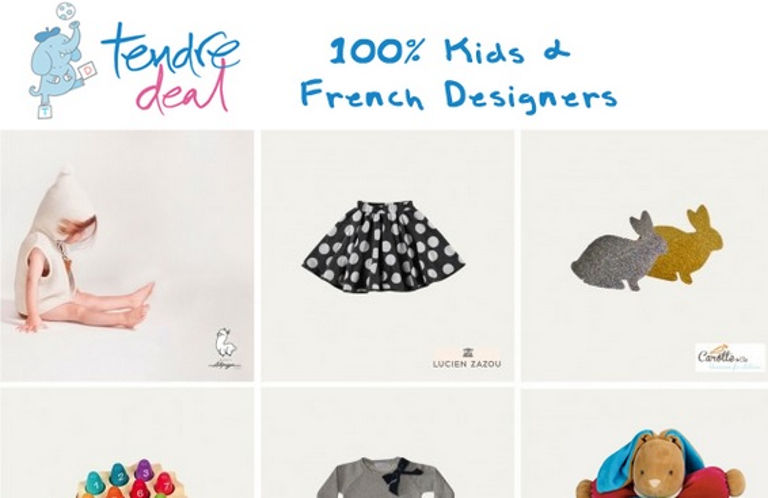 ---
Posted: Fri 9th Oct 2015
Enterprise Nation member Alexandra De Faucigny discusses the story behind her business, Tendre Deal, an online boutique selling French children's designer clothes, toys and accessories.
What was your motivation to start your own business?
Being a French mother of two girls, I couldn't help but dress them in French clothing brands that I'd grown up with. As I did this, I realised from discussions with other British mothers that there was a real hunger and interest in 'French style'. They associated it with 'chic' and 'stylish' and wanted advice on what other brands, beyond some very known ones, they could seek out and dress their children in.
I felt passionate about this as I've always enjoyed adding a French touch to my girls' style. I knew there was a real business opportunity to reflect the UK's wonderful mix of cultures and combine the two aspects of my children's national identities. Tendre Deal, the UK's first members-only online children's boutique selling 100% French designer clothes, toys and other children's accessories was born out of this awareness.
Whilst you were starting up how did you balance home life with work?
With my business being online, it gave me a great flexibility and I could easily manage the school runs and my young girls as and when they needed me. 9 to 5 doesn't exist for me as I manage my daughter's sleep and I try to wake up early or finish late and reach more mums through social media.
What's your tip for effective sales and marketing?
Continual market research while your running the business. I soon realised that listening to your market and your customers is the best way to drive your business in the right direction.
Which tools could you not live without in your business?
I have learned more about my industry through Twitter and I have been able to make really meaningful connections. It's also great to be active on Twitter even if I am not at my desk.
What movie, song or book offers you the most business inspiration and why?
1, Starting your own business: The good, the bad and the unexpected  by David Lester. It was the first book I read when I decided to become an entrepreneur and it's very practical and helps you to discover what you need to do step by step.
2. The StartUp Kit  by Enterprise Nation founder Emma Jones. I read it after attending a StartUp Saturday event. It's also an excellent guide to start your business and is full of useful links.
3. Mumpreneur by Annabel Karmel as it's filled with inspiring stories of mumpreneurs who managed to build successful businesses.
What has been your biggest business success to date?
One year ago, I started my business from scratch with no knowledge and no connection in the children's industry and e-commerce. Now I am connected with over 1000 French suppliers and I am starting to be recognised in the industry.
I won the Mumpreneur UK Bronze Award for my website and my followers on social media are increasing daily.  I have started to create videos with my girls.  I write regularly on my blog and I am a guest blogger on JuniorStyle.
That's just the beginning and I am confident of the growth potential of this business.
If you had to live on a desert island with one entrepreneur who would it be and why?
Richard Branson because he started to build an empire from a little magazine he created as a student and thanks to the audacity of launching new businesses with no real experience and before being ready. He is also supporting a lot of businesses in order for them to grow and be successful.
What are your ambitions for the next five years?
I want Tendre Deal to become the online promotional platform in the UK for French children's brands. I would also like to be considered as an ambassador for those brands, supporting them and helping them to grow in the UK market.
How does being a member of Enterprise Nation help your business grow?
First of all StartUp Saturday gave me the courage and secondly it gave me the toolkit to start my business. The regular events and networking meetings help me to gain knowledge and get great new connections, which is also essential for my business.
For more information visit the Tendre Deal website and follow on Twitter and Facebook.
If you'd like to join Alexandra and become an Enterprise Nation member to access exclusive benefits, sign up now. We may even profile your business which is great PR.
You can meet lots more Enterprise Nation members here.
Enterprise Nation has helped thousands of people start and grow their businesses. Led by founder, Emma Jones CBE, Enterprise Nation connects you to the resources and expertise to help you succeed.