BLOG
Louise Lally to advise at Portershed Drop-in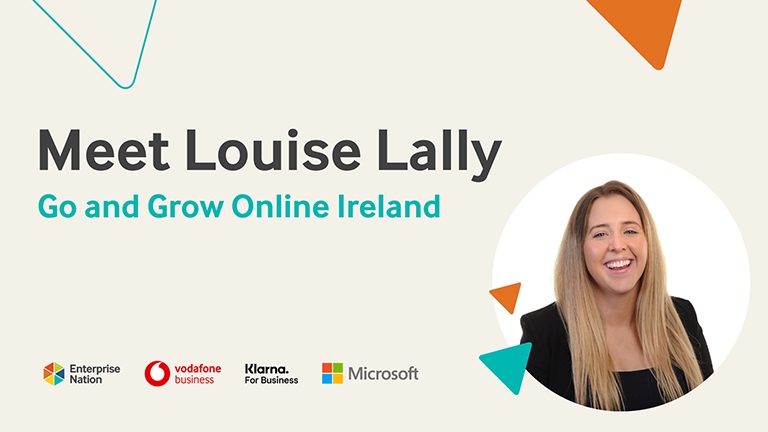 ---
Posted: Mon 18th Jul 2022
Louise Lally, founder of Louise Lally Training Academy, will advise at this month's Drop-in at Portershed in Galway city.
Working in the retail sector for 15 years, Louise has always been passionate about retail. Her other passion is training others – she is qualified in HR, training and development and has delivered programmes in the past to Mothercare, Woodies and Best Mentor.
Louise has combined her skills and her passions to help "incorporate community feel into stores". Through her training academy, she coaches and mentors start-ups and advises retail businesses on how to develop their team, and much more.
All of which Louise can tell you herself at Enterprise Nation's Go and Grow Online Digital Drop-in at Portershed in Galway on Wednesday 27 July 2022.
Ahead of the event, Louise gave us a few pointers on the future of retail and issues currently facing small businesses.
What are three main issues small businesses are coming to you for advice with?
The biggest issue I'm seeing at the moment is footfall. People are struggling from a sales perspective within the retail space. They're struggling to get traffic into their stores.
The second is employees leaving. That's a big issue. And the third we're seeing in that space is the sales just aren't there. Because we're not training teams, or the onboarding isn't strong enough in the business to get the team up to where they need to be.
How do you see the immediate future of retail?
I think retail is really going to have an experiential feel to it. What we are really coming into is what we call retailtainment. Retailtainment is where we go to a destination store – and you're seeing this with a lot of the bigger stores – they have nail bars, on-site concessions with barbers, ice-cream stalls.
All of this is wrapped around the dwell time in the store – how do we keep the customers in the store longer? And it doesn't mean you need to be a big multinational to do it.
I worked with a retailer where we put a coffee machine in a boutique store. When the customers came in, they could have a coffee, and they could talk to the stylist as we introduced personal shopping.
What we really need to do is from an SME perspective is ask: how personalised is our business? How much of the customer experience is prioritised into our customer journey? Do we really look at those touchpoints in the store? And how do we make ourselves stand out from the crowd?
Go and Grow Online: Portershed Digital Drop-in
Enterprise Nation invites small business owners to step away from their desk and attend a free, in-person, business support event at Portershed in County Galway.
As part of this event, Go and Grow Online trainers Paddy McDermott and Louise Lally will share their experience and tips for gaining success online and in your business.
About Go and Grow Online Ireland
Enterprise Nation is working with Microsoft, Klarna and Vodafone to support 20,000 small businesses across Ireland to improve their digital skills. Visit the Go and Grow Online hub
Enterprise Nation has helped thousands of people start and grow their businesses. Led by founder, Emma Jones CBE, Enterprise Nation connects you to the resources and expertise to help you succeed.