POLITICS
Liverpool startups to get extra Enterprise Nation boost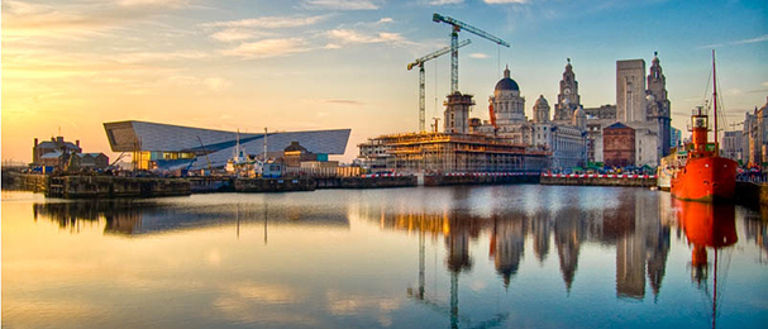 ---
Posted: Thu 15th Aug 2013
Start-up rates across the country are rising - that much is clear. Everything points to it. Yet from our StartUp Saturday travels across the country, it appears that this extremely good news, based on a mixture of statistics and anecdotal evidence, isn't backed up with the kind of solid reporting you'd expect to see.
Liverpool, how are you doing?
For it seems that the UK startup rate is measured in a variety of ways by a variety of bodies according to a variety of criteria, depending on where you live. In Liverpool, for example, our digging has found a plethora of local evidence. According to official labour market statistics - which are compiled regularly on a national basis - more than 18,200 people in Liverpool are creating their own value by working for themselves - that's 5.8% of the working population. Great stuff! A report in November 2012 from the Government suggested that the city recorded the most new businesses started as part of its New Enterprise Allowance (NEA) - higher than any other area of the country with the scheme.  It went on to say that the NEA helped people in Liverpool to create 300 new businesses - more than any other major city.
But that picture strongly contrasted with the figures published earlier this year by the City Council. The Liverpool Economic Briefing 2013 suggested Liverpool's overall start-up growth was still lagging behind that of other UK core cities as well as the national average.  It said the start-up rate in the city had improved in 2011 - but was still not as high as other core urban centres like Manchester. It also said there were 13,345 businesses in Liverpool, a number which had risen by 1.7% in 2011 - the report added and that Liverpool would have needed to have created 551 start-ups to stay in line with the national start-up rates. Meanwhile in Newcastle-upon-Tyne, using the labour market statistics, there were 14,500 businesses run by 6.6% of the workforce, with no other clearly discernible evidence available to confirm this picture in other ways. Similarly in Manchester.  After contacting several start-up incubators, the council, nothing concrete was unearthed, just a healthy amount of activity in the start-up sector that clearly could not be sustained were it not for an impressive appetite.  We're not saying that stats don't exist.  We're saying 'get them out there!' Nationally, Companies House keeps a record of the number of businesses registered - an impressive record number.  Meanwhile HMRC keeps a record of the number of people who register as self-employed.  Do they get together and compare notes?  Nope.
Enterprise Nation's startup mission
Enterprise Nation is on a mission to get businesses started around the UK via its StartUp Saturday one-day start-up courses.  Each one unearths some incredible entrepreneurial talent, some of which undoubtedly slips under the radar of statisticians. From our experience, entrepreneurship is infectious to a certain extent.  People see others turning their hobbies into businesses and they want to have a go, they want to do it for themselves - and they do.
Elaine's story
Ahead of a forthcoming StartUp Saturday in Liverpool we found Paris-born jewellery designer Eliane Strasser who set up her home-based business in Grassendale after falling in love and marrying a Liverpool lad. The former marketing executive for French maternity-wear label La Redoute decided to find her creative side after her son Liam was born - and took an evening course in jewellery design at Liverpool College. She said: "I made some lovely pieces and I just loved it.  After a while people started asking me where I got it from and I started to get some commissions.  In 2011, I set up Strasser Creations and it's growing year-on-year." Eliane found the Women's Organisation, based in St James Street, and got help with writing a business plan, as well as some good old fashioned encouragement to go out there and do it. Elaine said: "They were amazing - and it really gave me the impetus and confidence I needed to build a business.  Many people think that starting a business means taking out loans and finding premises etc.  I started small - and slowly at my own pace and with my own savings - doing things one at a time as and when I can.  It really works for me and I really love what I do - it's also wonderful to be 30 seconds away from my studio at any one time." Eliane specialises in hand-made silver necklaces and earrings that typically take between a week and a month to make.  Each piece is hall-marked at Goldsmiths in London and she sells much of what she makes via London outlets, as well as via her website. She has now established a firm local network of people she can talk to and share ideas with, which she says is very important. Eliane added: "StartUp Saturday will be a great boon for Liverpool.  Often all people need is a little bit of encouragement and to feel like they are getting somewhere.  I'm looking forward to helping other people in Liverpool the city as they get started."
Book tickets to StartUp Saturday in Liverpool
Sell Tickets through Eventbrite
Liz Slee (@lizziepin) does all the PR work for Enterprise Nation Photo Credits: Max/???? via Compfight cc, Juice FM and Strasser Creations
Enterprise Nation has helped thousands of people start and grow their businesses. Led by founder, Emma Jones CBE, Enterprise Nation connects you to the resources and expertise to help you succeed.