BUSINESS NEWS
'Let's get going' on EU exit preparations, government tells businesses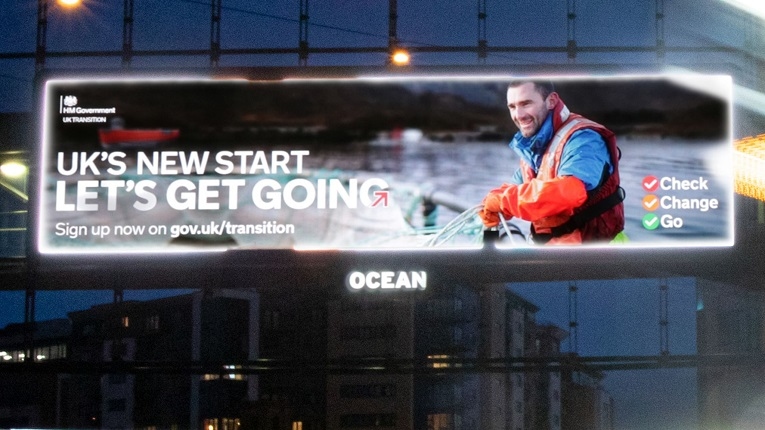 ---
Posted: Mon 13th Jul 2020
The government has launched a new campaign to encourage businesses to get ready for the end of the transition period for the UK's exit from the European Union.
Under the slogans 'UK's new start: Let's get going' and 'Check, change, go', companies are being pointed to a new website where they can answer questions and get advice on what they need to do to prepare for changes from 1 January 2021.
Among the checks are getting ready for new paperwork involved with exporting or importing from or to the EU by, for example, getting an EU EORI number or registering with the relevant customs authority.
Founders travelling to the EU once Brexit is fully in force are also being advised to purchase comprehensive travel insurance and check with their mobile phone provider about additional data roaming charges.
In addition, the government says the campaign, via television, radio and online advertising, will highlight "opportunities ahead...for exporters through new free trade agreements" and "smarter regulation" for small businesses.
Negotiations on the final deal between the UK and the EU are still taking place, but because the UK is leaving the single market and customs union, most of the actions businesses are being asked to carry out need to be completed regardless of the outcome of negotiations.
Some areas of UK-wide guidance published will not be applicable for trade between Northern Ireland and the European Union, until negotiations have concluded. Advice specific to Northern Ireland will be published throughout the transition period, the Cabinet Office said.
On Sunday, the government announced £705m funding to help manage Britain's borders after Brexit.
Cabinet Office minister Michael Gove said: "At the end of this year we are leaving the single market and customs union regardless of the type of agreement we reach with the EU. This will bring changes and significant opportunities for which we all need to prepare.
"While we have already made great progress in getting ready for this moment, there are actions that businesses and citizens must take now to ensure we are ready to hit the ground running as a fully independent United Kingdom."
But Liberal Democrat acting leader Sir Ed Davey warned businesses will greet the new advertising campaign with "utter horror" as they are already struggling with the impact of coronavirus.
"Businesses right across the United Kingdom have struggled to survive financially over the past few months as a result of the coronavirus crisis," he said.
"The fact that the government is now trying to force them to gear up and prepare for the end of the transition period will fill them with utter horror."
According to the Institute of Directors, only a quarter of businesses are fully ready for the end of the Brexit transition period.
Changes to UK immigration
The government has also today published more details on its new points-based immigration system which brings an end to freedom of movement.
From New Year's Day, people wanting to live or work in the UK must achieve 70 points. Criteria includes a confirmed job offer, a PhD relevant to the role, speaking English or earning more than £22,000 a year.
In a written statement to the House of Commons by home secretary Priti Patel, the government confirmed new details including:
a new health and care visa for key health professionals which will have a reduced fee.

a new graduate route opening in Summer 2021 that allows international students to stay in the UK once they have successfully completed their studies. Students who have completed undergraduate and master's degrees will be able to stay for two years and those who have completed PhD can stay for two years.
"The British people voted to take back control of our borders and introduce a new points-based immigration system", Patel said.
"Now we have left the EU, we are free to unleash this country's full potential and implement the changes we need to restore trust in the immigration system and deliver a new fairer, firmer, skills-led system from 1 January 2021."
Enterprise Nation will provide extensive news and advice for small business owners in the lead-up to the end of the EU exit transition period. To let us know which specific Brexit-related areas you need advice on, email Dan.
I'm a freelance content creator and event host who helps small businesses and the organisations that support them. I have 18 years of experience as a small business journalist having interviewed hundreds of entrepreneurs from billionaires like Sir Richard Branson to the founders behind brand new start-ups. I've worked for a range of leading small business publications and support groups, most recently as head of content at Enterprise Nation where I was responsible for the prolific output of content on the company's blog and social media. I'm based in Bristol where I run and host regular events with the local small business community and have strong connections to major business organisations in the south west region. In total, I've hosted over 50 events; from intimate meet-ups to conferences with an audience of hundreds including events for international brands like Facebook and Xero. I'm also a big fan of podcasts having hosted Enterprise Nation's Small Business Sessions as well as lots of online events including Facebook Live interviews, webinars and three live web chats from inside 10 Downing Street. With my partner, I co-run Lifestyle District, a lifestyle blog focused on culture, art, theatre and photography. I'm here to help. I'm volunteering free advice calls of up to an hour as part of the Recovery Advice for Business scheme, over the next 6 months. Please get in touch to see how I can help your business.