MEMBER STORIES
Lavin Jane D'Souza, Marily London: 'Through StartUp UK, I've learned from industry experts how to really build my business.'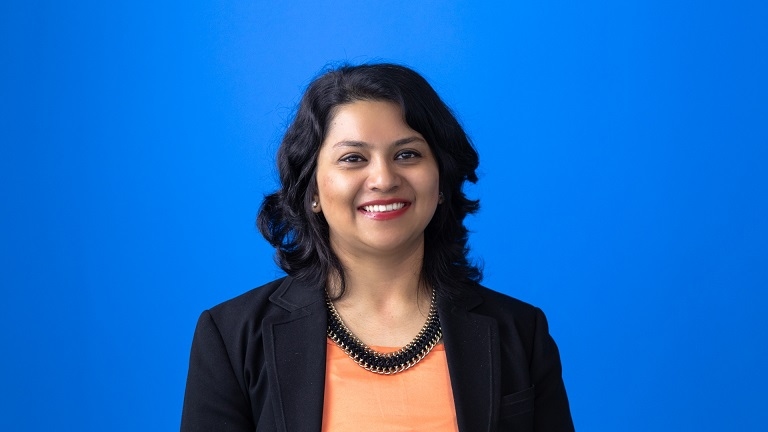 ---
Posted: Fri 16th Dec 2022
StartUp UK is Enterprise Nation's scheme to provide free tailored support to budding entrepreneurs.
Backed by the UK government and high-profile firm Monzo Business, the programme delivers initiatives such as e-learning, online training, national events and flagship annual conferences throughout the UK.
As the scheme continues to run, we're talking to some of the business owners who have been taking part, to hear how it's benefited them so far.
Here, we talk to Lavin Jane D'Souza, sales director at Marily London, a website design agency that uses design and branding to take visitors on a journey.
How did you come up with your business idea?
With the advent of social media, every business wants to be found on the internet and develop brand awareness as a brand. It's absolutely vital to the business they generate.
We decided to open an office in the UK as it's a great place to start a business. There are a lot of small businesses and start-ups in the UK, and they need help with their management practices, getting their business running with better efficiency and working on their branding.
That's where we come in. A small business can identify with another small business's problems, as we've walked in their shoes.
Download our free StartUp UK guides
Start a side hustle / Start a fashion business / Start a food business / Start a beauty business / Start an Instagram business / Start a TikTok business / Start a Pinterest business / Start an Etsy business / Start a business while studying
What makes your business unique?
We offer branding services to start-ups and SMEs, the market segment often overlooked because these companies don't have a major market share.
As a result of our work, we've received a number of awards, including the Best Start-up Web Management Consultancy – Bradford at the Northern Enterprise Awards 2022.
You've taken part in Enterprise Nation's StartUp UK programme. What were your reasons for doing it?
Personally, I want to improve myself as an entrepreneur. That means developing the latest skills in entrepreneurship and listening to and learning from the experience of professionals and industry experts.
How has the StartUp UK programme benefited you and your business so far?
I've taken advantage of a number of resources. I attended a StartUp Saturday event, joined a Lunch and Learn webinar and StartUp Series virtual workshop, and watched some of the e-learning videos.
Doing this has really helped me build my business, as I've been able to learn from industry experts, and share knowledge through videos and blogs.
What's the best advice you've received from taking part in StartUp UK?
Feel the fear, and take action anyway. Fail, fail many times over, and keep moving and learning from your mistakes.
I've attended a few workshops in the StartUp Series – namely Making sales, Building a brand and Grow your business with digital marketing – and I'm looking forward to doing more, on topics such as business finance and growth mindset.
The Building a brand workshop really stood out. The trainer emphasised the need to not only build the company's brand, but the personal brand of the owner or the person who represents the company. They should stand out as an expert in their industry, as the company is a reflection of the owner.
Do you have any business advice for other aspiring entrepreneurs?
First, take action. Figure things out along the way. Listen to the market and what customers want, not what you as an entrepreneur think the customers want.
Finally, what are your plans for the future?
Our future plans are to offer consulting services in the technology space, such as data analytics.
If a business is to become more efficient, data is key – it might be improving marketing efficiency of a social media campaign or increasing efficiency in a company's operations department. Data analytics will help in solving a company's real-world business problems.
Access support to start your business
Visit the StartUp UK hub for resources that give you the education and inspiration to get started on your entrepreneurial journey.
Enterprise Nation has helped thousands of people start and grow their businesses. Led by founder, Emma Jones CBE, Enterprise Nation connects you to the resources and expertise to help you succeed.