MEMBER STORIES
The beauty entrepreneur helping people get quality sleep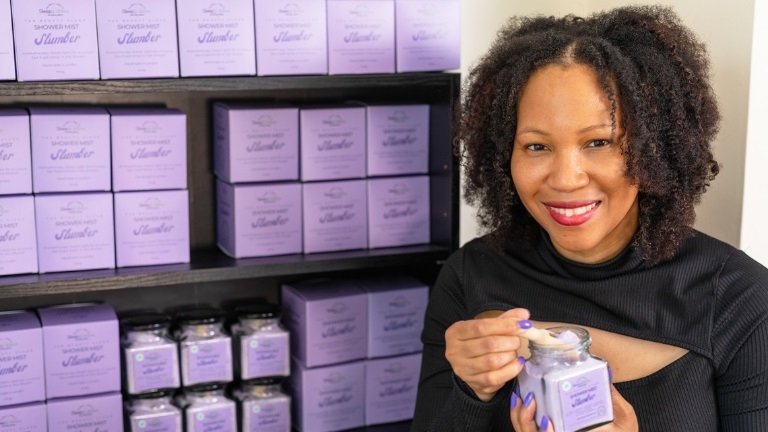 ---
Posted: Fri 25th Jun 2021
Laurelle Darroux is the founder of Sleepgoddess, which provides products combining modern sleep wellness with ancient beauty rituals.
The London-based entrepreneur came up with the idea for her business during the first coronavirus pandemic lockdown. She shares her inspiring story.
How did you come up with your business idea?
I lost my job following my return to work from maternity leave and I was home with my little ones. I had always lined my babies' hats with satin and wanted a more sustainable fabric for their sensitive skin. I went on a journey to find hemp silk because traditional silk is not a cruelty-free fabric.
I designed an elasticated pillowcase based on my baby's cot bed cover in the process. My family thought it was a good business idea and encouraged me to pursue it. Enterprise Nation's many courses and webinars helped me to focus on a niche.
Being a struggling insomniac for many years, I thought I would concentrate on sleep accessories but for the vegan market. My products had to be ethical and cruelty-free and really help to enhance sleep. I launched my handmade pillow mists, sleep shower steamers and other accessories for quality sleep.
What start-up challenges have you faced and how have you overcome them?
At the start, I needed a prototype of my pillowcase but the factories were all shut due to the COVID-19 pandemic. I emailed and telephoned as many as I could and finally got a local factory to help me.
As a stay-at-home mum, finances for the website and marketing etc were an issue but I learned to budget and use limited funds effectively. I attended many Enterprise Nation webinars and workshops, watched YouTube tutorials and accessed Udemy courses.
I learned how to build my own website, use social media and deliver marketing. Then I found the Amazon Small business Accelerator e-learning programme which was great because it includes free advice for selling on Amazon. It was so useful as I was considering selling on Amazon.
How has the Amazon Small Business Accelerator e-learning programme helped you?
I really enjoyed the 'Build a brand' module. When starting a business on a budget, it's all down to you as a small business owner. It is key that you niche down and establish your authority in your market.
It is imperative that you create a voice and a message that your audience can identify with. These e-learning sessions have helped me to dig into communicating my brand's language and tone.
The advice on visual brand identity has guided me towards identifying my core beliefs and values and encouraged me to focus on what I can do better than my competition.
Being kind to the planet, kind to skin and hair and kind to animals are part of my ethos so it was only natural that this was translated into the brand's core beliefs.
Another key takeaway is to develop a brand style guide from the beginning. I'm currently working on mine.
I have also been inspired to officially register my brand with Amazon's Brand's Registry so I would definitely recommend the build a brand module.
How has COVID-19 affected your business?
I started the business during COVID-19. I had the idea in March 2020 but it was not until September that I launched my first product.
Due to the pandemic, my toddlers were unable to go to nursery and with no alternative childcare options, it was difficult to devote the time and effort into my business. I often worked long after they went to bed.
Secondly, there was a delay with getting the prototype created by a British factory, as most were working with limited staff. I also experienced delays with getting simple trimmings like elastics as most were sold out because everyone was busy making face masks!
On the upside, I discovered an opportunity to reach a wider audience because of COVID-19. My research on social media revealed that many people were struggling to sleep, so while I started the business with the idea of sleep products, it was actually because of the experiences of people in lockdown which led me to offer value by helping women create a glamorous and relaxing sleep routine and encourage healthy habits around sleep. I saw the gap for a cruelty-free vegan brand that is plastic-free, has reusable packaging and is British-made.
What are your plans for the future of your business?
I would love to be the go-to brand for all things beauty sleep. I see my business offering so many more sustainable options in sleep wellness. I would love to have another person work with me as I am still a one-woman business. I would love to have my products not only on Amazon but also in chains like Boots and other high street stores.
What are your top tips for business success based on your own experiences so far?
Never doubt your idea no matter how silly it may seem, learn as much as you can about your niche industry and take advantage of the many free resources out there like Enterprise Nation webinars and YouTube tutorials.
Also, find a mentor, find other people who are passionate about business as you are and keep hustling to keep the passion and dream going!
The free Amazon Small Business Accelerator e-learning programme is advice from more than 30 business experts in 218 bitesize videos.
If you're already an Enterprise Nation member, log in to your member dashboard to access the e-learning. If you're not an Enterprise Nation member, you can join the Amazon Small Business Accelerator for free.