MEMBER STORIES
Katie Truscott-Howell: 'I highly recommend StartUp UK for new ideas, inspiration, motivation and connections.'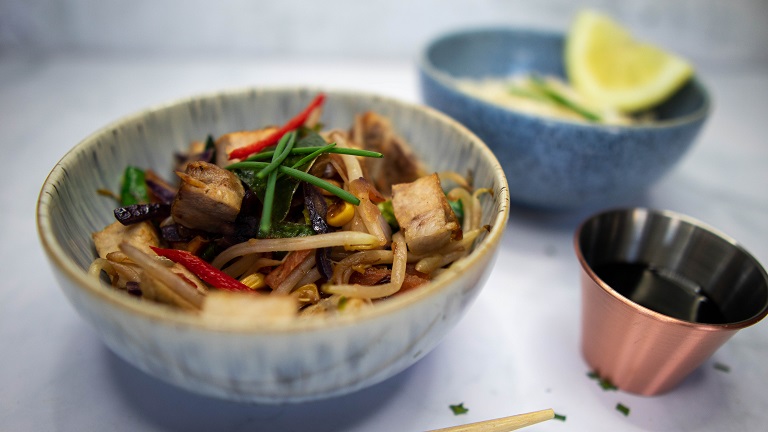 ---
Posted: Wed 1st Mar 2023
StartUp UK is Enterprise Nation's scheme to provide free tailored support to budding entrepreneurs.
Backed by the UK government and Monzo Business, the programme delivers initiatives such as e-learning, online training, national events and flagship annual conferences throughout the UK.
As the scheme continues to run, we're talking to some of the business owners who have been taking part, to hear how it's benefited them so far.
Here, we talk to Katie Truscott-Howell, whose food delivery company Katie's Life Kitchen specialises in providing high-quality, nutritionally balanced meals tailored to people's needs.
How did you come up with your business idea?
It came about as a result of my personal struggles being diagnosed with coeliac disease and Crohn's disease. I want to help as many people as possible get through the unknowns in their diagnosis journey by eating good-quality, delicious meals and improving their quality of life.
My business idea is to offer ready-to-eat delicious meals tailored to individuals' trigger foods, allergies, intolerances and even macros. It's a very bespoke service that caters to anyone who suffers from inflammatory bowel disease (IBD) and bowel issues such as irritable bowel syndrome (IBS) and coeliac disease.
I also cater for anyone who follows a macro plan and would like to lose body fat, build muscle or maintain their current weight.
Tell us about your background and how you got to what you are now.
My personal journey leading up to being diagnosed with coeliac disease and Crohn's disease was difficult. I was only 15 and I didn't have a clue about dietary nutrition. It was hard being different.
Not the kind of different you're used to – a different where I couldn't do the same things a normal 15-year-old could, like enjoy going out for a meal with my friends or spending the day out shopping. A different where I'd be in pain all throughout the day; day in, day out, leading to spells in hospital.
I thought being diagnosed would solve all my problems, finding the cause would help me, but I was so wrong. Between the ages of 18 and 24 were the hardest years of my life. The lack of national knowledge of my condition left me with little support. I was truly left in the dark. This is when I had to seek out the answers myself while going through daily flare-ups.
Being a competitive bodybuilder, I decided to complete my degree in nutrition and launch Katie's Life Kitchen to help others who were on the same journey. I wanted to support them from an IBD standpoint and from a physical activity standpoint as well.
Now that I'm in remission, I want to help as many people as possible get to the same point and I believe I can do that as quickly as possible. Quality of life is everything and there's nothing more fulfilling than hearing extremely positive feedback from my clients who are now flourishing.
Macro meal plans are hard to come by and finding a company that offers accurate and tailored macro meals is difficult. Again, it's something I wish existed when I was competing!
Download our free StartUp UK guides
Start a fashion business / Start a food business / Start a beauty business / Start an Instagram business / Start a TikTok business / Start a Pinterest business / Start an Etsy business
What makes your business unique?
It's a business built on passion, and created from a place of suffering to help other people who are in need.
I launched Katie's Life Kitchen based on my own personal journey. There isn't another company out there that offers a bespoke service on an individual basis and I pride myself on using extremely high-quality ingredients, excellent customer service and a personal one-to-one service as well.
I speak regularly to customers about what foods they love and what foods trigger them, and really change their plan around what works well for them and makes them feel good.
I want to reassure customers that we use only accurate ingredient measurements for macro-friendly plans and to make them feel safe and secure at all times.
You've taken part in Enterprise Nation's StartUp UK programme. What were your reasons for doing it?
I joined the StartUp Saturday event in London to better understand how to grow my e-commerce business and to meet like-minded people. The advice provided was excellent and incredibly motivating.
I've implemented a structured marketing strategy since and stayed connected with people who I met at the show. A few of which I can eventually work with on a marketing level too, which is so exciting!
How has the StartUp UK programme benefited you and your business so far?
At the StartUp Saturday event, I met some incredible people who really inspired me, and I learnt how to create new business relationships with manufacturers to grow my business.
I really wanted to use this programme for further insight and to meet new like-minded people, both of which I achieved. I'll continue to support the programme by attending events, workshops and webinars. I even met a few investors at the event who I'm now in contact with, which is thrilling.
Running a small business is hard – you have to wear so many different hats on a daily basis. It's really important to put yourself out there, meet new people who can open new doors and support you, and even make new friends who have the same ideas as you.
I'd highly recommend supporting the programme for new ideas, inspiration, motivation and new connections.
What's the best advice you've received from taking part in StartUp UK?
To never give up, follow your dreams and seek lots of different avenues.
Do you have any business advice for other aspiring entrepreneurs?
Keep going, believe in yourself and everything will be OK.
Access support to start your business
Visit the StartUp UK hub for resources that give you the education and inspiration to get started on your entrepreneurial journey.
Enterprise Nation has helped thousands of people start and grow their businesses. Led by founder, Emma Jones CBE, Enterprise Nation connects you to the resources and expertise to help you succeed.