BLOG
Jimmy Cregan's five steps to building a brand that customers love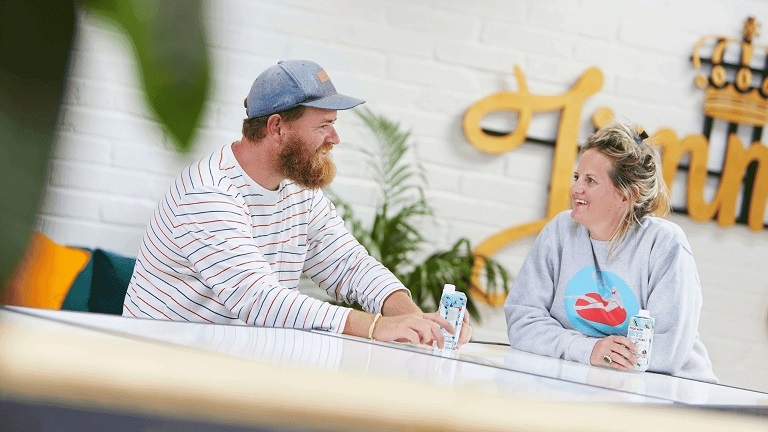 ---
Posted: Sun 8th Aug 2021
Jimmy Cregan of Jimmy's Iced Coffee has built a colourful and engaging personality around his product that's driving serious growth for what is still a fledgling business. He shared his five top branding secrets with Enterprise Nation's chief marketing officer Lorna Bladen.
Jimmy's 'light bulb' moment occurred while travelling in Australia. Amid the fun and frolics of his adventure down under, he discovered a love for iced coffee – with one particular brand having appeal because of its delicious ingredients, quirky packaging and original branding.
When Jimmy returned to the UK, he noticed that there was no decent iced coffee to be had. Facing anxiety that he'd either need to go to rehab to get over his cravings or take the more sensible option and start making his own, he launched Jimmy's Iced Coffee.
His sister Suzie owned a café, which they transformed into a late night laboratory, and they began concocting iced coffee until their friends and family agreed on the tastiest flavour. The business formed in 2010 and is now stocked in Waitrose, Budgens, WHSmith and more. How has he done it?
Jimmy's five top tips for building a brand that people will love
1. Run your business like The Truman Show
I run my brand like we're on The Truman Show by showing our community everything that is going on in the business.
It's important to keep your customers entertained by talking about your life and not just about the products. I even recommend letting people know about the mundane things – for example, you can share pictures of you out at meetings with potential buyers, or get your community involved when you're brainstorming new ideas.
Getting support from your followers at pivotal points in the business will encourage a deeper level of loyalty.
2. Be memorable
In today's crowded market, it's sometimes worth doing outrageous marketing activities to make your brand stick in people's brains. So if you're happy to do things like make a White Russian in the wind and rain and video yourself doing it, then you'll have enough clout in you to set up your own business!
Another great way to convert people into customers is by getting them to trial your product. Go to as many events as humanly possible and be creative about how you attract people to your stand. I tend to run competitions and wear silly outfits, which always seems to attract attention.
3. Beg, borrow and steal
You don't need a lot of money to start up a business, but to create an awesome-looking product you sometimes need to make the odd investment. I wanted to have good-quality branding that would be memorable, so I commissioned a talented university friend to design my logo for just £200.
I went on BBC Radio 5 live recently with Nikki King, the MD of ISUZU UK, to talk about winning in a recession. When off air, I asked if I could borrow an ISUZU pick-up for all of our sampling and she agreed. We now have a Jimmy's wrapped pick-up truck, which we've got on loan for the whole summer!
4. Amplify everything you do with social media
I recommend that start-ups should never go to an agency to run their social media channels. In my business, I'm taking part in labelling the cartons, testing the ingredients and going to events talking to customers. So I'm in the perfect position to share a true representation of our brand to our community.
We've also seen benefit from running entertaining competitions over social media. For example, we've recently been asking our customers to send us photos of them and a Jimmy's moustache. They are free to run, they gain instant traction and, most importantly, we and our customers have great fun.
5. Treat your customers like they are gold dust
To get people to fall in love with your brand, you need to make your customers feel like legends.
We occasionally get the odd complaint and we never hesitate to send them a bunch of flowers or something similar to show our apologies and how much they mean to us. It's equally important to reward and recognise other key stakeholders in the business.
This is tough, as being a founder of a business means that you're extremely busy, but using tools like Evernote helps me to record the birthdays of our buyers, business milestones and testimonials from our loyal customers. Trust me, it's well worth the effort!
Relevant resources
Enterprise Nation has helped thousands of people start and grow their businesses. Led by founder, Emma Jones CBE, Enterprise Nation connects you to the resources and expertise to help you succeed.