BLOG
International Women's Day: Seven inspirational stories from Enterprise Nation's wonderful female members & advisers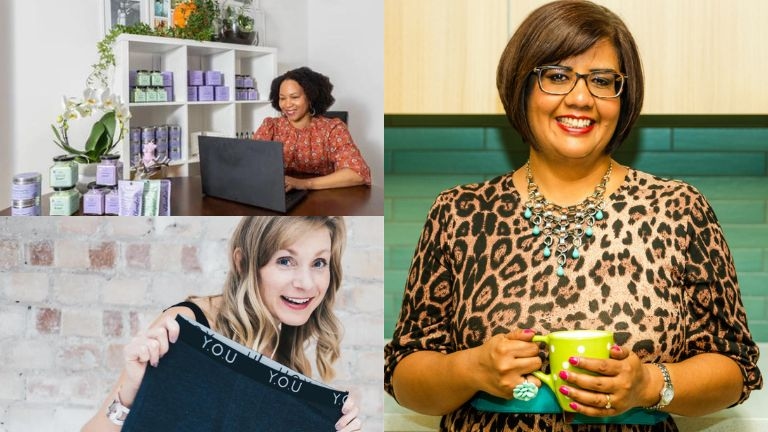 ---
Posted: Tue 7th Mar 2023
As we celebrate International Women's Day this week – on Wednesday 8 March, to be precise – there's never been a better time to hear first-hand about the amazing achievements of Enterprise Nation's huge female community.
From expert advisers to micro-business owners, the women of Enterprise Nation have had a rip-roaring year of success and growth, so let's get stuck into some of their stories!
Jen Hughes, whose business ARCFORM specialises in creating modern, handcrafted lighting and sculptures, shares her experiences of using Enterprise Nation's 'One Stop Shop' for entrepreneurs, otherwise known as Make a Plan, brought to you in partnership with Mastercard and Strive.
After delving into her background, Jen highlights the importance of receiving feedback, occasionally stepping back from the business trenches and being brave.
This interview is a great read for female entrepreneurs who are starting their business journey.
As one of the platform's most popular marketing advisers, Minal has been associated with Enterprise Nation for a very long time, helping countless small business owners along the way with her services and content.
If you're a business expert who is looking to build a profile and provide support for entrepreneurs across the UK and Ireland, Minal's testimony is one that cannot be missed.
Become an adviser on Enterprise Nation today.
StartUp UK is another of Enterprise Nation's very best programmes for small businesses, and here we speak to one significant beneficiary, Laurelle Darrou.
As the founder of Sleepgoddess, which provides products that combine modern sleep wellness with ancient beauty rituals, Laurelle has taken full advantage of the e-learning, events and online training on offer alongside StartUp UK.
Have Laurelle take you through her business journey, from inception to her dealings with Enterprise Nation, as one of our best International Women's Day stories.
Many of you will recognise Dominique Woolf.
While she is oft-featured on the Enterprise Nation platform, she's perhaps best known for her appearance on Jamie Oliver's Channel 4 show The Great Cookbook Challenge. What's more, she was victorious!
Dominique's Thai-inspired sauce brand, The Woolf's Kitchen has proven immensely popular, so her tale is a must-read for all inspiring culinary entrepreneurs.
Sign up to become an Enterprise Nation member here.
Enterprise Nation has partnered with Vodafone to launch business.connected, helping 800,000 small and medium-sized businesses take their digital skills to the next level. And boy, Angela Loveridge did just this.
Her business Better Together offers online safety workshops and customised family support designed for parents, guardians, caregivers, teachers and non-teaching professionals who work with children. The business is nothing short of awe-inspiring.
Learn how Angela created her brilliant business, and how business.connected lifted it to fresh heights.
Hopping briefly over the Irish Sea, we have a cracking little interview with Susana Marambio, the co-owner and director at Beacon Business Commercial Services [BBCS] in Cork, Ireland.
Susana talks all things Enterprise Nation advisership, and how she gets such a kick out of facilitating the growth and prosperity of small businesses.
If you're a leader in your field in Ireland, it might be time to become an adviser!
Finally, let's give some love to Plan it with Purpose and Sarah Jordan, who scooped up 2022's Sustainability Scale-Up Award for the excellent environmental and social work done by her Oxford-based brand, Y.O.U. Underwear.
Spawning from her trip to East Africa in 2016, Sarah has already donated over 23,000 pairs of underwear across the region, as well as the UK, as part of her buy-one-give-two scheme.
---
Join the Women in Business Group on Enterprise Nation to keep the conversation going!
Enterprise Nation has helped thousands of people start and grow their businesses. Led by founder, Emma Jones CBE, Enterprise Nation connects you to the resources and expertise to help you succeed.