BUSINESS NEWS
'If your small business is exporting, you're swimming with the tide' [VIDEO]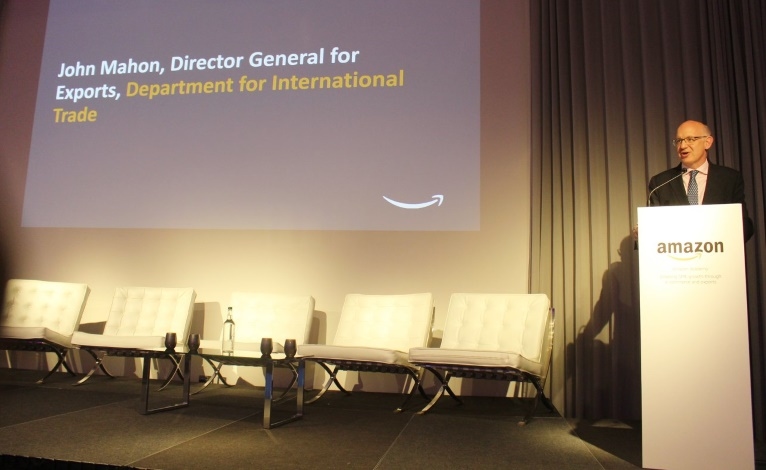 ---
Posted: Wed 6th Jun 2018
Despite the uncertainties of Brexit, small business owners should embrace international trade as it not only boosts your sales but can transform your whole business, senior officials from the Department of International Trade said this week.
Speaking at the Amazon Academy in Newcastle, an event held in partnership with Enterprise Nation and attended by more than 200 entrepreneurs, John Mahon, the recently appointed director general for exports at the Department for International Trade (DIT), said businesses that export grow faster and innovate better.
"Working together as Team UK, there's a huge opportunity overseas," he said. "The prize is fantastic.
"If you are going to start your exporting journey, no matter how challenging it is, you are swimming with the tide. There are so many people out there, be it in government or support areas, who want to help you.
"Please swim with the tide!"
Later in the day, David Coppock, DIT regional director in the North East, was asked whether it's wise for small business owners to look at exporting given the uncertainties around Britain's exit from the EU.
"I think it's always wise," he said.
"Exporting increases your profitability as a business, it de-risks your business and there are unseen benefits; things like seasonality.
"We work with businesses that sell in the Southern Hemisphere during the winter so it actually smooths out your sales cycle.
"Brext, yes, it's coming. We want as much free trade as possible, but exporting always makes sense.
"You become a learning organisation. There are spins off such as language, internationalising your website, access channels and your staff begin to benefit as well."
I'm a freelance content creator and event host who helps small businesses and the organisations that support them. I have 18 years of experience as a small business journalist having interviewed hundreds of entrepreneurs from billionaires like Sir Richard Branson to the founders behind brand new start-ups. I've worked for a range of leading small business publications and support groups, most recently as head of content at Enterprise Nation where I was responsible for the prolific output of content on the company's blog and social media. I'm based in Bristol where I run and host regular events with the local small business community and have strong connections to major business organisations in the south west region. In total, I've hosted over 50 events; from intimate meet-ups to conferences with an audience of hundreds including events for international brands like Facebook and Xero. I'm also a big fan of podcasts having hosted Enterprise Nation's Small Business Sessions as well as lots of online events including Facebook Live interviews, webinars and three live web chats from inside 10 Downing Street. With my partner, I co-run Lifestyle District, a lifestyle blog focused on culture, art, theatre and photography. I'm here to help. I'm volunteering free advice calls of up to an hour as part of the Recovery Advice for Business scheme, over the next 6 months. Please get in touch to see how I can help your business.