INTERVIEWS
How Lee Wilcox grew On The Tools to an online community of 2.2m people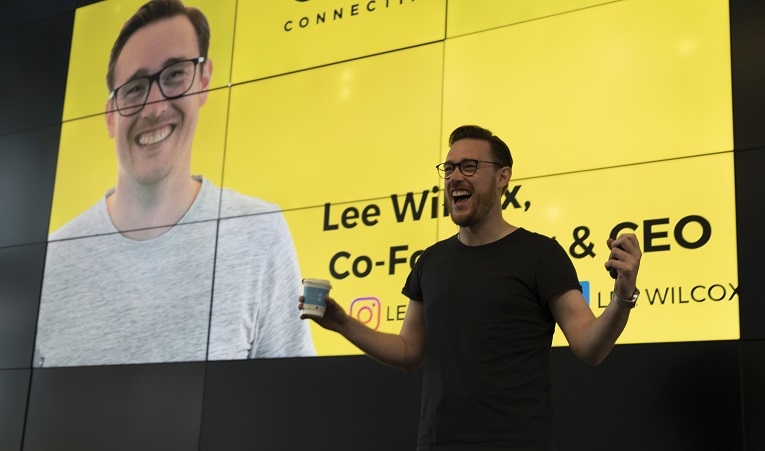 ---
Posted: Thu 27th Dec 2018
From an app for tradespeople to a Facebook community of more than two million people, On The Tools co-founder Lee Wilcox's story is an inspiring one. Ahead of his keynote slot at StartUp 2019, Enterprise Nation's massive start-up show in London on 19 January, we asked Lee a few questions.
How did you come up with the idea for On The Tools?
The idea for On The Tools was formed over drinks on a Friday night in August 2014. Adam Barrie, my best friend since primary school, was moaning at the fact he couldn't find a plasterer for a job he was running. Adam had been in the trade for 12 years and was explaining that he still relied on the extent of his phone book or a poor service from most recruitment firms.
As a bit of a geek and tech enthusiast I was adamant that there must be something out there that would solve this problem. It turned out that there wasn't. We set about building a spec for an app that would allow tradespeople to connect.
You attracted lots of followers almost immediately. How did you do that?
With no budget for anything and all of our money spent on the app we knew we needed tradespeople all in one place if the app were to be a success. It's a segment that is historically expensive to convert so we knew we had a big task making this happen.
Adam was keen to use humour and video to grow an audience so we started the Facebook page of the back of that strategy.
It was at a time where Facebook pages (particularly publishers) were growing at rapid rates and viral type content was growing exponentially.
We started to post content we had found across YouTube and after two weeks the followers started to send us content.
We built some licensing software to formalise the ownership of the content and started to repost it. We had high hopes of being in a position to launch the app after 12 months to a following of 100,000. After three months we had 250,000.
How did you switch from a Facebook page to a fully operational business?
Making the switch from just a facebook page to an operational business was trial and error. We got ripped off with the app and had to start again and had done bits of affiliate work with a few brands but didn't really have massive success.
It was at this point we started an online store and started selling OTT merchandise and workwear. This became the driver of growth for this business.
We then realised that the audience was the most powerful asset we had and started to create content with brands and push this back through the channel.
We decided to park the app idea and drove forward with becoming a social media marketing agency.
What are you most proud of so far?
The culture we've built at OTT.
In previous companies I've been involved with the staff turnover was terrible. There was a huge gap between the management team and the rest of the workforce and it made for a poor place to work. I vowed I'd never be part of a company like that again, and certainly wouldn't build a business like that.
At OTT there is a huge wealth of togetherness all the way through the business and as we grow at two people per month in 2019 the positive culture we have is something that will always stay at the heart of what we do as a business.
![Lee Wilcox, co-founder of On The Tools](https://enterprisenation.blob.core.windows.net/enterprisenation/e99ed80b4805e911a96f002248072825/lee wilcox 3.jpg)
What business challenges have you had to overcome?
I think the growing pains have been the biggest challenges.
I've never run a business before, and I've never come up against being at the centre of a business that is growing quicker than the plans we have for it are.
No space for people to sit, not enough cash flow to deal with it and more clients being won than your processes allow for are all things that you have to balance when you start a business.
What are your three top tips for growing a big online community?
Be relevant. Serving generic content to an audience is a dangerous game. Before you know it you're the same as every other publisher. Really think about who you're creating content for and double down on making sure they get value from it.
Be agile. The online world changes so much and so quickly that if you're unwilling to switch up what you do and change your plans, you'll get eaten up and spat out.
Build your network. It's only more recently that I've really seen the value of networking. Having more people to bounce ideas off is the one thing that will allow you to make more informed decisions.
Why do you think entrepreneurs should come to StartUp 2019?
Put simply, it's one of the best events in the business world.
Enterprise Nation really know how to offer some hard hitting value to people who are looking to start and grow a business.
All you ever want when running a business is more information to fill the gap of the 'unknown'. StartUp 2019 does this.
Catch Lee Wilcox on the keynote stage at StartUp 2019, the biggest start-up show of the new year in London on 19 January. He's one of more than 100 inspiring speakers. Book your ticket today.
StartUp 2019 is supported by:
Headline partners
Zone partners
Enterprise Nation has helped thousands of people start and grow their businesses. Led by founder, Emma Jones CBE, Enterprise Nation connects you to the resources and expertise to help you succeed.