BLOG
How a Company Van Helped a Small Business Stand Out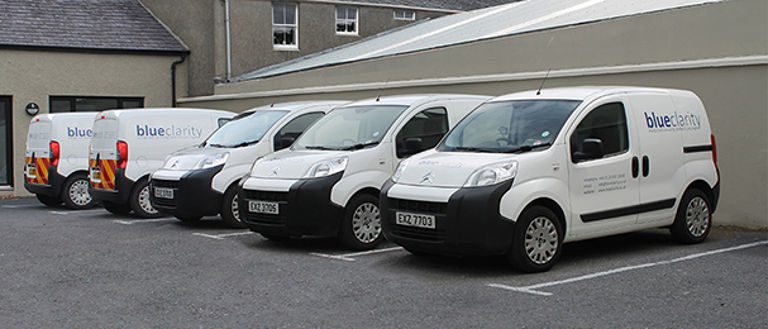 ---
Posted: Tue 27th Aug 2013
Blue Clarity is a company that came about when two complementary small businesses merged together to offer a complete solution. We spoke to partner Darren Fenton about how his branded company vans did the same thing - merging advertising with utility - and helped his business grow.
Win a makeover for your company van!
This post is part of the Me and My Van series, which takes a look at how small businesses are using company vehicles to 'drive' their business forward. As part of the series, we're offering you the chance to win a makeover for your company van, courtesy of AXA Business Insurance and Easisigns. The winner will also get a video interview, which we'll show on our blog and YouTube channel.
Interview with Darren Fenton, Blue Clarity
Q. Tell us a little bit about your business.
Darren: Blue Clarity is a team of experienced and diverse construction professionals in Northern Ireland, whose expertise offers a bespoke CAD, survey and design package solution for the Energy, Utilities and Construction sectors. (Ed. note: Nicely put!)
Q. Now tell us a little bit about your van! What make and model is it? And have you given it a name?
Darren: We've got a few vans, but most the popular is the Citroen Nemo. We call them Nemo 1, 2, 3, etc.! (Ed. note: So no problem 'finding Nemo'?)
Q. How do you use your van in your business?
Darren: We use the vans for telecoms surveys, energy surveys and for carrying property maintenance.
Q. How did your business change when you bought your van?
Darren: When we bought our first van, it was partly for the branding and advertising opportunity - people always remember seeing your van around. It really stood out.
Q. So, what kind of feedback did you get from your branded van?
Darren: We've had lots of positive feedback, and it really makes us look very professional to our clients, especially when staff driving the vans wear branded clothing and high-visibility vests, etc.
Find out more about Blue Clarity on its website. And if you use a van in your business, enter our competition to win a van makeover, courtesy of AXA Business Insurance and Easisigns - plus, a video interview to be shown on our website (and you can show it on yours too!).
The Me & My Van series is supported by AXA Business Insurance. Make sure you follow @AXABizTeam on Twitter and use the #MeAndMyVan hashtag when tweeting about your company van! Spacer Spacer Me and My Van terms and conditions
This competition is open to any small business owner in the UK who owns a van. Van size up to and including a Medium Wheel Base Ford Transit Van or Similar. The van will have to be made available at the Easisigns workshop in Wimbledon SW19 for the installation.

The competition will run from July 1st to October 31st 2013.

One winner will be chosen to win vehicle graphics for their van courtesy of Easisigns.

The winner agrees to have their business and van promoted through a profile on the Enterprise Nation site and via video footage.

All entrants agree to have their details shared with Me and My Van supporters, AXA Van Insurance and Easisigns.
Enterprise Nation has helped thousands of people start and grow their businesses. Led by founder, Emma Jones CBE, Enterprise Nation connects you to the resources and expertise to help you succeed.