BLOG
How a Company Van Helped a Small Business Move Up a Gear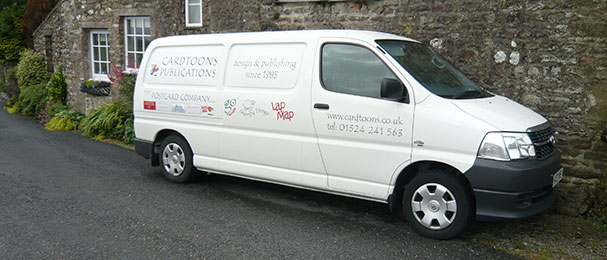 ---
Posted: Mon 12th Aug 2013
Robin Sadler and Colin Shelbourn have known each other since their school days. They started a business in 1985, combining Colin's passion for drawing, and Robin's for making sales.
Cardtoons Publications Ltd now sells and distributes cartoon postcards throughout the north of England. We talked to Colin about how the business "went up several gears" when they bought their first company van, and how they haven't looked back since - except to check their mirrors.
Win a makeover for your company van!
This post is part of the Me and My Van series, which takes a look at how small businesses are using company vehicles to 'drive' their business forward. As part of the series, we're offering you the chance to win a makeover for your company van, courtesy of AXA Business Insurance and Easisigns. The winner will also get a video interview, which we'll show on our blog and YouTube channel.
Interview with Colin Shelbourn, Cardtoons Publications Ltd
Q. Tell us a little bit about your business.
Colin: "Cardtoons was set up in 1985 to sell and distribute my cartoon postcards. My co-founder Robin Sadler and I had known each other since our school days. I loved drawing, Robin loved selling, so... "The company now sells postcards, the world-famous Lap Maps, gifts and textiles, and distributes them throughout the north of England. We also sell online via our website."
Q. Now tell us a little bit about your van! What make and model is it? And have you given it a name?
Colin: "It's a Toyota HiAce. It's our third van and our second Toyota. The inside is racked for carrying products, a system which is part bought-in and part bespoke, modified to meet our requirements. I don't think it has ever been given a name, but we do have a CD of the Thunderbirds theme on permanent cue, ready to press play when we launch..."
Q. How do you use your van in your business?
Colin: "We use it for distribution around the north of England. It does about 60,000 miles a year, covering Cumbria, Yorkshire, Northumberland and the Borders. Every so often it makes a sortie to trade shows farther afield, including the NEC earlier this year, where Peter, our van sales ace, met someone quite famous..."
Q. How did your business change when you bought your van?
Colin: "It went up several gears when we bought our first van. Without it, we couldn't run the business."
Q. Your van is branded. What kind of feedback have you got from it? Has it won you any new business?
Colin: "We have adorned the van with a number of our product logos, as well as the Cardtoons logo and little man. It has received loads of comments. Although I'm not involved in selling, I often get people saying to me that they've been on holiday and seen the van around the country. "The product logos are useful, as they prompt people to ask about them - they may be familiar with the Lap Maps, for example, but don't know what the Beware Sheep or Vertically Challenged ranges are all about. So it regularly wins us new business by acting as a mobile billboard.
Find out more about Cardtoons on its website. And if you use a van in your business, enter our competition to win a van makeover, courtesy of AXA Business Insurance and Easisigns - plus, a video interview to be shown on our website (and you can show it on yours too!).
The Me & My Van series is supported by AXA Business Insurance. Make sure you follow @AXABizTeam on Twitter and use the #MeAndMyVan hashtag when tweeting about your company van! Spacer Spacer Me and My Van terms and conditions
This competition is open to any small business owner in the UK who owns a van. Van size up to and including a Medium Wheel Base Ford Transit Van or Similar. The van will have to be made available at the Easisigns workshop in Wimbledon SW19 for the installation.

The competition will run from July 1st to October 31st 2013.

One winner will be chosen to win vehicle graphics for their van courtesy of Easisigns.

The winner agrees to have their business and van promoted through a profile on the Enterprise Nation site and via video footage.

All entrants agree to have their details shared with Me and My Van supporters, AXA Van Insurance and Easisigns.
Enterprise Nation has helped thousands of people start and grow their businesses. Led by founder, Emma Jones CBE, Enterprise Nation connects you to the resources and expertise to help you succeed.