BUSINESS NEWS
High Street footfall rises 176% on first day of retail reopening in England and Wales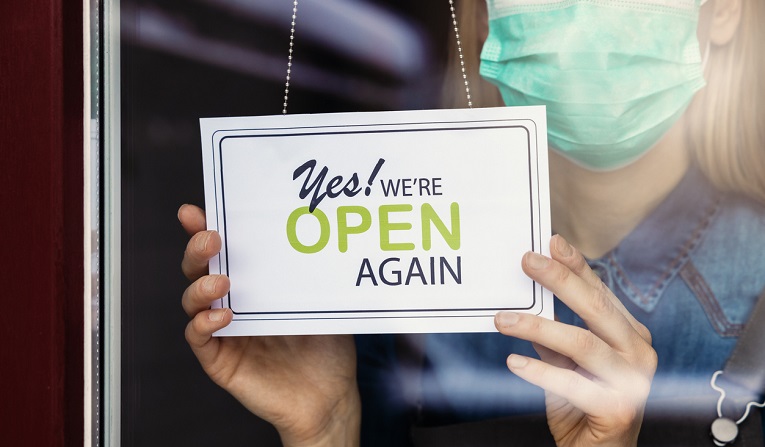 ---
Posted: Thu 15th Apr 2021
Shoppers flocked back to stores on Monday as non-essential retail reopened in England and Wales.
Data from Springboard showed footfall in all retail destinations was up 155.2% on Monday compared to the same day last week. It increased by 176% on High Streets and by 225.2% in shopping centres.
Despite the large rise, footfall was still 15.9% lower than on the same Monday in 2019 but the report said it was "an incredibly positive result, demonstrating the demand amongst consumers for shopping in bricks and mortar stores".
In Central London, the UK destination hardest hit by lost footfall since the COVID-19 pandemic, visits rose by 202.4% from the week before, down 56% on 2019 compared to an 80% decline during lockdown.
Regional cities outside London did even better with footfall 27.1% below the 2019 level. However, whilst shoppers ventured out to large cities, many still stayed local with a rise in footfall in market towns of +237.2% from the week before, a drop from 2019 of -6.8%.
Diane Wehrle, insights director at Springboard, said: "The first day of retail reopening was an amazingly positive result and one which finally offers retailers with some positive news. The strong uplift highlights that consumer demand is higher than even forecasted and shows that
bricks & mortar still holds a key position within the retail sector.
"With footfall in shopping centres rising by +225.2% and on high streets by +155.2% on the first day of trading, the sector can finally see a visible road to recovery after a difficult year."
The return of non-essential retail in England and Wales comes three weeks before the opening of Enterprise Nation's pop-up store on London's Oxford Street in May.
Victoria Jenkins quit a job at Victoria Beckham to launch her collection of adaptive clothing for people with disabilities. She'll be selling her products in the pop-up and shared her story with the Huffington Post this week.
Fill in this form to be informed when the pop-up shop opens and hear about opportunities to sell your products in a pop-up.
Hello, World is Enterprise Nation's campaign to help businesses reopen and reconnect with customers in physical locations. Get involved.
I'm a freelance content creator and event host who helps small businesses and the organisations that support them. I have 18 years of experience as a small business journalist having interviewed hundreds of entrepreneurs from billionaires like Sir Richard Branson to the founders behind brand new start-ups. I've worked for a range of leading small business publications and support groups, most recently as head of content at Enterprise Nation where I was responsible for the prolific output of content on the company's blog and social media. I'm based in Bristol where I run and host regular events with the local small business community and have strong connections to major business organisations in the south west region. In total, I've hosted over 50 events; from intimate meet-ups to conferences with an audience of hundreds including events for international brands like Facebook and Xero. I'm also a big fan of podcasts having hosted Enterprise Nation's Small Business Sessions as well as lots of online events including Facebook Live interviews, webinars and three live web chats from inside 10 Downing Street. With my partner, I co-run Lifestyle District, a lifestyle blog focused on culture, art, theatre and photography. I'm here to help. I'm volunteering free advice calls of up to an hour as part of the Recovery Advice for Business scheme, over the next 6 months. Please get in touch to see how I can help your business.