BUSINESS NEWS
High Street footfall rises by almost 4%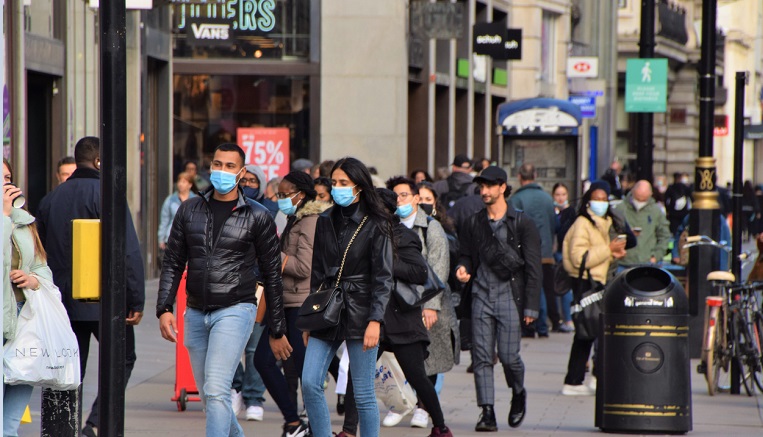 ---
Posted: Mon 17th May 2021
Footfall across all UK shopping destinations grew by 0.5% in the week to 15 May, driven by a 3.9% rise in the number of people visiting High Streets.
Visits to retail parks and shopping centres were down -3.4% and -2.8% respectively, retail expert Springboard said, after a strong performance over the May Day Bank Holiday weekend.
Shopper numbers were up across all types of High Street. At 5.7%, market towns saw the greatest rise which the report said indicated many consumers are staying local.
Shopping locations in central London have been hardest hit by the pandemic but in positive news, footfall on the capital's High Streets was the second highest at 4.2%. Springboard said this suggests "shoppers are starting to feel sufficiently confident to make trips to the capital".
'Bricks and mortar shop fronts enhance the customer experience'
Sidonie Warren, who runs shops for her Papersmiths stationery brand in London and Brighton, is one of the retailers reveling in the return of shoppers.
"Our team is back, the stores are buzzing and pretty much everyone who walks through the door expresses excitement to visit their favourite stores again," she said.
"Customers are commenting on how magical it is, after months of purchasing their supplies online, to see the stationery in real life and to try it out. It's reaffirmed our belief that our bricks and mortar shop fronts enhance the customer experience and make our jobs even more rewarding."
Small businesses in Enterprise Nation's Hello, World pop-up store on London's iconic Oxford Street are also enjoying meeting customers in person.
Open on Mondays - Thursdays during May, minister for small business Paul Scully officially opened the pop-up and said it was important because "thriving High Streets are at the heart of strong, vibrant communities".
Diane Wehrle, insights director at Springboard, said: "Shoppers braved the ongoing rain and ventured back into retail destinations last week with footfall rising from the week before. However, it was High Streets rather than shopping centres or retail parks that drove the uplift, and the result was largely a result of a bounce back from a drop in shopper activity that occurred over the Bank Holiday weekend the week before.
"Shoppers continued to demonstrate a greater desire to visit their local high streets than large city centres across the UK, although it seems that Central London is becoming more appealing with a rise in footfall last week that was the second highest of any type of high street, only lower than in market towns.
Indoor hospitality, leisure and tourism businesses reopen in England and Wales today. Wehrle said the latest lockdown easing suggests "we will see a further uplift in footfall as the opportunity to eat and drink inside protected from the elements will give shoppers an incentive to visit High Streets more frequently and dwell longer".
Return to pre-pandemic footfall levels
High Streets still have a long way to go to return to the numbers of shoppers before the coronavirus pandemic hit. Footfall in Central London remains -61.8% below the 2019 level compared with -24.1% in Outer London, -35.5% in regional cities outside of London, -30.3% in market towns and -38.6% in High Streets across the UK.
Shopping centres have gained slightly more ground than High Streets with footfall last week -29% below the 2019 level, while footfall in retail parks last week was -4.6% below the same week two years ago.
_**Hello, World is Enterprise Nation's campaign to help businesses reopen and reconnect with customers in physical locations. Get involved.
**_
I'm a freelance content creator and event host who helps small businesses and the organisations that support them. I have 18 years of experience as a small business journalist having interviewed hundreds of entrepreneurs from billionaires like Sir Richard Branson to the founders behind brand new start-ups. I've worked for a range of leading small business publications and support groups, most recently as head of content at Enterprise Nation where I was responsible for the prolific output of content on the company's blog and social media. I'm based in Bristol where I run and host regular events with the local small business community and have strong connections to major business organisations in the south west region. In total, I've hosted over 50 events; from intimate meet-ups to conferences with an audience of hundreds including events for international brands like Facebook and Xero. I'm also a big fan of podcasts having hosted Enterprise Nation's Small Business Sessions as well as lots of online events including Facebook Live interviews, webinars and three live web chats from inside 10 Downing Street. With my partner, I co-run Lifestyle District, a lifestyle blog focused on culture, art, theatre and photography. I'm here to help. I'm volunteering free advice calls of up to an hour as part of the Recovery Advice for Business scheme, over the next 6 months. Please get in touch to see how I can help your business.