BLOG
Your guide to a successful peak season 2020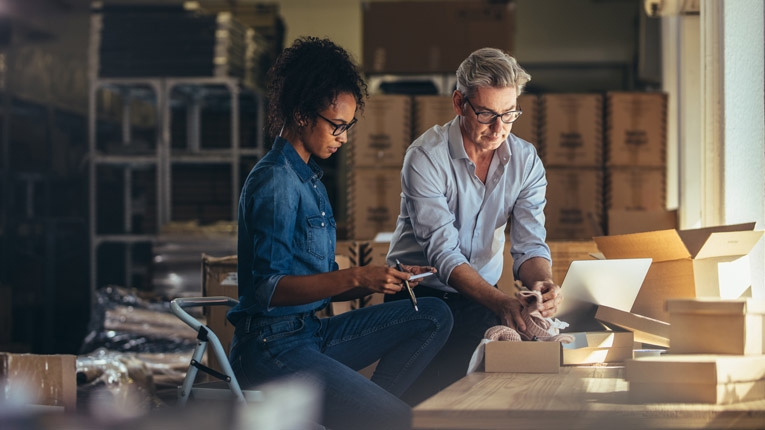 ---
Posted: Wed 14th Oct 2020
Oliver Horne, e-commerce marketing manager for UPS UK & Ireland, shares his top tips to help you set up your small business for success this peak season.
With all of the uncertainties in 2020, one thing remains the same as every year: small business owners need to start preparing now for the busy holiday shipping period. In this article, which follows my Three ways to empower your customers, so they keep coming back, I've highlighted the key trends that have emerged during this unprecedented year, as well as tips on the best ways to prepare for peak season.
An e-commerce boom: here to stay?
The coronavirus pandemic has propelled us into a new era of online shopping. Pre-pandemic, online purchasing in the UK accounted for 43% of total shopping. Following the introduction of lockdown, this number jumped to a staggering 62%.
This e-commerce boom may look like a reaction to the coronavirus pandemic, but it could well turn out to be the new normal. People have now experienced first-hand the convenience that comes with online shopping - and it looks like there's no turning back. With an estimated 17.2 million UK consumers reporting that they will permanently shift to online shopping after the pandemic, this trend of increased e-commerce may well become the new normal.
A new kind of e-commerce peak
Before the pandemic, e-commerce was already maturing with increasing numbers of consumers turning to online shopping during the holiday season. Online sales in December 2019 experienced a rise of 9.4% year-on-year, making December the highest performing month for UK e-commerce in 2019.
 
As a small business owner, the online experience you offer is more important than ever this holiday season. Many people will opt to browse and shop from the safety of their own homes, rather than risking their health by visiting a busy high street.
Also, if you are exporting your products, you should keep in mind that December may well be the busiest period of the year for your business.
Top tips for small business owners
Find the best service providers to support you
It is critical that you do your due diligence in order to identify the most suitable shipping partner to support the specific needs of your business. Clearly articulate these needs to potential service providers. Select the provider who can best meet your expectations, as well as offering you tools and solutions to help you increase sales and efficiency.
 
For instance, small businesses can manage shipments across multiple e-commerce platforms for free with UPS® Marketplace Shipping and easily monitor outbound shipments with UPS My Choice® for Business.
Assess your website
Take a close look at your online store, imagining that you are visiting it for the first time. Is it easy to navigate? Can you easily find all the information you might need, such as product details, contact details, returns policy and shipping options?
Our recent study of online shoppers found that 30% of global consumers rate the FAQ page as the best source of information during the research stage of their buying journey. Cut down on customer enquiries and encourage sales by anticipating and answering their questions.
Finally, an overwhelming number of visitors during peak season could lead to your website crashing. Review your hosting plan now with your service provider. Is your plan big enough to support more traffic? If not, switch to a bigger hosting package to help prevent a website crash this holiday season.
Make returns easy
Customers value transparency and visibility throughout the returns process. Our global study of online shoppers found that 54% want to see a store's returns policy before purchasing an item, while 72% say the returns experience will significantly influence whether they buy from a specific online shop again.
January is the busiest time of the year for returns, so prepare ahead of time. Review your returns policy, ensuring that the terms and conditions for each scenario are clearly defined on your website and visible at key points along the customer's buying journey. Don't forget to extend your returns policy so that it covers the Christmas period and into January.
Check your (and your carrier's) calendar
This year, Boxing Day falls on a Saturday and this is normally one of the biggest shopping days of the year, so get ready - there won't be much time to relax after your Christmas festivities.
Make sure you know your shipping provider's holiday calendar in advance. Is your carrier operating on Christmas Eve? New Year's Day?
Clearly state on your website any potential shipping delays due to holiday closure, so your customers know when extra time is needed for deliveries.
Offer delivery options
In our study of online shoppers, 83% of UK consumers said being able choose an alternative delivery location is the most important factor when selecting a delivery option.
For example, we provide a comprehensive UPS Access Point™ network, which offers collection and drop-off facilities for parcels at nearly 40,000 locations worldwide, over 3,000 of which are in the UK. This network allows you to offer your customers a cheaper and more convenient option this upcoming festive season.
Now you know what you need to do, it's time to start preparing for peak season and the many opportunities it presents. I hope that these insights and tips will support you in positioning your business for a prosperous peak season.
Take advantage of UPS's online rates especially for small businesses. Receive a 10% discount until 31 December 2020 by signing up here.
---
The information provided in this article does not, and is not intended to, constitute legal or other advice; instead, all information, content, and materials are for general informational purposes only. Information on this website may not constitute the most up-to-date legal or other information. Any links to other third-party websites are for the convenience of the reader, user or browser; UPS and its employees do not recommend or endorse the contents of the third-party sites.
Oliver Horne is the ecommerce customer marketing manager for UPS in the UK and Ireland. He has been part of the UPS marketing team since 2013; previously, he was responsible for retail and high-tech industry verticals. He now has a specialised focus on ecommerce; overseeing product launches, digital and physical campaigns, insight creation, competitive and market intelligence, ideation and strategy as well as supporting the UPS sales force in accelerating revenue growth. Oliver is an experienced sales and marketing manager with a demonstrated history of working in the logistics and supply chain industry. Prior to his current role, Oli was national account manager in the UK, managing some of UPS's larger accounts, some being well-known brands. Before that, Oliver spent five years at a leading UK outsourcing firm before joining UPS in 2006 as the sales executive for Manchester. Oliver holds a BA focused in consumer studies from Liverpool John Moores University.