BLOG
What does the future of hospitality look like?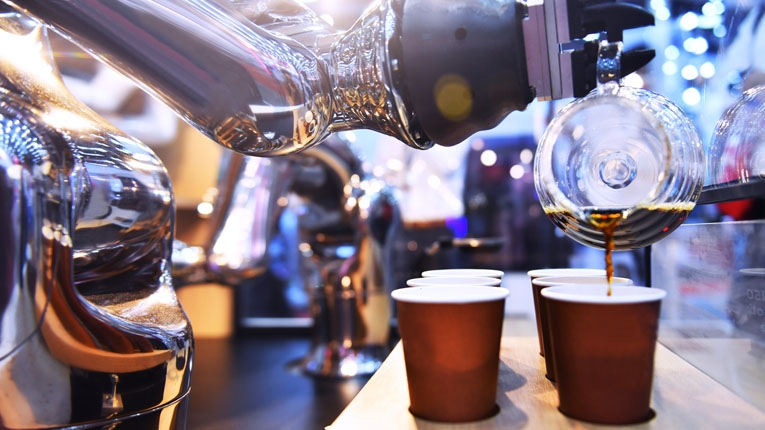 ---
Posted: Thu 8th Apr 2021
Even before the arrival of Covid-19, the hospitality industry was experiencing a huge amount of change, with the arrival of new restaurant models and advanced technology to disrupt the market.
Restaurants now have to navigate increased costs - from rent, rates and labour - as well as consumer demand for unique experiences, outstanding food and top-quality service. The question is, what will businesses do to satisfy their customers, while also facing a heavy financial burden in a post-pandemic world?
Adapt or die: where are these changes taking us?
Recent dining figures following the easing of the first lockdown seemed to indicate that the desire for restaurants is still there, giving us all hope that hospitality will be able to bounce back once Covid restrictions are lifted. However, it's inevitable that Covid will have a lasting impact on our industry and the way we eat and work going forward.
'Adapt or die' was a phrase that many in the industry were holding their businesses to long before the pandemic began. New technology has crept slowly into the business over the last several decades, from the introduction of tablets for waiting staff to pay-at-table apps. It's arguable that this need to innovate will only be accelerated by the pandemic, with more consumers than ever looking for a seamless return to dining out.
But technology isn't everything. During this period of closure many restaurants have found favour with relatively easy wins, including personal deliveries, meal kits and the launch of licensed products. While it remains to be seen if the at-home trend will continue to be popular once restaurants reopen, a little old-school hospitality has certainly gone a long way in recent months.
What does the market look like now?
As operators gear up to reopen their businesses in April or May, it's essential to look at the current market. Some key considerations are:
Customer footfall: With the majority of the UK workforce still working from home, and as most businesses look to adopt a flexible model for the long term, it's inevitable that we'll continue to see a drop in foot traffic for most businesses. Less commuting also means high decentralisation, with a focus on local dining and online ordering.
A broader offer: The most successful businesses during the pandemic are the ones that have been able to offer a variety of experiences under one brand, from hot takeaway food to at-home meal kits, beverage kits, grocery and pantry staples and more. It's likely that customers will continue to look for brands that can offer 'one-stop shops' for all their food needs.
Increased expectations: The Instagram generation's demand for visually appealing products and new experiences, combined with the fact that most consumers are now comfortable with a certain level of technology, mean restaurants need to offer more than just good food to survive.
The financial setup: Standard rent models, business rates, wages and menu pricing will all need to be reconsidered. Remember, the effects of over a year of furlough will have impacted not only the business and its staff, but also its customers and their level of expendable incomes.
A lack of skilled labour: Before the pandemic the industry was already experiencing a shortage of skilled workers, particularly chefs. The ongoing closures of both restaurants and educational facilities have severely impacted courses and apprenticeships, which will surely lead to fewer young people entering the field.
So, how will all of this impact the future of hospitality?
How quickly will hospitality recover? What will the industry look like in a year's time? Alongside these burning questions, operators will need to explore:
Creating new and even more unique experiences: The return to dining out may be slow for some, with people choosing only to dine out for special occasions until they feel completely safe. Alongside the digital generation, these customers will be looking for something to wow them to bring them out of the house.
Brand diversity: Many businesses are likely to need to seek new revenue sources in order to increase their margins, including deliveries, online classes, online cook-alongs and commercial products.
Technical quirks: In a bid to become more interesting, and also more efficient, many businesses may look to introducing advanced levels of technology. This may start out with digital menus and pay-at-table systems, but could quickly advance to augmented reality, 3D-printed food, furniture, crockery, the introduction of service robots and other forms of AI.
Covid aside, momentum was already in place to force hospitality into a period of accelerated change. For many businesses, the pandemic put a halt on their plans for development; for many others, it forced them to bring about a series of innovations that are likely to stick around. As restrictions lift, it remains to be seen exactly what the future of hospitality will be. Watch this space…
Founder and CEO of Food Motion, Peter Farrell, worked in some of the best restaurants and hotels around the World, including one, two and three Michelin starred establishments, before launching and running his own street food and restaurant ventures. With over 7 years in higher education researching food, wine, hospitality and business, and 20 years experience in the restaurant sector in kitchen, front of house and senior management roles, launching over 10 restaurants along the way, Peter has a wealth of knowledge and contacts in all areas of this sector.Food Motion is a modern, creative and professional food business consultancy with a wealth of knowledge and experience. Food Motion offers a range of support services to people who wish to start, grow and succeed in the restaurant and food sector. Whether you have an idea that you would like to develop and validate, or have an existing business that you would like to refine or grow, we can assist you with planning and fulfilling your ambitions. We offer a range of services to suit your needs delivered through our in-house team of consultants, each of whom have many years experience in the food sector. We also offer a range of other complimentary services, from digital marketing to legal and accounting, through our very carefully selected group of fulfilment partners who were all chosen standard of service and focus towards early stage food and drink businesses.