BLOG
Fuckoffee: It would be rude not to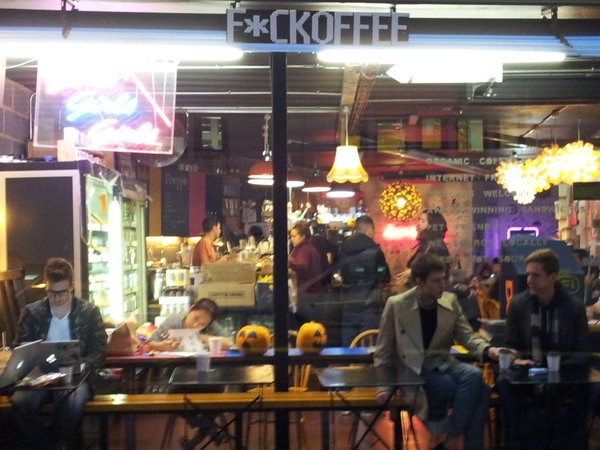 ---
Posted: Sun 20th Dec 2015
Whether you're looking for somewhere to check your emails between meetings or need to find a place to get your head down for a few hours, coffee shops are always a winner. We have been out and about in London to find the best ones to work from, rating them out of 5 on Wi-Fi, power supply, seating, atmosphere, food and of course, coffee.
First stop on this coffee shop tour I visited Fuckoffee on Bermondsey Street (SE1). A hipster's paradise full of witty merchandise, 'independant thinking' and even a Bitcoin ATM. However this place is truly brilliant and a great place to work, even if you don't have skinny jeans, a beard or wear glasses the size of your face without a medical reason.
Before I delve into why I loved working there (trust me, it's not just because it's a 10 minute walk from my house), I need to explain why this place is so ridiculously cool. In essence, they really don't give a Fuck..offee. Having already had to remove their 'rude' sign, and brilliantly replaced it with the sign you can see above, they also have a fake CCTV camera in the toilet alongside a proudly hanging framed rejection letter from the Intellectual Property Office (see right). It's not just their humour that makes Fuckoffee so attractive to it's customers. It's in a great location and the staff are super friendly
too. Now for the ratings...
Wi-Fi - 2/5
The Wi-Fi's speed wasn't the issue, it was fast, when you could access it! I could only get online for an hour (after that I had to use my phone's personal hotspot). So if you're only popping in to cram a few emails in, great. However, if you're looking to settle in and get a few hours work done, it might not be for you.
Power supply - 4/5
The power supply was pretty good. Wherever you sat there was at least one socket in reach - just as long as it wasn't taken.
Seating - 3.5/5
Having arrived at around 2pm to a queue at the door I thought I'd be struggling to find a seat as it's not the largest of spaces, but I managed to grab a spot on one of the sofas. There was a decent variety of sofas, tables and a work bench but not in large quantities.
Atmosphere - 4/5
The a
tmosphere was really relaxed, with good background music and a bit of a buzz that made it a great space to work and be productive.
Food - 4.5/5
Although I didn't have any food (those that know me will be very surprised), it looked great. With a wide variety of 'street food' sandwiches, a range of food and drink products from start-ups such as Propercorn and Pip Organic and home made cakes there was loads to sink your teeth in to.
Coffee - 4/5
Coffee of choice was a flat white with an extra shot - needless to say that kept me going for a few hours! Not that I'm a connoisseur by any stretch of the imagination, but the coffee itself was real tasty.
Overall - 4/5
If you enjoy working somewhere with a little bit of buzz and a place with heaps of character, then Fuckoffee is for you. With loads of fuel to keep you going, décor and merchandise that will keep you smiling throughout the day and comfortable seating with the ability to keep charged up, you can spend some seriously productive time there... as long as you can get online after your hour of Wi-Fi is up! If you were able to stay online for more than an hour then you could quite easily stay and work in there all day. That's probably why there is a limit.
Enterprise Nation has helped thousands of people start and grow their businesses. Led by founder, Emma Jones CBE, Enterprise Nation connects you to the resources and expertise to help you succeed.