BLOG
Free Range Friday: An island for artisans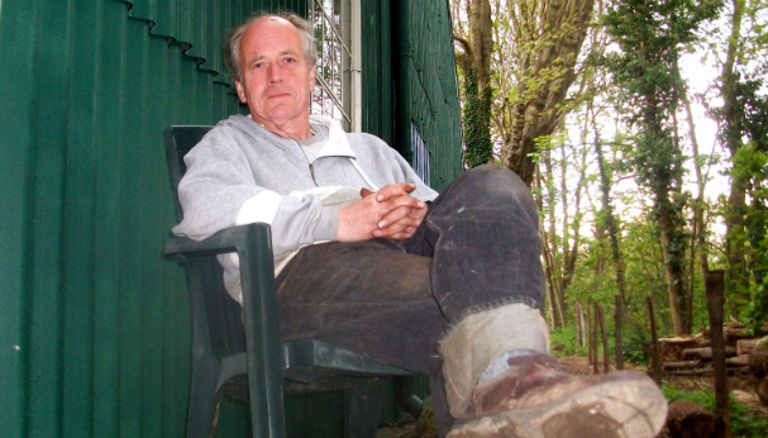 ---
Posted: Mon 23rd Apr 2012
"I'm a boatbuilder, but only by fairly recent trade," explains John Watson of John's Boat Works in Brentford.  "I'm a solicitor by background. But I spent 30 years in the United States running businesses large and small. Initially, I worked for a British engineering company, then I ran a retail business out there in the Texas hill country. It was a year-round Christmas store."
A year-round Christmas store? In Texas? John laughs. "It was very entertaining and lots of fun," he confirms, adding that he'd already spent several years in Florida and Illinois before moving to Texas with his American partner. So how does an occasional solicitor go from running a Christmas store in Texas to reviving traditional boatbuilding on an island in the Thames near Brentford? "Well, I've been a sailor for as long as I can remember," John explains. "When I came back to the UK, I took a year out from practicing as a solicitor and went to the Boat Building Academy in Lyme Regis where I got my City and Guilds. "Then I moved to Derbyshire and operated out of a barn on a smallholding doing repairs to people's sailing boats and itinerant boat repairing. It was there that I heard about Lot's Ait and thought 'That looks an interesting thing to do"¦'."
The revival of traditional industry
Lot's Ait ('ait' is an Old English word for 'island') is one of 44 islands in the Thames and rests where the Grand Union Canal reaches the Thames between Kew Bridge and Brentford, in the west of London. Between the 1920s and 1970s, the island was a major barge and lighter repair centre; but as the trade in transporting goods by water diminished, the boatyard fell into disuse and was finally closed and abandoned. There have been several attempts to redevelop the island over the years, but all have fallen at the hurdle of boatbuilding. Any planning permission requires that a new development incorporates an element of the island's established use as a boatbuilding and repair facility. The current owner, who is creating leisure moorings, recognised this and advertised for someone to restore the abandoned facilities and revive the traditional craft on the island. Which is where John comes in. With his passion for traditional boatbuilding, his itinerant nature and thirst for an unusual challenge, he seems the perfect fit. As John's Boat Works, he's spent the last year overseeing a sympathetic restoration of the neglected boatyard and its facilities and machinery. The island has been opened up with a new pedestrian walkway and John is adding new facilities to support his dream of building a community of artisans. "It's been a busy project getting the building back to a usable condition," John admits. "But it's almost watertight now. We've installed electricity, a shower and messroom facilities. We've got big machines coming, too, like a big bandsaw and large woodworking machinery that start-ups might not be able to afford for themselves."
A community of artisans
With 5,300 square feet of space, there's far more room than John needs to practice his trade. His dream is to build a community of boatbuilders, woodworkers and other traditional artisans - even artists - who will rent small units on short-term leases as they get their business up and running. Or even just do something they've always wanted to do. "We have some tenants already. There's a guy who builds replica vintage aeroplanes and he's putting together wings with canvas and glue. There's also a boatbuilder who just wants to build himself a boat. Anyone can come here - people with different ages, different skills and experiences. "My goal is to build a community where we learn from each other and share with each other a bit," John continues. "In my case I've been in business a long time, so I can offer help with the technical and commercial side - things like business planning or finding out about markets. Then if someone builds their business to the point where they can justify their own premises, that's great."
Launching the community
It's a bold project and it's ready to launch. The next step is to fill the workshops and to build the community. John's already been talking to local colleges with artisan courses and advertised in boatbuilding magazines. Next month, the area's MP is visiting to tour the newly-restored facilities. "The Council, the Chambers of Commerce and the local business community have all been very supportive of the island coming back into commercial use," John says. "Traditional Thames boatbuilding skills have almost died away and there are very few facilities left where boatbuilding is done or where people can come in and use the skills they've learnt. I'm all in favour of technical training to give people a route into establishing their own small business. "To have Lot's Ait with a licence to do things that have always been done here makes it a very special site. It's a magical place."

Talk to John about hiring workshop space on Lot's Ait
If you're interested in viewing Lot's Ait with a view to taking space to practice boatbuilding, woodworking or other artisan crafts, John would be happy to show you around the new facilities. You can contact him via email on john@lotsait.com or call his mobile on 07875 000465.
Visit Lot's Ait
John is also holding an open day at Lot's Ait on Saturday, 28th April. If you're in interested in visiting the island, you can register your interest here.
Enterprise Nation has helped thousands of people start and grow their businesses. Led by founder, Emma Jones CBE, Enterprise Nation connects you to the resources and expertise to help you succeed.