BLOG
Free Range Friday: All aboard the BizzleBus!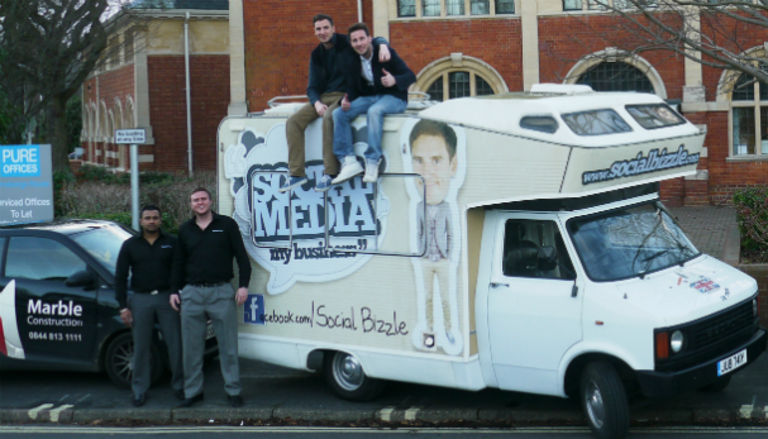 ---
Posted: Fri 6th Apr 2012
What do online training, a clapped out campervan and Facebook have in common? The answer is Social Bizzle.
"Small businesses are missing huge opportunities to win new customers on Facebook, so we built an innovative online training product that teaches them how to use it effectively" says Lee Fuller, co-founder of Social Bizzle, that trains small enterprises in using Facebook for business. "The trouble is, online advertising is all well and good, but as a small business without a marketing budget we needed a creative, cost effective way to raise more awareness to our target market," interjects his business partner Alistair Gallop. "That's when we randomly saw the camper van - and lightbulbs went off in our heads"¦". They call it the BizzleBus and it's an eyecatching promotional idea that's turns a current marketing trend on its head. They have an online product, but they're promoting it offline by actually visiting individual firms to teach them how to use Facebook for business during a 12-month nationwide tour that gets motoring in London on April 16th. So far, 250 businesses have registered for the tour and over the next year, Lee and Alistair will be visiting firms in London and beyond in their boldly decorated 1981 Bedford camper van.
The beginnings of Bizzle
It'll be a squeeze, but the 28-year-olds shouldn't have a problem with sharing the space during their stints on the road. "We've known each other since junior school in Farnborough," explains Alistair. "But we became good friends at 17, 18. In 2008, we bought a flat together as an investment, but we were both made redundant around the same time in 2008 and ended up living there. "Rather than get down about redundancy, we knew we needed to get out there, find other jobs and look at other opportunities on the side. We brainstormed lots of ideas to make money and to change things." Lee picks up the story. "In the meantime, I started working in software sales and Ali set up his own architecture business. He was using Facebook extensively to promote his business and started doing quite well," he recalls. "We realised there lots of businesses out there who just weren't using Facebook to its full capability, so we started approaching individual businesses and offering them help." They loved sharing their expertise, but teaching businesses one by one was by no means a full-time income for two ambitious young men living in Hampshire. They needed to scale up if this were to become a fully-fledged business. In January 2011, they launched Social Bizzle as an online Facebook training platform for small businesses, using video modules as learning tools.
Using Facebook for engagement
With the growth of social media and the DIY approach to marketing that it encourages, Facebook has almost become a default marketing and customer engagement tool for the UK's small enterprises. According to Lee, some 10,000 small business pages are created on Facebook daily - and most of these businesses could be doing a lot more with it. There's a huge knowledge gap, he says "A lot of businesses don't know how they can be more creative in applying what Facebook can offer to build customer engagement," Lee stresses. "If you're going to generate sales through Facebook , you can't just set up your page and hope that fans interact and buy from you  it won't happen. "First off, you have to think about your objectives: what are you trying to get out of Facebook?" he continues. "Ultimately you want to make sales, so it makes sense to lead fans to the areas that convert best for your business, like your website and email list. Secondly, you have to position your business on Facebook in a creative way that will maximise engagement and the Timeline is perfect for that. "We use Marble Construction as an example of how to use the Facebook Timeline. As a construction business, people have to trust them with their most prized possession - their homes - so we helped them use their Timeline to show people how they started, what projects they've worked on and what their customers think of their work. If you're looking at two construction businesses and one has a page full of testimonials, great showcase projects, engaging images and the other just has a bland, boring page with the occasional spammy sales post, which are you going to contact first?"
The power of video
The two entrepreneurs use video to dispense their lessons in a series of modules that take business owners through a structured learning process. "If you're a business starting out then online training is the fastest and most cost-effective way for you to learn new skills," Lee says. As with everything Social Bizzle does, it's fun, upbeat and engaging - and it's scaleable: from Facebook, they can branch into other online sales and marketing tools, such as eBay and Adwords. What's more, they've done it all themselves. "We built the platform, we shoot the videos and we've learned everything ourselves. We've really bootstrapped our way to where we are at the moment," adds Alistair. For now though, he and Lee have a tour to think about. "It's going to be so much fun going out and meeting businesses. It's much better than being in an office working 9-5."
Find out more about Social Bizzle
Special offer: Get our free eBook guide to using Facebook in your business
Got an idea for Free Range Friday?
Free Range Friday is all about the inspirational, insightful, innovative and just downright interesting things that small businesses do - whether that's a clever product, a unique approach to marketing or just something that makes you smile. If you've got something you'd like to contribute to Free Range Friday, then please email Simon, the Enterprise Nation editor.
Enterprise Nation has helped thousands of people start and grow their businesses. Led by founder, Emma Jones CBE, Enterprise Nation connects you to the resources and expertise to help you succeed.