BLOG
Five great tips for successful sales outreach as a small business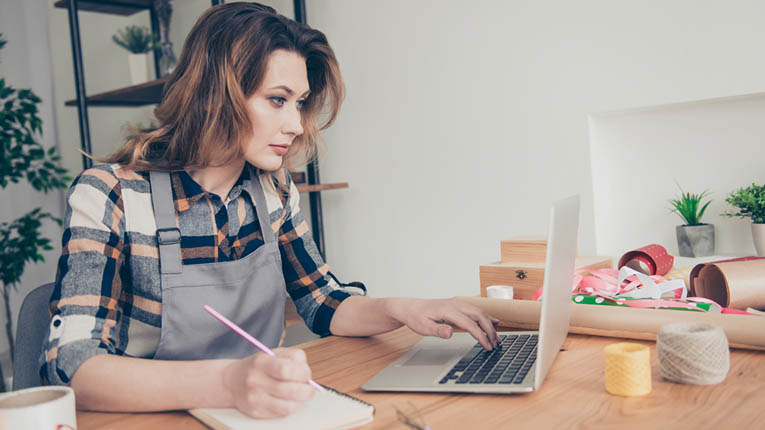 ---
Posted: Tue 20th Oct 2020
You've identified your ideal target customers - but how can you get their attention?
While marketing strategies across your brand touchpoints are great for long-term customer acquisition, the direct route from lead to customer still offers the swiftest results. This is where sales outreach comes in - and we're bringing you some great tips to help you maximise your opportunities.
Sales outreach: Those who plan, win
Use segmentation
Great sales outreach actually starts with using segmentation to focus your efforts. Defining customer segments and target personas such as head of buying, marketing lead or human resources will help you tailor your outreach and get better results.
Get to know your prospects
Before any sales outreach, you need to do your homework and collect as much relevant information as possible. Know the answer to questions like how they spend their money or what they are passionate about.
Have a sales kit ready
This tip may seem a little basic, but you'd be surprised how many companies still email their contacts asking for a PDF product brochure. So, put a folder of key sales assets together (pitch deck, sales/product sheet, one-pager) and always have this at your fingertips and ready to get across to any prospect. Great outreach content should be informative but also introduce the prospect to your products and pricing structure. Be ready to follow this up with educational content if needed - such as webinars and eBooks from your resources sections.
Five tips for a successful outreach strategy
1. Cold calling isn't dead
Particularly for smaller companies looking to achieve fast growth, cold calling is still a valuable outreach tool. But there is a caveat: you need to have an effective cold calling strategy to make it work. Typically, cold calling works best in a B2B context. This is because B2B contacts are usually freely available, yet privately, many people simply refuse calls from unknown numbers. A good CRM can help organise your data and maintain contact history. There will likely be many contact points, and prioritising follow-ups and knowing what stage each prospect is at is vital for strategic planning.
2. Get personal with event-based outreach
While the era of selling door to door is long gone, there are plenty of events and conventions where you can make direct contact with prospects - and it's even expected and encouraged. Virtual events and remote attendance can equally present great opportunities to network directly with future customers.
3. Make the most of social selling
When it comes to B2B prospects, Linkedin is the social channel of choice for social selling. It's a great place to make direct contact with companies in your target segment. Follow relevant hashtags and accounts on Twitter and Instagram to find potential customers and engage them in your content or send out offers via direct message.
4. Personalisation is key
A personal touch always leaves a stronger impression. Whether you are calling or sending a message on social media, try to make your communication feel unique. But how? Use your insights and customer knowledge from segmenting your target prospects to make your message more personal. And don't forget to always use your prospect's name.
5. Keep track with tech
Who have you contacted? What were their pain points or obstacles? What stage are they at in the buyer journey? There is so much information to keep track of during outreach that spreadsheets at some point just won't cut it. To stay efficient and maintain clarity, having the right technology and tools in place is invaluable.
How can CRM systems help you with sales outreach?
So to sum this up, a CRM system can help you get the attention of your ideal prospects by, among many other things, helping you organise all of your data and maintain contact history. There will likely be many contact points, and prioritising follow-ups and knowing what stage each prospect is at is vital for strategic planning. A CRM will also help you stay efficient and productive as it will help you to automate things like follow-up reminders; it will also prompt you to act when needed.
Learn to master sales outreach today
After making contact with a prospect, it's imperative to keep them interested before closing the deal - and hopefully nurturing a long-lasting customer relationship. Mastering the buyer journey is a game-changer for your business's growth.
If you would like to learn even more about the sales cycle, check out this free eBook from Salesforce. It's an excellent resource packed with useful strategies for your small business.
Norma O'Kelly is a Senior Marketing Manager for Salesforce for the UK and Ireland. She has been part of the Salesforce Marketing team since 2015 and is responsible for Small Business Marketing with a focus on digital marketing, virtual and in person events, sponsorships and more recently was the lead for the Salesforce Small business Grant program in the UK in 2020. Prior to her role in Salesforce she has a long history in marketing working with start-ups, mid size as well as some very well -known brands including Nokia, Jameson Irish Whiskey, Bacardi and Oracle. Her side hustle and first love is coaching young talent and SMEs and is an ICF approved Life and Business coach.