BLOG
Find out how to use Evernote in your business - 3pm today!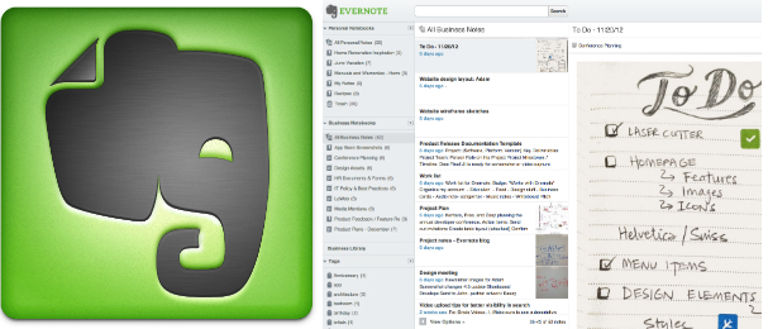 ---
Posted: Wed 19th Jun 2013
It's THE note-taking and information-gathering app and beloved by millions of users worldwide as a great way to record and store thoughts, ideas and information. But how do you use Evernote to best effect in your small business?
You can find out this Wednesday at 3pm, by taking part in our 45-minute Evernote for Work webinar. You'll receive tips and guidance on how to get the most out of Evernote as a business tool, then have the opportunity to ask questions by text or voice in Evernote's virtual classroom. And it's all completely free. Here's what you'll get after signing up and joining in: 1. Demonstration of Evernote (30 minutes)
- What is Evernote?
- Creating Notebooks and Notes
- Sharing Notebooks and Notes
- Searching within Evernote
- Capturing various forms of information
- lots of helpful tips and tricks.
2. Question and answer (15 minutes)
Register for the Evernote webinar
It's easy to take part - just register in advance on the registration page and you'll receive an email reminder telling you where and how to log in.
How to use Evernote in your business Wednesday 19th June, 3pm
We'll also be sending out a reminder in our newsletter tomorrow morning. PLUS, we've got opportunities to talk directly to other leading small business brands over the coming weeks, including 1&1 Internet, Sign-Up.to, Moneypenny and Companies Made Simple.
What is Evernote?
Evernote is widely recognised as the most user-friendly information-gathering app for collecting and storing information from anywhere, including web clippings, files, images and text notes. The basic version is free, but Evernote also offers Premium and Business versions with a wider range of features, including the capacity to make voice notes and share notebooks with colleagues, as well as support from Evernote itself.
Use Evernote Premium for FREE for three months
Sign up to the **Enterprise Nation Club** for just £20 a year and you'll make an instant saving of £12 on three month's Evernote Premium usage (in other words, you'll get 60% of your membership fee back immediately). At the end of the three months, you can either carry on as a subscriber or upgrade to the new Evernote Business, the even more powerful version of the app aimed specifically at small businesses and their teams. Check out the Evernote offer!
Enterprise Nation has helped thousands of people start and grow their businesses. Led by founder, Emma Jones CBE, Enterprise Nation connects you to the resources and expertise to help you succeed.