ANNOUNCEMENTS
Female Start-up of the Year 2021: Meet the finalists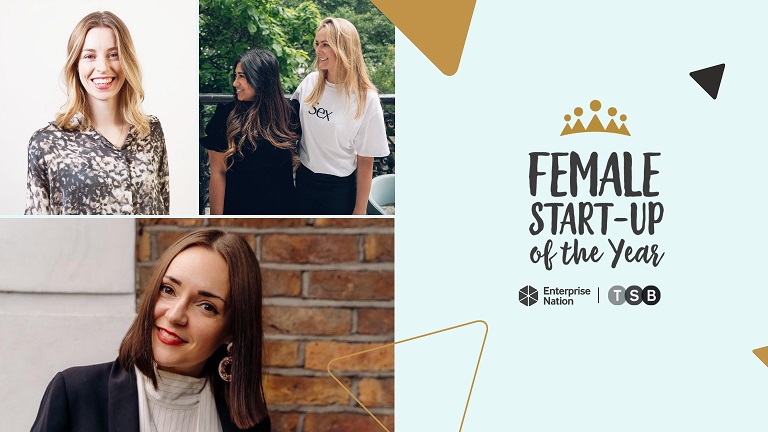 ---
Posted: Tue 12th Oct 2021
The Female Start-up of the Year award aims to spotlight female founders with a clear vision of their start-up's direction – and ambitious plans for growth.
After receiving thousands of votes across 10 incredible semi-finalists, we can now reveal the three finalists. Congratulations to them all!
With 14 million people in the UK having some form of disability, the potential market for sustainable and adaptive fashion is significant. Unhidden's research, design, and prototyping activities will broaden the range of garments offered to the disabled community.
Unhidden's focus on sustainable and ethical fashion means that many of the negative impacts the fashion and textile industries can have will be avoided in this project.
Farah Kabir and Sarah Welsh,
HANX
HANX makes gynaecologist-approved sexual and intimate health products that are designed with a woman's needs in mind. The company is targeting women at every stage of their lifecycle, starting with sexual wellness, meaning sexually active millennials, moving into early menopause.
HANX is revolutionising an Ignored Industry: While everybody wants to talk about sex, the foundations of it, contraception and intimate healthcare, aren't considered 'sexy' products. HANX thinks differently - and sees the opportunity.
The number of over 50s receiving Universal Credit has more than doubled in the last year (Employment and Labour Market, ONS). At the same time, 46% of mothers made redundant during COVID-19 blame a lack of childcare provision.
GrandNanny is the UK's first intergenerational childcare service. A managed marketplace addressing the problems of isolation and underemployment amongst midlife people, and the struggle parents have to secure long-term, reliable, local part-time childcare. They bring these two groups together to solve two huge social issues.
Related resources
Enterprise Nation has helped thousands of people start and grow their businesses. Led by founder, Emma Jones CBE, Enterprise Nation connects you to the resources and expertise to help you succeed.