MEMBER STORIES
Entrepreneurs' mental health, business rates and trusted advisers: Issues on the minds of business owners at 10 Downing Street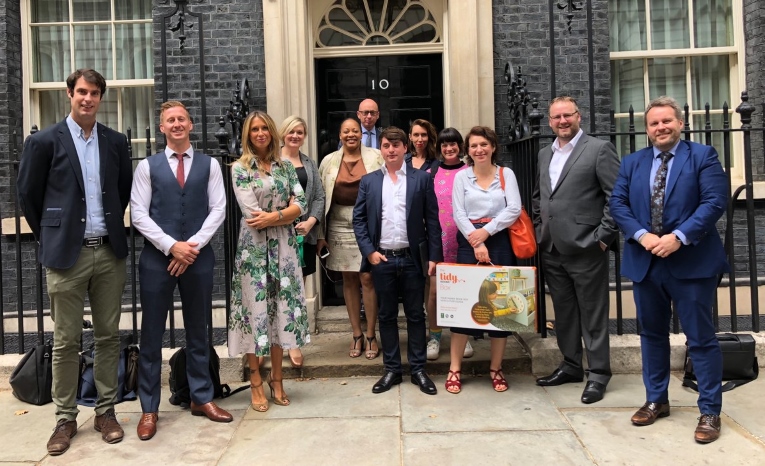 ---
Posted: Mon 20th Aug 2018
Parliament may not be sitting but that doesn't mean enterprise comes to a halt in Whitehall. A group of Enterprise Nation members visited 10 Downing Street last week to share views with the prime minister's business director, Jimmy McLoughlin, on how the UK can retain its place as a great nation in which to start and grow a business. They were full of good ideas!
The business owners attending were:
Company formation
Richard Osborne of company formation outfit, eFiling, raised a key point on which he's been lobbying for some time, which is the level of money laundering in the UK through lack of checks when setting up a company.
Richard asked the government to consider giving Companies House the powers they are after to do checks on registered businesses, to ensure they are legitimate businesses. You can find out about the issue in this succinct video here.
Business rates
A topic that has come up in many of these monthly trips! Flagged by Lacey of Hunter Collective and backed up by Simon Pithekay of Camden Town Unlimited, the rates topic remains a hot and contentious one.
Simon suggested a possible solution: many co-working spaces are dividing spaces to gain eligibility for small business rate relief yet this is hampering the benefits the space was intended to deliver which is social networks, but this could be addressed through offering relief to co-working spaces that meet certain criteria.
We think this is a grand idea and will pursue further.
Role of trusted advisers
Paul Clifford from Baldwins, supported by Hannah of Futrli, whose software can help companies plan for the future, made the case for accountants to be the trusted choice of support as small businesses navigate through Brexit, Making Tax Digital etc. It's a point that has been well made in the past few sessions.
Mental health
Another topic that is increasingly being raised in these forums is mental health.
I'm told one in three people are affected by mental health issues; it can affect the founding entrepreneur, as well as members of the team. One solution could be the creation of online groups to offer a safe place in which people can talk about the subject.
This was raised by Leona of Lucky Dip Club. You can see the responses she got here when taking the topic online here and you can share thought thousands on our Facebook page here.
If you have suggestions of actions that could be taken, please let us know and we might get you involved in a future policy session.
Access to finance
Another nugget!
This is often questioned and entrepreneurs are divided in their views. Some believe funds should be more plentiful and easier to access while others believe the market is well served. I'll leave you to draw your own verdict!
Other points raised included potential tariff changes in light of Brexit,  entrepreneurship in education, and digital adoption by SMEs.
Thanks to the participating entrepreneurs who made the suggestions to support their peers and thanks to Jimmy McLoughlin who even in the summer recess month of August continues to have the appetite to hear from the front line of entrepreneurship.
Emma Jones is founder of Enterprise Nation
Following a degree in Law and Japanese, Emma joined international accounting firm Arthur Andersen, where she worked in London, Leeds and Manchester offices and set up the firm's Inward Investment practice that attracted overseas companies to locate in the UK. In 2000, bitten by the dot.com bug, Emma left the firm to start her first business, Techlocate. After 15 months, the company was successfully sold to Tenon plc. The experience of starting, growing and selling a business from a home base gave Emma the idea for Enterprise Nation which was launched in 2006 as the home business website. The company has since expanded to become a small business membership community of over 75,000 people who benefit from events and support: online and in person. Enterprise Nation also presents a campaigning voice to government and the media on behalf of its members. In 2021, Emma was awarded a CBE for services to small businesses and entrepreneurs.