BUSINESS NEWS
Enterprise Nation wins national competition to deliver free digital support to small firms via 'HeadsUp!' pilot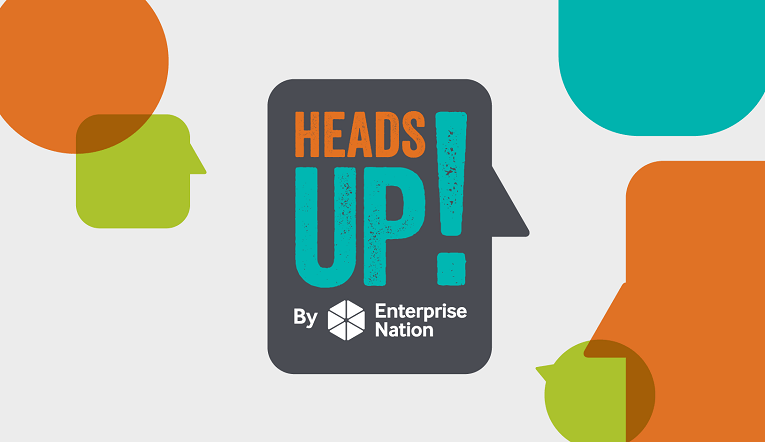 ---
Posted: Tue 29th Jan 2019
Small business support network Enterprise Nation has announced it has won a national competitive tender to deliver digital support to 600 English firms as part of an initiative to boost UK productivity.
The funding is part of the government's £8m Business Basics Programme, unveiled in the Industrial Strategy, run by the Department of Business, Energy and Industrial Strategy (BEIS) and Innovate UK.
The element of the initiative which is to be run by Enterprise Nation in partnership with Brunel University London, is a pilot called HeadsUp!.
It will operate in four areas; London, Birmingham, Oxfordshire and Lancashire and will see the partnership working with 600 micro and small companies to help them adopt digital technology and more efficient management techniques to improve cash flow and sales. Part of the aim is also to boost the morale of the employees of smaller companies.
It will test the most effective way this kind of support can be delivered as part of longer-term government investment in UK enterprise.
Emma Jones, founder of Enterprise Nation, said: "We are delighted to have won this important work which we feel will deliver a much-needed boost to the small business community at a critical time.
"If we get this right, the benefit will be felt across the whole economy. The UK is home to 5.7 million small businesses and many have the ambition to grow.
"This project will evaluate how support can best be delivered to boost revenue and improve company processes. The learnings will be used by government to inform policy on how the UK can deliver the most relevant support, at the right level of investment.
"Over the past 12 months, we've listened to the concerns of small business owners; to the challenges they face and opportunities they seek. Founders want to enter new markets with a motivated team, and get paid on time so cash can be invested back in to the growth of the business.
"But entrepreneurs struggle to raise their heads from day to day operations; to work on the business, not in it.
"This project will make it easy for owners to step back to identify and access relevant support. It will help them highlight which areas of the business need attention, match founders with accredited coaches (online and off), offer a suite of productivity tools, and measure results throughout."
The initiative will see the partnership work with London and Oxfordshire Growth Hubs, Innovation Birmingham and Boost Lancashire to recruit small businesses, starting in March 2019, which will receive either online support on how to embrace digital technologies via a productivity coach.
Firms will be recruited and then randomly selected to either access online support, or attend an in-person productivity roadshow. A digital diagnostic will assess the current state of the business so results can be evaluated over the period of the trial by analysts at Brunel.
Dr David Bell, senior lecturer in Brunel's Department of Computer Science, added: "We in the research team hope that AI (Artificial Intelligence) and simulation will enable new insights into how micro and small companies evolve - particularly the impact of cloud-based digital services."
Enterprise Nation has recruited corporate partners to support the trial, including Microsoft, Xero, CharlieHR, Soldo, Basekit and Equipsme, which will contribute to delivering training for accreditation, and promoting the project to customers, which may be looking for support to grow.
People interested in taking part in the trial should register their interest here.
ENDS
For more details contact or to arrange an interview with Enterprise Nation call Liz Slee on 07540 060112 or email liz@enterprisenation.com
Notes to editors
Enterprise Nation has won the tender to deliver the HeadsUp! trial on behalf of BEIS

The trial will test how to best to encourage small businesses to adopt existing digital technologies in cloud computing, Customer Relationship Management (CRM), sales, Human Resources (HR), time management and accounting

During the trial, 600 companies will be recruited in total. On a random selection basis, 300 businesses will be offered online support route, 300 will be offered face-to-face workshops

Enterprise Nation will deliver the outreach, diagnostics, online tools, advisers and workshops

It will also perform de minimis impact checks

Brunel University London is the research partner. It will conduct independent analysis to track impact and create results which will be submitted to BEIS
About Enterprise Nation
Enterprise Nation is a small business network and business support provider. Its aim is to help people turn their good ideas into great businesses through expert advice, events, acceleration, diagnostics and networking.
Enterprise Nation was founded in 2005 by Emma Jones MBE , also co-founder of national enterprise campaign StartUp Britain.
She is author of best-selling business books including Spare Room Startup, Working 5 to 9, Go Global, Start a Business for £99 and the StartUp Kit, Going for Growth.  In 2016 she was announced as the government's Trade Ambassador.
In 2017 the Institute of Charted Accountants England and Wales (ICAEW) announced it was to collaborate with Enterprise Nation to start building a world-leading adviser platform.
In 2018, Richard Harpin, the entrepreneur behind global home emergency repair firm Homeserve, invested in the company as part of a drive to create a more entrepreneurial Britain.
About Brunel University London
Brunel University London is an international university committed to bringing benefit to society through excellence in education, research and knowledge transfer.
Founded in 1966, Brunel has a reputation for high-impact academic research and entrepreneurial flair. The university works extensively with industry partners, contributing to global innovation and policy change.
Situated in Uxbridge, the university has a broad portfolio of undergraduate and postgraduate programmes that attract 12,000 full-time students and 2,600 staff from more than 100 countries across the world.
As a civic university, Brunel uses innovation and entrepreneurialism to drive the local economy, and to build important strategic partnerships with local organisations to bring benefit to, and increase its impact in, the local community.
Enterprise Nation has helped thousands of people start and grow their businesses. Led by founder, Emma Jones CBE, Enterprise Nation connects you to the resources and expertise to help you succeed.