BUSINESS NEWS
Enterprise Nation sees record number of member views since new platform launch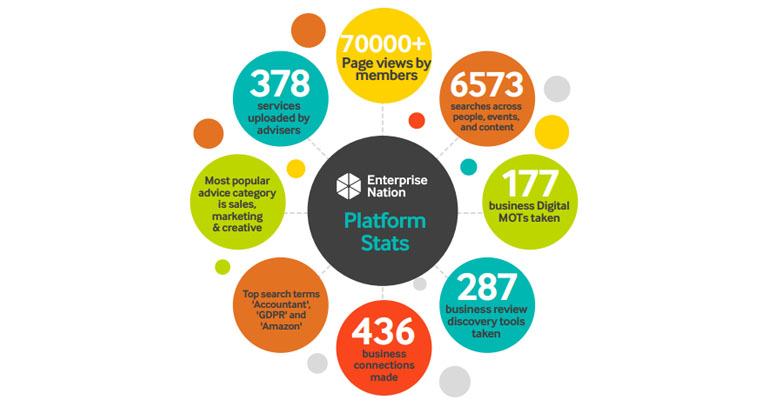 ---
Posted: Mon 3rd Sep 2018
A record number of small firms are logging onto Enterprise Nation's dynamic new platform and accessing advice to help their business grow.
According to the UK's most active small business support group, members have clocked up a whopping 70,000 page views since the digital hub was launched in April.
The platform's new features, which include a member dashboard that enables real-time peer-to-peer networking and feedback, has seen 436 business connections made using its new technology.
Its rated adviser marketplace has seen 378 new service functions uploaded by advisers, making it even easier for firms to select the exact advice they are looking for.
In addition to this, a promising 287 firms have already accessed its business health check service, which uses secure technology to provide specific, accessible diagnostics to point small companies in the right direction for relevant help.
Emma Jones, founder of Enterprise Nation, said: "When we designed this platform, we knew there was a gap in the market and a growing demand for a new, more dynamic way of providing business support. We also knew that a third of all UK companies had no idea where to start to access support.
"While small firms grapple with everyday trading, regulatory changes and mitigating the potential issues created by Brexit, today's advice needs to be easily accessible, relevant and affordable.
"We're delighted our intuitive new platform has already started to have an impact on the small business community and we expect this to only increase in the coming months as we develop its capacity further.
"Our vision is to offer a hub that will ensure every small business in the UK can get access to world-leading support on demand in a form that's convenient and affordable for them.
"This is the future of business support, and it's great to see we've already made a very promising start."
The platform has returned some surprising results; the most popular advice category so far has been sales, marketing and creative; top search terms across the platform were 'accountant', "GDPR' and "Amazon', with 6573 searches conducted since April.
A specific digital MOT health check, which targets digital performance and capability, has seen 177 small firms take it up in just a few weeks.
ENDS
Head of media for Enterprise Nation and working to get issues and the positive stories in front of the media.