BLOG
Early Adopters: How three women are helping their businesses to grow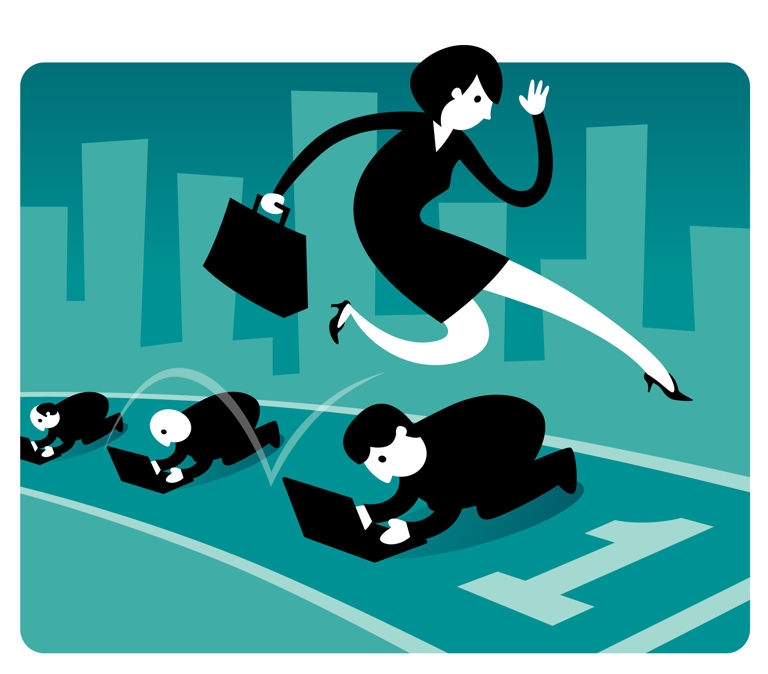 ---
Posted: Fri 7th Mar 2014
Early adopters are people who spot a trend, understand it fully, recognise its potential - and go for it wholeheartedly right from the word go. And generally the rest of us catch up eventually.
We spoke to three women who are way ahead of the pack- they have a growth voucher - and they know how to use it.
Let's start with the amazing Carla Garey from Leicestershire. She and her trained chef husband Stacey own and run a restaurant and a catering company - Saffron Catering - and have just bought the assets and business of Derby-based catering firm Occasions.
With the new business opportunities came the responsibility of new staff - they're about to take on a trainee operations manager and a new apprentice, with plans to take on and train an apprentice chef 'to be exactly what we need'. This is in addition to the admin and accounts staff, and the 13 temporary staff they use for events.
With all this going on, as well as securing planning permission on the couple's first purpose-built catering kitchen in an old pub in nearby Nailstone and selling their restaurant, Carla was aware if she needed to make everything count.
She said: "Stacey and I are both full-on running this business. We live it and breath it and we can run it well, but we're aware that we're so immersed, that we don't always step back and spot opportunities. That's why we decided we should apply for a growth voucher to help us get that perspective."
Carla applied and received a growth voucher for £2,000 to get some leadership and management advice to make sure the couple took the right steps towards their goal.
They found management consultant Nicola Newall via the marketplace. Carla said: "She's a one man band - and that appealed to me."
Nicola came in and helped Carla formulate the aims and vision the couple have for Saffron Catering - and critically, how they were going to get there.
Former hotel operations manager Carla said: "She has just given me peace of mind. It was a big step for us - it's so different spending your own money, rather than that of a big corporate. But it's been so crucial to us to make the right decisions - we can't afford to make a mistake."
Nicola worked with them and even sat in on the second interview for their new ops manager. She is now preparing a business and marketing plan which will help the Gareys take the right steps now to ensure they get to where they want to.
Carla said: "We have already bought new premises which are big enough to allow us to grow and two vans so we can cope with increased demand. If we get that wrong now, it could set us back later."
Carla estimated Nicola's input could help the couple double their turnover in a year - creating a mixture of 25 full-time and part-time jobs. She's taking the whole £2K benefit of the voucher.
Meanwhile in Horsham, Sussex, chartered accountant Carolyn Burchell took her successful appointment as an accredited Growth Voucher adviser seriously - and made the decision to apply for a voucher to help her own business to grow through marketing.
Carolyn worked in accounting for seven years before she set up her own business. She trained with London-based Coopers & Lybrand before moving on to in-house accounting roles with Unigate and Gilette.
After taking time out to be a full-time mum, Carolyn set up Composure Accounting in 2011 whilst continuing study for more accounting exams. She now works full time on the business and has around 70 clients ranging from a full-time herdsman to dealing with limited companies with a decent-sized turnover.
She registered as a Growth Voucher adviser on the marketplace in January, but also wanted to build her own business - through marketing, so she's signed up with a marketing adviser focusing on public speaking.
She said: "Accountants are not usually very good sales people. I felt that if I was going to be giving people strategic advice myself, I needed to plug this gap, whilst building my own business at the same time.
"I am speaking to someone this week about working for me part time and I'm considering taking on an apprentice as well. You can't go out and start marketing until you've got staff, otherwise you couldn't cope with the extra work, but I felt I couldn't take on staff until I'd got some more business in - which is why I'm hoping to start marketing now.
"I have been running my company for three years and it had been growing organically during that time. I needed to start thinking about specific marketing activities to start raising my profile to accelerate that growth. It's excellent timing for my business."
Carolyn is budgeting to spend £1,000 on marketing strategy and coaching - £500 from the Government and £500 from her own pocket.
London-based Beatriz Garcia-Martinez set up personal relocation service SecurelyBe last year to help people who are relocated to new countries, settle in.
"I basically help foreigners coming to live in England for work, settle in, by learning to understand and love the British culture. We've just started out and have picked up some great contracts. I'm looking to take on staff and raise awareness of what I do, so I decided to apply for help via a growth voucher," Beatriz said.
The Madrid-born national relocated herself to London seven years ago with a four-month-old baby in a strange country - and so can appreciate why there is a demand for what she does.
Last week she heard she had successfully received a growth voucher for marketing, and is now checking out the marketplace for an adviser.
We can't wait to hear your stories! Send them to us via hello@enterprisenation.com
Enterprise Nation has helped thousands of people start and grow their businesses. Led by founder, Emma Jones CBE, Enterprise Nation connects you to the resources and expertise to help you succeed.