BUSINESS NEWS
David Cameron talks small businesses and the EU [VIDEO EXCLUSIVE]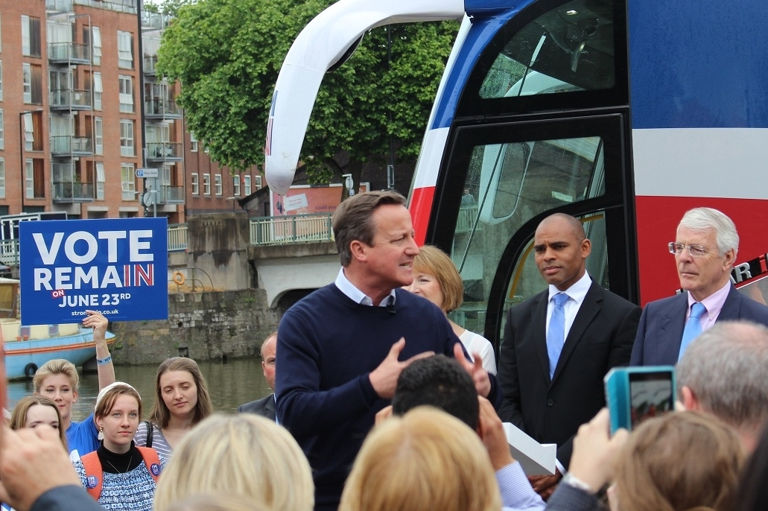 ---
Posted: Wed 22nd Jun 2016
As Britain prepares to go to the polls to decide our future in the European Union, both campaigns are making their final attempts to win votes.
The remain team toured several UK towns and cities in a bus. We joined it in on the way to Swindon and captured prime minister David Cameron on camera to ask him about his message for small businesses. Apologies for the blurry picture at the start!
This video was recorded the day before the EU Brexit referendum.
I'm a freelance content creator and event host who helps small businesses and the organisations that support them. I'm also Enterprise Nation's Local Leader for Bristol. I have 20 years of experience as a small business journalist having interviewed hundreds of entrepreneurs from famous names like Sir Richard Branson and Deborah Meaden to the founders behind brand new start-ups. I've worked for a range of leading small business publications and support groups, most recently as head of content at Enterprise Nation where I was responsible for the prolific output of content on the company's blog and social media. I now freelance for Enterprise Nation as the website's news reporter and as the host of the Small Business sessions podcast. I'm based in Bristol where I run and host regular events with the local small business community in my role as Enterprise Nation's Local Leader for Bristol. I also have strong connections with other major business organisations in the south west region. In total, I've hosted over 100 events including conferences with an audience of hundreds for international brands like Xero and Facebook and live web chats from inside 10 Downing Street. With my partner, I co-run Lifestyle District, a lifestyle blog focused on culture, art, theatre and photography.