BLOG
Content strategy for small businesses: Top tips and expert insights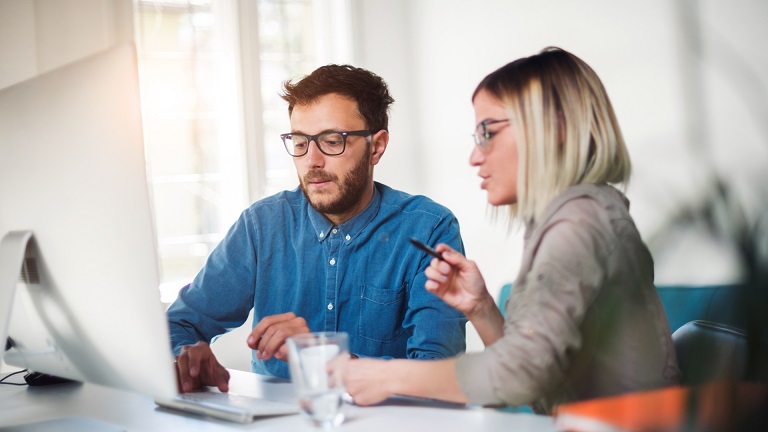 ---
Posted: Thu 26th Jan 2023
As a small business owner, content marketing might not be high on your list of priorities. But a successful content strategy can help you build your brand, drive engagement and, ultimately, make sales.
Read our guide to help you use content marketing to build your brand and reach new customers.
What is content marketing and why is it important?
Content marketing is all about creating engaging content that inspires customers to learn more about your brand, products and services. You're playing the long game in the hope that, once engaged, people will spend money with you.
But it doesn't stop there. Content marketing is important whether you're talking to potential customers or people you're selling to. Used in the right way, content is a great tool for both acquisition and loyalty.
Minal Patel, founder of Marketing with Minal, explains how "it's not just about selling these days – people want content that will inform, educate or entertain them".
It's all about providing added value and authority in your space, allowing you to build a brand that customers go to not only to buy something, but to learn more and be inspired. This makes it far more likely that they'll invest in your brand and product, rather than someone else's.
Ayo Abbas, marketing consultant and founder of Abbas Marketing, feels passionately about the role of content in building a brand:
"Content plays a huge role in promoting a brand. It gives an insight into who you are, what you do and what you want to be known for."
Minal Patel agrees:
"Many small businesses think that brand-building is for bigger businesses, but it's not. When you're the only person in your business, you are the brand. You need to help people understand your values, what you're about and whether you're the type of person they want to buy from."
Why do I need a content strategy?
Once you know the value of content marketing, it can be tempting to go in with all guns blazing. But to achieve cut-through, you need to deliver the right message in the right place at the right time.
Having a strategy allows you to be selective about the content you create, where you share it, and with whom. It's also more cost-effective, allowing you to engage those people who are more likely to convert.
Ayo Abbas explains how having a strategy "makes it easier and faster to create content that will appeal to your audience and helps to give you a structure." She also advises business owners to stay within their realm of expertise, and to share their knowledge with the aim of becoming a thought leader.
When drafting your strategy, consider:
where you can add the most value

what your audience actually wants to see

where you can provide authority
Your strategy also needs to line up with your brand vision and values. That way, everything is consistent, which is key when you're building a brand.
How can I build a content strategy?
Follow this four-step guide to get started…
Step 1: Set out what you want to achieve
Being clear about objectives will help shape your strategy and the type of content you produce. Maybe you want to drive more website traffic, build your social media presence or just get your brand out there? Whatever your goals, you need to know how you'll get there.
Step 2: Offer your customers value
What's your USP? What sets you apart from the competition and where can you provide authority? Map out your focus areas and make sure they line up with your specialism and customers' needs.
Step 3: Think about your key messages
What do you want to communicate to your customers? This includes what product you sell, but also the less overt messages, such as what you stand for. People buy from brands that resonate with them: having a content strategy allows you to convey your values while selling your product.
Step 4: Choose the content formats
Once you know what you want to say, think about how you want to say it. What type of content will your audience best engage with? Will you be producing blog content, video, or an email newsletter? Consider which formats best convey your subject matter and showcase your brand.
Common customer touchpoints
To get the most out of your content strategy, consider where and when your audience is most likely to engage. Think about how you can leverage existing touchpoints for some quick wins. And if a channel isn't serving you, invest your resources elsewhere.
As Minal Patel explains, understanding where your customers spend their time should be a priority:
"When you know where they hang out online and in the real world, that makes you smarter. Focus on these areas and don't waste time in places your customers aren't."
Touchpoints vary depending on where the customer is in their journey – also known as the marketing funnel. Delivering the right content at the right time is a fundamental part of content strategy and is essential to success.
Remember that consistency is crucial. Whenever, wherever and however customers engage with you, they should come away with the same impression of your brand and proposition.
Top tips for creating a successful content strategy
Live your mission and values
Be clear about who you are and what you stand for, and keep this at the core of everything you put out there.
Build a consistent brand
In case you need another reminder, consistency is everything! It helps build authenticity and recognition, which drives customer loyalty.
Prioritise your key messages
Know exactly what you want to get across. Prioritise your messaging, so you don't end up trying to say too much and overcomplicating things.
Know your audience
This applies to your content but also your overall brand. Don't try to be everything to everyone: understand your customers and create content to meet their needs.
If you're not sure what your audience wants to hear, take Ayo Abbas's advice:
"Think about what people are asking you on a day-to-day basis. Answer those questions and remember that those questions might change over time, which can give you an insight into trends."
Choose your channels
Don't just pick a marketing channel because it's popular and hope for the best. Appreciate how your customers like to consume content, then build your strategy around those areas.
Invest in expert advice
If you're looking for some help delivering or managing your content strategy, don't forget that members of Enterprise Nation's adviser community are always on hand to share their knowledge and experience, and love helping small business owners to grow.
A final thought from Minal Patel:
"Small businesses are closer to customers than big businesses are – we know their challenges intimately, we know more about them. It's a massive advantage and allows us to deliver stellar customer service."
Relevant resources
Enterprise Nation has helped thousands of people start and grow their businesses. Led by founder, Emma Jones CBE, Enterprise Nation connects you to the resources and expertise to help you succeed.