MEMBER STORIES
'Lockdown gave me the time and space to really think about my idea'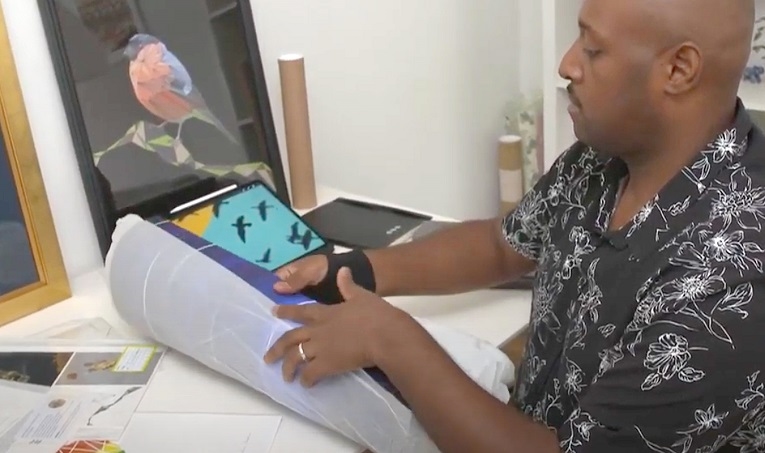 ---
Posted: Wed 18th Nov 2020
Artist Christian Azolan has had a busy few months.
After a work contract ended due to the coronavirus pandemic, he began creating digital illustrations. That hobby soon turned into a business as he used the downtime during lockdown to create a brand for selling his limited edition artwork online.
Christian, who has already sold more than 250 prints, also discovered the Amazon Small Business Accelerator and successfully applied for a place on a Bootcamp for home, leisure, gadget and gift businesses.
After a week of training, he has now launched his business on Amazon Handmade. The London-based entrepreneur shares his inspiring story.
The free Amazon Small Business Accelerator e-learning programme is advice from more than 30 business experts in 218 bitesize videos.
If you're already an Enterprise Nation member, log-in to your learning dashboard to access the e-learning.
If you're not an Enterprise Nation member, you can join the Amazon Small Business Accelerator for free here.
How did you come up with the idea for your business?
My idea came to me at the start of the lockdown in March. I wanted to marry limited edition print art and fine art illustrations and have my own online illustration prints on the high street. The original idea was about featuring artists and illustrators I love and also include my own art and illustrations as part of the mix.
As I studied fashion and illustration at college and university I knew how to create illustrations. Lockdown got me to amend my idea to start with my own online e-commerce shop and the idea grew from there. The reason I started this journey was that my contract ended as a university lecturer. Lockdown gave me the time and space to really think about the idea and refine it before launching it.
I spent 2-3 months researching everything including the website layout and creating a brand, logo, researching fine art printers, the paper, the packaging and the customer experience. I wanted everything to work well once I was live. It's never going to be perfect at launch, but I knew I could polish about publishing. Another vital element to the grand idea was that I wanted to do digital art as I didn't want to rely on art shop supplies if supplies got low or we faced another lockdown. To create my art I don't need paints, brushes, water, canvases, paper or specialist art tools. I invested in an iPad Pro, an Apple pencil and that's all I need.
I do all my illustrations on ProCreate and finish it off on Photoshop before sending to specialist printers in East London. I decided to go with a London printers as not only did I want to support the local economy, but I didn't want to rely on cheap printing from abroad, even if it is much cheaper.
What start-up challenges did you face and how did you overcome them?
The biggest challenge for me was understanding the art and illustration market and really getting to grips with how it works. Art is an emotion purchase. It's not a product that's based on need or necessity. It's an emotional purchase. I read a lot of books and blogs about selling art online, how the art market works and the psychology of creating, displaying and purchasing art.
Start With Why by Simon Sinek

Navigating The Art World - Professional Practice for Early Career Artists

What They Didn't Teach You In Art School by Annabel Tilley and Rosalind Davis

CreatingHub - How To Sell Art Online

CreativeHub - How To Show Your Work
After New York, London has the most art galleries in the world, but COVID-19 made things so tough. Not only were the galleries closed, which made it very difficult to get the attention of decision-makers, but I could not pop in and network and meet people. I knew that networking was key to getting into an art gallery, plus I enjoy face to face networking, but for the moment this area is a no go.
I knew that I needed to be on social media, not only to show my work virtually but also to meet other artists, home design influencers and direct customers. Being a one-man-band, I had to balance creating new art for sale, creating and setting up social media profiles on Facebook, Instagram, Twitter and Pinterest, plus managing art commissions for clients and building my website etc. This all took a long time to get to grips with. I was working 10-12 hour days to get things up and running.
When I first started, I knew that going down the gallery route would have to be put on hold, plus industry events like art fairs and networking events were all on hold due to the pandemic.
I decided to get on different sales channels for example I wanted to be on Amazon, Wayfair, Saatchi Art, iamfy.co etc. This way I could reach new customers without driving everyone to my personal website.
Having successfully got on Wayfair UK and Germany, Saatchi Art and iamfy.co, the only one left was Amazon.
It was daunting but this is where Enterprise Nation and the Amazon Small Business Accelerator came in. I saw the Bootcamp being advertised and I knew I had the time to complete it. The fact that it was a bitesize daily Bootcamp made it manageable and easy to get my head around. I could not do a full day course as I had so many other tasks to do, so the format was ideal for my situation. Also, when I saw that Amazon had a Handmade section I decided to apply as that very much suited my business.
Why did you decide to apply for the Amazon Bootcamp?
It was only a week's commitment.

It wasn't a full day course it was 2-3 hours a day.

I could rewatch the recordings, so if I missed something, I could watch it without needing to reply purely on notes.

It was free.

It was ideal for businesses like mine who were starting out.

It was specific to my industry and where I would be listed on Amazon so knowing other people on the course are in a similar sector made it more attractive.
What were the key benefits of the Bootcamp for your business?
It broke down the Amazon system like a giant puzzle in easy to manage sections.
It gave me an overview of how Amazon works, how you can set-up your account, how to list your first product, how to create ads, how to benefit from running promotions.
And the most useful part was the Q&A section at the end of each section was ideal. Some questions got answered that I was thinking about, and if didn't know I would ask via the live online chat, which made it real.
One of the highlight presenters was the founder of Manta Makes who has an Amazon Store. Her advice and openness about starting on Amazon, her struggles and her success was so inspiring. That was my personal highlight. I knew she had been in exactly the same situation as me and I could really relate to her journey.
What made the Bootcamp truly unique was the mix of very practical down to earth step by step guides to key speakers who could help in other ways.
What actions did you take after taking part in the Bootcamp?
I decided to watch some of the Bootcamp videos back and make a list of things I wanted to do before the end of October.
I decided to upload my art series and list all my products and give myself a goal of having everything listed by the end of October. That way I can focus on getting sales in November and December.
I opted for the Amazon Handmade section as my product fits nicely.
I'm now building my store on Amazon.
What is your strategy for making sales on Amazon's online store?
I made a list for success on Amazon by researching what works on the platform and building my shop and product listings:
High-resolution product images and alternative images to really show off my art

Great product descriptions, making sure to keep it practical, direct and informative

Look at the keywords, analytics and make changes to get more form the platform
Which Amazon Small Business Accelerator e-learning videos have been the most inspiring?
I found the module on 'How to advertise your products on Amazon' very useful.  It helped with understanding my data and knowing how to get the best from my Amazon advertising, as I don't have a huge advertising budget.
The videos taught me how to use my metrics to see the data to drive better conversions and how to get to grips with the insights and analytics. It also showed the importance of getting the right keywords to gain new eyeballs on my products listings.
The top tip I learnt was to run an auto keyword ad for two weeks, look at the data, see which keywords perform and run again, with only the top keywords.
What are your top tips for business success based on your experience so far?
Be honest, be open and learn every single part of your business, even the boring bits like tax and accounting. As an artist I like to do the art part of my business, but I also understand the numbers part.
Ask for help, reach out to people who are in the same boat as you. Get on social media and build a community around your products. I focus all my social on building fans of my work. I would rather have 1,000 real fans that I interact with than 10,000 followers who just like my stuff.
If you're not sure of something, take the time to learn a new skill no matter how scary it is. I was unsure about selling on Amazon but discovering Amazon Handmade and seeing how the retail environment has taken a drop due to the pandemic, I changed strategy and direction to be an online-only business. Prepare to be adaptable, if it means surviving.
The free Amazon Small Business Accelerator e-learning programme is advice from more than 30 business experts in 218 bitesize videos.
If you're already an Enterprise Nation member, log-in to your learning dashboard to access the e-learning.
If you're not an Enterprise Nation member, you can join the Amazon Small Business Accelerator for free here.
Hailing from the small Indian Ocean island Mahe in the Seychelles, Christian is a visual artist who specialises in digital, abstract and low-high polygon art. He is known for his ability to capture detail in polygon that push boundaries to merge drawing and illustration into a new visual art form. Christian was educated in the UK and calls London home. After completing a degree in fashion design at Ravensbourne College of Design and Communication he entered the corporate arena, working for large global companies as a brand marketer and content specialist. At the start of the UK pandemic lockdown when the world was thrown into disarray and confusion, Christian decided to take the leap and pursue a full-time career creating and telling visual stories and ideas through his art. Christian's art is heavily influenced by the complex mesh of 3D, line drawing, bright colours, and tonal matching. His current work is inspired by people, environments and nature and his series titled 'The Birds' released in October 2020 plays on the themes of freedom, fantasy and escapism in flight, against the backdrop of the ongoing global pandemic and lockdown measures. 'There have been times in my life where I wish I had the wings so I could fly away, and flow with the ever-changing wind to a new destination and live out new adventures.' His Light Fantastica series is about the power and beauty of illumination and 'A Loyal Heart' from his debut print series titled Matters of the Heart is one of his most successful artwork to date. This print is one of his best selling limited edition prints and is about love, friendship and trust. He has also added 4 new artworks to the series while being inspired by seaside towns and fishing villages on the Cornish coast. His most popular abstract prints from the new series include Padstow, St Ives, Night Lights, and Stars. His 2021 art series 'Genesis is an abstract series that's inspired by the light of a new day, and the creation of a new world. As we look forward, we have to take full control of our destiny, what do you want to see, feel and hear ? 'Genesis is about optimism, positivity, perseverance and the part we will all play in the 'new normal'. I want art to heal and the viewer to envision new possibilities, a new future, while evoking new emotions.' Breaking with tradition these artworks do not have a 'right way up', and with no identifiable marks on the prints, the collector is forced to participate and take control of how they want to view the artworks and interact with them in their personal space. His first new original mini series, San Francisco comprise of 8 gilded collage artworks that have been created using a 19 year old map that he used when he lived in the Californian city back in 2002. 'These artworks are just as much about the city as they are about me and what I discovered about myself while living 5,000 miles away from London at the age of 19' All of Christian's limited edition prints are printed in London on the finest Giclée Hahnemühle Bamboo or Photorag Fine Art papers. His professional art prints are made using the very best high definition equipment and finest materials, all overseen by master printers. Every print comes with a certificate of authenticity, signature, hologram and print edition number. Christian has joined the artist collective at Stewkley House Artist Studios in Perivale, Ealing where he has his own open art studio and is working on his first original series called 'Little Black Girls', where his experimenting with painting on photography, due to be released in Oct 2021. Christian has been featured in national, local, business news publications like the Metro, Channel 4, BBC, Daily Mail, Huffington Post, The Independent, Mail Online, Business Daily and Reuters International. In addition to his website, his limited edition artwork are available on Saatchi Art, Handmade on Amazon, Wayfair UK and Germany, Simply Noir, Curated Crowd and Roe River.