MEMBER STORIES
Chloe Gardiner to speak at Ballinasloe Drop-in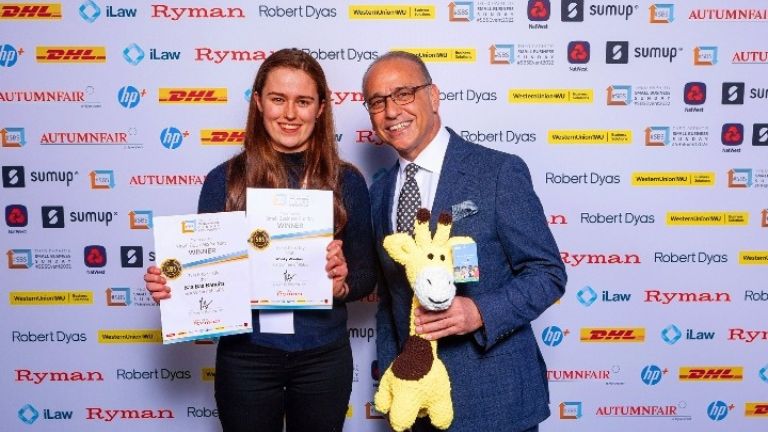 ---
Posted: Tue 5th Jul 2022
Enterprise Nation member Chloe Gardiner founder of Wonky Woolins and Baa Baa Bandits will share her small business story at the Go and Grow Online Ballinasloe Drop-in session on Thursday 28th July 2022.
At the age of nineteen Chloe has achieved a lot with her business and has deferred college for a year to put all her efforts into growing her two businesses.
We caught up with Chloe ahead of the event to find out what stage her businesses are at, and how she has found building her handmade soft toy and arm knitting wool ecommerce companies.
What stage are you with the companies now you have finished your leaving cert?
I kind of got to the end of the leaving cert and thought why go to college this year so I decided to take a gap year just to pursue the business and see where I could take it. I've been working with a business mentor, trying to get the sales opened up so I can turn it into a full-time business.
At the minute with Wonky Woolins I have just started working with a production partner and I just keep growing the business.
With Baa Baa Bandit I managed to get on Ireland AM to do a demonstration. It's really a business that operates best in the wintertime, in the summer sales are really low.
You have done some of the Enterprise Nation programmes, how do you find them?
I've done the Amazon Bootcamp and I've done a lot of the online course on PR and marketing; I do a lot of the Lunch and Learn webinars.
You are going to be talking at the Ballinasloe Drop-in session, have you planned what you'll share with the audience?
I'll be sharing my business story. I focus a lot on getting press for my business, so I'll be sharing how I have done this. Also how things have changed after my shoutout from Theo Paphitis.
How did you get involved with Theo Paphitis?
Every Sunday evening, he runs a competition where he chooses 7 businesses across the UK to take part in a competition. When he launched one for young entrepreneurs I entered, not really expecting anything from it, and I ended up winning it.
Give us 4 things you have learned from online training to help grow your business?
How to get featured.

How to get funding for my business in order to grow it, especially for Baa Baa Bandits, it needed a lot of money to go growing.

Advice on digital marketing - advice on how to grow on Instagram, how to get an engaged audience.

Building the website and making that message come across to people about we do.
---
On Thursday 28th July 2022 Enterprise Nation invites small business owners to step away from their desk and attend a free, in-person, business support event at Ballinasloe Enterprise Centre in County Galway.
During this event, hear from award-winning business owner Chloe Gardiner of The Wonky Woolins, as she shares her experience of building her brand, diversifying her business and selling online.
You will receive personalised support for your business through small group sessions and one-to-one consultations, understand how to leverage digital tools to help your business succeed and learn from branding, pricing and management specialists.
As part of this event, Go and Grow Online trainers Brian Cooney and Paddy McDermott will share their experience and tips for gaining success online and in your business.
Find out more about the event here.
---
About Go and Grow Online
Enterprise Nation are working with Microsoft, Klarna & Vodafone to support 20,000 small businesses across Ireland to improve their digital skills.
For more information on Go and Grow Online click here.
Enterprise Nation has helped thousands of people start and grow their businesses. Led by founder, Emma Jones CBE, Enterprise Nation connects you to the resources and expertise to help you succeed.