BLOG
Celebrating the Festival of Female Entrepreneurs: Julie Creffield, Too Fat to Run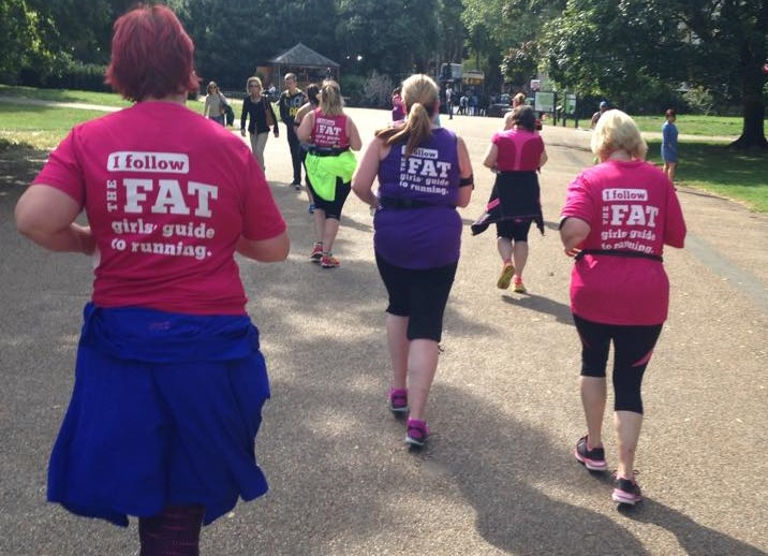 ---
Posted: Tue 18th Aug 2015
Julie Creffield was inspired to start her blog, The Fat Girls' Guide to Running, after finishing last in a race and finding the finish line had been packed away. She has since added a range of products and services that support her pioneering campaign to change the public's perception of larger women. Creffield shares the inspirational story behind her brand.
Julie Creffield is a keynote speaker at Enterprise Nation's Festival of Female Entrepreneurs in Bristol on 22 October. Join hundreds of fellow small businesses owners to be inspired by entrepreneurial speakers, meet advisers who can help your business grow, and attend workshops on topics including social media, sales and international trade. Buy a ticket here.
How did you come up with the idea for your website?
I had been running for about five years before I set up my blog, The Fat Girls' Guide to Running, and I was struggling to find information for running as a larger than average runner. There was loads of stuff about weight loss and running, but nothing about the psychological, practical and physical challenges of running as a larger woman.
One day after coming last in a 10K race and finding the finish line had been packed away by the time I reached it I realised I wanted to start talking about these issues. The blog was only supposed to track my journey for friends and family, but before long I had followers from all over the world.
A few years later after being made redundant from my job as a project manager on London 2012 I realised that there was potentially a business opportunity to be explored, and I relaunched the website with a range of coaching services and a range of merchandise.
How have you monetised the site?
The website is basically a shop front for my campaign, the services I offer and my TFTR clothing range, but I do get a little bit of traditional income like other bloggers via sponsored posts, affiliate offers and partnerships. My main income however is through consultancies with existing running organisations like England Athletics and Race for Life.
I have a members only part of the website called The Clubhouse which is billed as the world's first virtual running club for plus size women. Membership is steadily growing with members from three continents, and next year I will be recruiting coaches from around the UK and further afield to become official TFTR coaches using a license model.
What challenges did you face when starting the business and how have they changed as it has progressed?
My initial business idea was met with scepticism from many at the start, especially male business advisers who just didn't get the 'fat' aspect of it. Some believed that you couldn't make money from a blog and that this was an ego trip, a hobby perhaps but not a business. But I saw its potential and strived ahead anyway knowing what impact it could make to women struggling with their health and self confidence.
I found pricing my work quite difficult. Because I had been writing the blog and supporting women for a while without charging anything for my services, it took a while for me to start charging people properly and basically I still had the urge to give a lot away for free or at too low a fee, however I realised this wasn't sustainable in the longer term and I now understand my value and the value of my brand.
I also tried to do everything (and I mean EVERYTHING) myself in the first few years, where as now I have a trusted network of freelancers to help with design, IT, PR and finance and a semi structured board of advisers with specific expertise to help with the strategic direction of the company. This has enabled me to focus my time better on the business instead of in the business, although you can still often find me packing t-shirts into bags and queuing up in the post office.
How do you market the website and engage with potential members?
The blog grew very organically in the first few years, and I managed to build a lot of PR opportunities for myself. The site went viral in the US just by sending out a press release to a press release distribution service, costing me about $20. I am now seen as a global plus sized fitness expert and am often asked to comment on things in the media, making regular appearances on radio and TV for BBC, Sky, and Channel 4. In the spring this year I secured a six week feature with ITV's This Morning, where I led a '5 weeks to 5k' get the nation moving feature which really secured my expert role.
The great thing about my brand is its something people want to talk about, lots of members come via friends recommending it, my Facebook community reached 10K followers recently and that acts as a great recruiter. I also attract a lot of new interest when people see larger ladies wearing my Too Fat to Run running vests; they get a lot of attention.
Which other entrepreneur inspires you and why?
I am of course inspired and influenced by well known global entrepreneurs but I am more inspired by ordinary people who have a seed of an idea that has the potential to change the world and basically just give it a go, almost making up the rules as they go along.
I am in awe of Paul Sinton Hewitt, the founder of parkrun. He took the simple idea of holding a free 5K time trial every Saturday in one park in London to a global phenomenal which has transformed the running world, with close to 700 venues, over 1m participants, and always holding tight to the guiding principles he set over 10 years ago.
How successful do you believe you have been in changing the public's perception of larger women?
I think there is still a long way to go, but I am happy to be in a position to at least ask a different narrative. Imagery in the sports world of women, as in the fashion world, is warped. If sports and leisure marketing was to be believed sport and exercise is only for women who already have a kicking body, and have a swishing pony tail and non glowy face to boot. The reality is overweight women still get heckled in the street and made fun of in gyms, and mainstream sports brands do not cater for our larger bodies which is quite a bold statement about our place in this industry.
But all of this drives me to do things on my terms and make it happen despite all of this. There is a pressure though to look a certain way as a successful female business owner that men don't seem to have to conform to. People still associate fat with lazy and stupid, and as a marathon runner with a first class degree and successful international business I hope I do go some way in dispelling this myth.
Do you think enough is done in the UK to support female entrepreneurs?
No I don't. We are never really encouraged as women to be entrepreneurial or consider business as an option, even when we display the aptitude for it. Often we have to fight to make people believe that we can do it, and then we wait for the circumstances to be right or absolutely hellish (like being made redundant and becoming a new single mum) before we get things off the ground.
On the flip side though women are great at seeking support and help from each other and making things happen even without the right 'official' support in place. That being said I could spend my whole working week in and out of networking events and showcases whilst the men out there are just busy building and growing their business. Sometimes you just have to stop the moaning and wishing that things were easier and just get on with it.
What are your three top tips for business success?
Be yourself. Celebrate what makes you you and build a brand around what it is that makes you unique. That way you will always be authentic and have an honest interesting story to tell

Try not to worry too much about what others think about you as you can drive yourself nuts trying to please everyone. Know why you are doing what you are doing and people will get it. Those that don't can take a run and jump

Never lose sight of your profit margins. No amount of profile or public praise is going to pay your suppliers or your mortgage. Come to think of it, it's easy to do things for the love of it, but then that just makes doing the difficult stuff tough because you are watching the pennies. Know your worth and don't be afraid to charge it
Enterprise Nation has helped thousands of people start and grow their businesses. Led by founder, Emma Jones CBE, Enterprise Nation connects you to the resources and expertise to help you succeed.