BLOG
Britain's female entrepreneurs and their relationship with money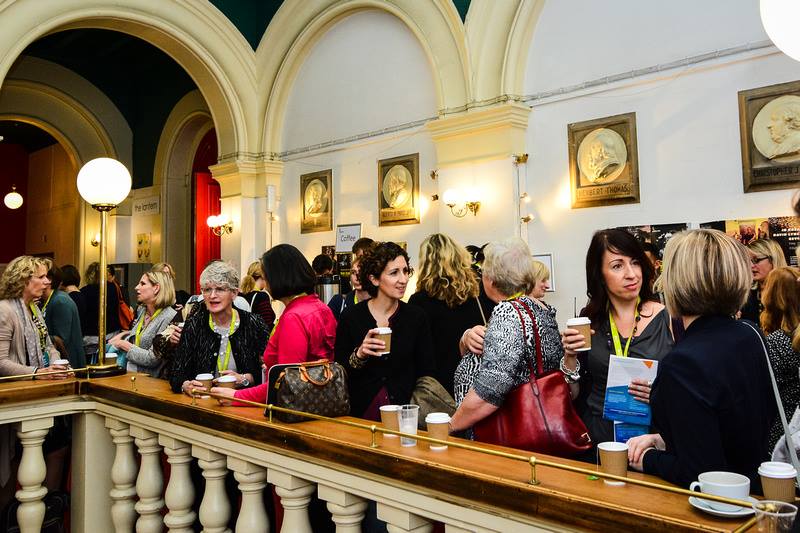 ---
Posted: Tue 23rd Aug 2016
There has been much agonising over the years with figures and research showing women as risk-averse when it comes to raising money and growing a business. Ahead of a panel that will discuss this very topic at the Festival of Female Entrepreneurs in Bristol on 21 October, Enterprise Nation founder Emma Jones has been asking experts and business owners for their view on the current state of female fund-raising.
Is it the men who drive growth?
I started my first business (a dot com company in 2000) with a male business partner and will never forget our adviser saying early on: "When you make money in this business, your partner will want to spend it on a fast new car and you'll want to put it back in the business."
The inference was that I, the female co-founder, would want to put hard-earned winnings back into the housekeeping pot to save for a rainy day, whilst my male business partner would have the confidence to go out and spend, safe in the knowledge that growth would continue. We never got the chance to find out as we successfully sold the company 18 months later. Those words, however, have stuck with me for 15 years as I've pondered the relationship between women and money.
Questions I've asked myself include:
'Do women raise money less than men and in smaller volume?' And if so, why?

'Are women simply more risk averse and feel taking on debt is a step too far?'

'Is the desire for a woman to grow a business the way she would run a household a barrier to growth, i.e. not wanting to risk the family silver by overstretching the finances?'
These are the type of questions that will be asked on stage at the Festival of Female Entrepreneurs on 21 October in Bristol when a panel of experienced fund-raisers and an entrepreneur who has chosen to grow without raising money will debate the female appetite for risk and answer the question of whether a lack of fund-raising by women is holding back entrepreneurship in the UK.
Ahead of time, I've taken a glimpse at the female funding scene today; quizzing organisations from Start Up Loans to crowdfunding platforms on their volume of applications from women, and asking women business owners for their views on raising and managing cash.
Points of progress
The situation certainly appeared glum in 2013 when the Enterprise Research Centre reported:
"Sources of finance for male and female led businesses are very similar, but studies show that women-owned businesses start with lower levels of overall capitalization, use lower ratios of debt finance, and are much less likely to use private equity or venture capital. There is also evidence that initial under-capitalisation, which is more likely to be experienced by women-owned businesses, has a long term effect constraining future business growth prospects."
Do we face better prospects in 2016? I'm pleased to report that from conversations thus far, the picture today looks much brighter!
Money to start
'Only raise money when you really need it'. This is a line I've uttered to thousands of start-ups over the past decade and reflects my own view which is: raising money when you start a business can put you in a precarious position.
Based on experience of starting two companies, I believe a start-up needs time to determine its sense of direction and this can become complicated if you have others (i.e. funders) in from the outset, as the direction of travel can become theirs, not yours!
The second reason for advising against raising cash too early is because the best businesses I see are those that start and grow based on making sales. This is an approach taken by Dr Asha Patel who self-funded her start-up: "Within months of starting my business, I won a contract for £24,000 which has secured the business financially so I don't have to inject my savings. I did consider investment and loans but decided to let the business grow organically to give it a secure foundation. However I am a social enterprise limited by shares so there is the opportunity in the future to secure investment."
There will be many who disagree with my viewpoint of not raising money too early and claim the cases of companies that need to raise funds quick and fast to dominate a market or that money is required for premises, stock or people, but I remain committed to the view that starting out by making sales and testing the model is the best way to start; ideally by your own means.
If you do need a small amount to get going, the government backed Start Up Loans company has money to lend and confirm: "By 2015/16, 41% of lending by volume was going to women, although average value of loans to females is lower than that to males" i.e. women may be borrowing slightly less but they are responsible for almost half the lending.
An ideal combination of raising funds whilst making sales, and without offering equity or having to re-pay a loan, is reward based crowdfunding, and its benefits could explain why this form of funding has proven to be incredibly popular. By uploading a project to platforms such as Crowdfunder, Kickstarter or Indiegogo, you call on the crowd to back you and provide the funds required for starting out. If you hit target, you raise profile, make early sales, and gain a group of brand marketing fans. It's a win/win situation and Jess Ratty of Crowdfunder says "in the last month, 66.57% of our users were female"; go girls!
Money to grow
This is where the picture gets a little more complicated. When it comes to raising larger sums and offering equity, the number of women taking this route to finance does tend to drop.
"We would love to see more ladies getting into equity crowdfunding", said one well-known platform, and figures on venture capital funding consistently show lower levels of women owned businesses raising funds.
One reason offered for this is the lack of women making the investment decisions. Festival of Female Entrepreneurs panellist and chief executive of the UK Business Angels Association, Jenny Tooth, is a national champion for encouraging more female angel investors, to increase the current figure of 14%, in the belief that more women investing will mean more women get invested in!
Support to start and grow
Whether raising funds to start or grow, there's one comment that appears constant, which is the need to understand company figures and get professional advice to raise money.
Gary Turner is UK co-founder and managing director of Xero and knows all about the importance of being on top of the accounts. He says: "Crowdfunding, peer­-to-peer lending, government grants and loans, venture capitalists, angel investors and more offer a raft of possibilities when it comes to raising money. Irrespective of your gender, age or the type of business you have, whoever lends you money will want to know you're serious about investing it to grow your business.
"That means you need to know your numbers, and know them well. Use smart and affordable technology, like cloud accounting software, to take advantage of real-time business metrics. This will focus your mind on the financials from the outset and help convince lenders that you have a solid business plan."
Bev Hurley, CEO of business consultancy YTKO Group and an angel investor, is another panellist who has agreed to debate the topic and is a supporter of the case that raising money is both a man and woman's game; you just have to be prepared.
"Women raising money is an interesting topic. It has always been said that women under-capitalise their businesses, and that this is a significant gender difference. I think to some extent that is right, partly women don't have the same asset levels to back a business, and are unlikely, for example, to put their home up as collateral.
But it isn't simply down to risk aversion and the implication: scared women, which is often how it is simplistically portrayed. They lack the skills to accurately assess the times and costs of getting to (or growing) their market and generating sales, and actually that's a problem across both genders.
"Having raised over £50m for clients, including micro-finance, Startup Loans, debt, crowd, asset, and private equity, with a 98% success rate, even those who have been previously rejected; it's all about being investment ready. That involves robustly validating the market first to de-risk the business proposition."
There are some clear conclusions showing through:
The rise of crowdfunding has opened up a new and significant fund-raising channel

Women and men need to have a strong grasp of their financial position to secure money

There is work to be done in encouraging more women to make investment decisions
What do you think?
Please contribute your views to the conversation by offering a comment below, tweeting with #FFE16 or joining us for the live discussion at Festival of Female Entrepreneurs on 21 October in Bristol. The full panel is:
Jenny Tooth, CEO, UK Business Angels Association and angel investor

Debbie Wosskow, founder, Love Home Swap who has raised £12m in five years

Helen Lacey: founder, Red Berry Recruitment which has grown, without external finance

Bev Hurley CBE, CEO, YTKO Group and women's entrepreneurship specialist

Jazz Gakhal, director of Direct Line for Business
Related content:
Enterprise Nation has helped thousands of people start and grow their businesses. Led by founder, Emma Jones CBE, Enterprise Nation connects you to the resources and expertise to help you succeed.