BUSINESS NEWS
Britain home to booming 'silicon suburbs' as UK tech sector outpaces wider economy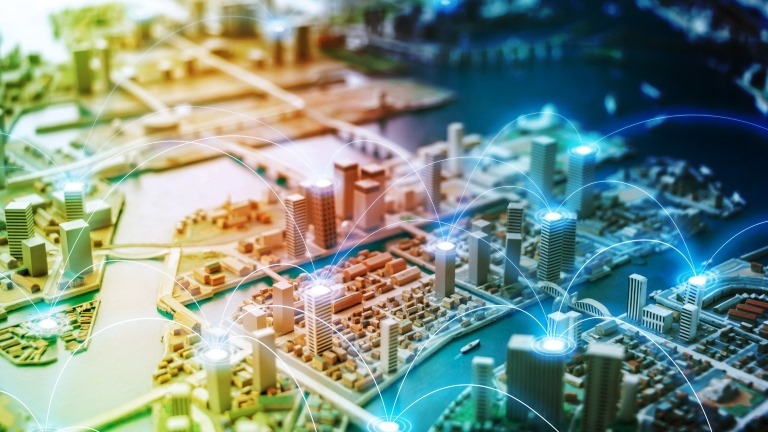 ---
Posted: Wed 16th May 2018
The UK's technology businesses are growing at more than twice the rate of the rest of the economy with new tech hubs developing in towns like Burnley, Telford and Cheltenham, new figures reveal.
According to the annual Tech Nation report, turnover of digital tech companies grew by 4.5% in 2016-17 compared to UK GDP which increased by 1.7%.
The sector is worth £184bn, up from £170bn in 2016 and tech employment is increasing at five times the rate of the rest of the economy.
British tech competes well on the global stage with London the third best tech ecosystem overall and the second most connected behind Silicon Valley when measuring the percentage of etrepreneurs from other countries who know an entrepreneur overseas.
Productivity is high in many tech clusters, led by Bristol, described as a "productivity powerhouse", where each employee generates £320,000 of turnover. In London it's £201,000.
But while cities remain responsible for most of Britain's digital tech business turnover, tech hubs are also appearing in smaller towns which have a higher proportion of tech employment than the UK average.
The report cited 16 towns where this is happening:
Basingstoke

Burnley

Slough and Heathrow

Livingston

Stevenage and Welwyn Garden City

Guildford and Aldershot

High Wycombe and Aylesbury

Southend

Enniskillen

Telford

Cheltenham

Stafford

Huntingdon

Swindon
Eight cities - Portsmouth, Bristol, Cambridge, Southampton, Oxford, York, Salisbury and Bath - have above average tech employment, which Tech Nation said demonstrates how UK tech is spreading beyond more established locations like East London and Manchester.
The report also found that informal tech-focused meet-ups are playing a major role and acting as the "hidden underwiring" of UK technology.
1.6m people in 283 locations across the UK belong to 3,627 tech meet-up groups. Artificial intelligence is becoming more important with 16% of the 400 meet-ups with the largest membership focused on it.
Blockchain is popular in Manchester with 151 meetups and 62,000 members, while a strong data science community is present in London.
Optimism
Tech Nation said Britain's "tech communities remain resolutely optimistic about the resilience of the UK's digital ecosystem" despite challenges such as Brexit.
Indeed, Britain leaving the EU was only cited as a top three challenge in Cambridge and London.
More than 3,400 people from the tech sector responded to a survey as part of the report with over 70% predicting an increased number of digital tech businesses in their local area over the next 12 months.
Digital secretary Matt Hancock said: "Our world-leading tech firms are growing fast and creating the high-skilled, high-paying jobs of the future. They are a hotbed of innovation, creativity and entrepreneurial spirit.
"This is a huge success story, and we are working hard to make sure the benefits of digital technology reach every corner of the country as we build a Britain that is fit for the future."
Embracing diversity
But the tech sector does face several challenges and one is diversity.
While 15% of those in tech jobs are of black, Asian or ethnic minority origin compared to 10% of all UK jobs, 19% of the digital workforce is female, which is much less than the 49% overall.
In addition, when members of the tech community were asked to name the most influential tech figure in their local area, only 11% of the people highlighted were women.
The report encouraged businesses to embrace diversity and learn from those that already are such as video advertising company Unruly.
CEO Norm Johnston said: "With almost half our exec and management team being female, diversity is the fuel glue that holds our business together, and the fuel that allows us to keep innovating."
UK's tech sector challenges
When tech businesses were questioned about their main challenges, access to talent topped the list, cited by 55% of respondents.
Second was finding funding, named by 40% of respondents. With 32% complaining about access to finance last year, it suggests it's an increasing problem, particularly outside London and the South East.
The third most popular issue was bad transport links.
Eileen Burbidge, partner at Passion Capital and chair of Tech Nation, said: "From fintech to healthtech, self-driving cars and artificial intelligence, the UK's digital tech sector is having an impact on every aspect of our daily lives and economy.
"Tech Nation's survey of the industry shows that confidence and optimism is high, but it is important for us to keep supporting this sector and give British companies the best chance they can to grow and scale."
I'm a freelance content creator and event host who helps small businesses and the organisations that support them. I have 18 years of experience as a small business journalist having interviewed hundreds of entrepreneurs from billionaires like Sir Richard Branson to the founders behind brand new start-ups. I've worked for a range of leading small business publications and support groups, most recently as head of content at Enterprise Nation where I was responsible for the prolific output of content on the company's blog and social media. I'm based in Bristol where I run and host regular events with the local small business community and have strong connections to major business organisations in the south west region. In total, I've hosted over 50 events; from intimate meet-ups to conferences with an audience of hundreds including events for international brands like Facebook and Xero. I'm also a big fan of podcasts having hosted Enterprise Nation's Small Business Sessions as well as lots of online events including Facebook Live interviews, webinars and three live web chats from inside 10 Downing Street. With my partner, I co-run Lifestyle District, a lifestyle blog focused on culture, art, theatre and photography. I'm here to help. I'm volunteering free advice calls of up to an hour as part of the Recovery Advice for Business scheme, over the next 6 months. Please get in touch to see how I can help your business.