BLOG
Brand design for small businesses: Cost-effective ways to get recognised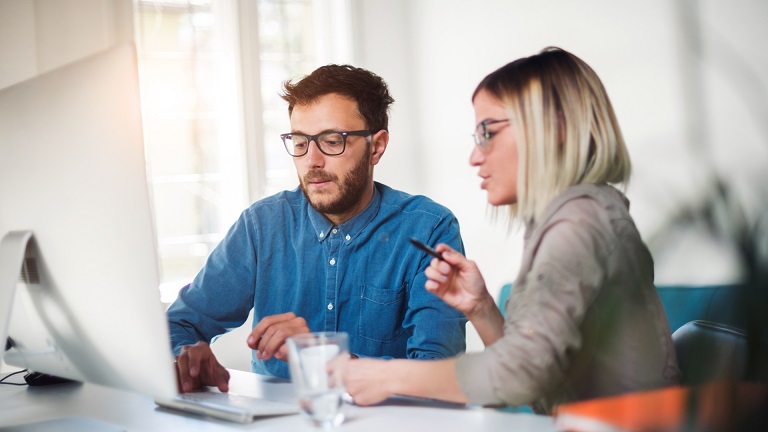 ---
Posted: Thu 26th Jan 2023
Small businesses are always looking for low-cost ways to stand out from the competition and get their brand recognised. Creating consistent and engaging content is vital to building a brand identity, but when you don't have in-house designers, it can feel overwhelming and expensive.
But it doesn't have to be. In this blog, we explain how to get to grips with the basics of design and build your brand with the help of some useful online tools and the Enterprise Nation adviser community.
Why is design important?
Design is important because it has a big impact on a customer's impression of your brand and product. No matter what business you run, at some point you'll need to create a visual identity, and one that generates a positive reaction from anyone who encounters it.
Great design should communicate your brand personality, key messages and product or services in an engaging, visually-pleasing way. It should complement any written content you produce and elevate your product or service to help you stand out in the market.
Lisa Clunie, Enterprise Nation adviser and founder of Thriving Brand, explains how "most people are visual these days and don't read as much as they used to". She notes that people respond to colour, which, when paired with typefaces and logos, allows customers to instantly recognise a brand:
"You have milliseconds to get someone's attention. It's such a crowded market, so your creative needs to be different from everyone else's and uniquely yours to help build your exposure."
Design isn't just vital in representing your brand and looking good, but also for accessibility. Clever design is both inspiring and easy to understand, and should make it clear to the customer what you're trying to tell them and what they need to do next. Even if someone is seeing your brand for the first time, your design should incite them to find out more.
What does it mean to build a brand identity?
Your brand identity is the customer-facing part of your business, telling them who you are and what you stand for and defining the content as yours. It also allows customers to invest in more than just a product, which is so important in busy marketplaces.
Lisa Clunie talks about the importance of knowing your own identity and what you want to say, before you even think about designing:
"You have to know what your foundations are and what messages you want to put out there. Then you can put together a brand strategy."
She also advises businesses to really understand who their audience is, because not everyone is your customer. Knowing who you're talking to will inform your creative, even down to use of colour, so you need to get this right first.
Design helps you stand out from the crowd, gives you a point of difference, and allows you to communicate your personality and values. Your look and feel helps to identify your brand and content, so that customers recognise you.
But don't forget: what you say and stand for matters too. Matt Burton, creative director at Rusty Monkey and Enterprise Nation adviser says:
"You can design nice things but they may get lost in everyone else's nice things! If you're saying something more meaningful, that's what gets you the cut-through."
Why is consistency important?
Once you've established a brand identity, you'll need to apply this to everything you produce. This gives you ownership, making your content uniquely and recognisably yours, and makes sure that customers know what to expect.
It also helps to build loyalty and advocacy. You want customers to not only buy your product but invest in your brand too.
Consequently, your content should fall in line with, and reinforce, your brand identity – that includes everything from logo, fonts, colour palette and graphical elements to the style of the imagery and photography you use.
Consistency is also important in building integrity and authenticity, as Max Lilley, creative director and founder at Bite Design, explains:
"People see brands as an extension of their family and friends. Consistency is hugely important for customer loyalty.

"You can't expect to build a brand in six months or even a year. It takes a long time and it's about building a reputation."
Matt Burton also encourages businesses to make sure all their touchpoints are consistent, in order to maintain trust from their customers. He explains how a jarring asset that isn't on-brand can derail customer engagement, even if everything else has been consistent.
"If everything looks different, customers might question your overall brand identity and values, or not recognise your content at all. To be a voice of authority in your chosen space, consistency is key."
One practical tip Matt shares to stay consistent is to use templates as much as possible. This will save you time and make sure you're applying the same standards throughout.
How can small businesses stand out using effective design?
With so many businesses out there, finding a design that cuts through the "noise" can be challenging. So how can you stand out from the crowd and create content that connects with people?
Max Lilley encourages businesses to:
"…take inspiration from everywhere, even outside your category and industry. The whole idea of creative design work is to incite an emotion – you want to spark that visceral reaction from someone. So find your audience and do research into what they like."
Max also explains how:
"…colour, typeface and imagery are the real building blocks of brand identity. Get those right and consistent, and carry them through everything you do."
If you're trying out design for the first time, Matt Burton suggests you try and learn a little bit about visual hierarchy and keep everything to a minimum.
"You don't have to keep creating – lean on the assets you've already got. Once you start putting stuff out there, build a library of what performed well and think about how you can repurpose it for another platform or at another time of year."
Lisa Clunie has similar advice for small business owners who might be feeling overwhelmed:
"Don't overload yourself or try to run before you can walk. It's important to get the foundations of your brand right first, because you can't build a brand or design a logo or website without knowing what you want to say and how you'll say it."
Relevant resources
Enterprise Nation has helped thousands of people start and grow their businesses. Led by founder, Emma Jones CBE, Enterprise Nation connects you to the resources and expertise to help you succeed.