BLOG
Best of 2022: The top Enterprise Nation e-learning courses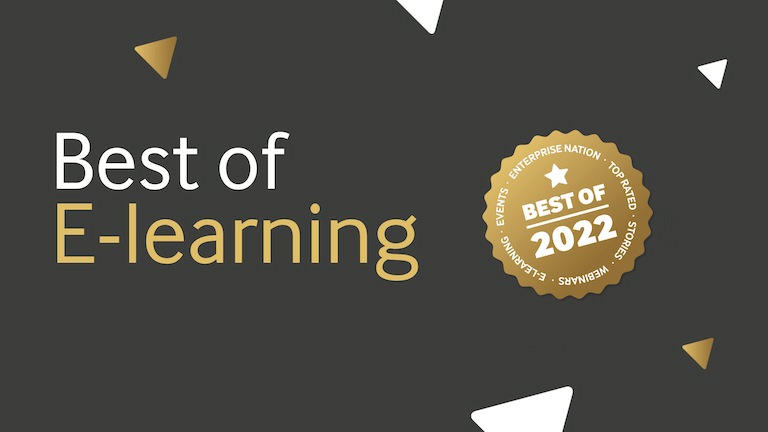 ---
Posted: Fri 23rd Dec 2022
Enterprise Nation's e-learning courses have resoundingly delivered in 2022.
With more people than ever coming to Enterprise Nation for support with starting or growing their very own businesses, the e-learning material on the platform has obligingly stepped up a notch.
Here to take you through their top five courses of 2022 is none other than our e-learning supremo, Roisin Skinner.
Be sure to have a good look through the full complement of e-learning sessions here.
---
business.connected: How to get started with social media advertising
Enterprise Nation has partnered with Vodafone Business to equip 800,000 small businesses over the next three years with the digital skills they need to take their operations to the next level.
In this session, find out how social media advertising can help drive brand awareness, engage your audience, and increase conversions.
StartUp UK: Five key things to include in a business plan
This series of e-learning modules, as part of the StartUp UK programme, helps you turn your good idea into a great business.
Writing a business plan is one thing, but do you know what to include in it? This session covers the key elements of what to include in your plan and how to tailor it to your business.
Why is WhatsApp business so powerful?
Enterprise Nation and WhatsApp have joined forces to educate and support small businesses on the benefits of implementing and using technology, such as WhatsApp's free Business app.
Learn why many businesses are now using instant private messaging to connect with customers, and find out how to use the WhatsApp Business app to better engage your customers and grow your enterprise.
Next Gen: How to use marketing and PR to boost your sales
Next up, we have the Next Generation programme, where you can access e-learning videos, money-saving offers and inspirational events, as well as networking opportunities with fellow founders and experts, all to support you on your entrepreneurial journey.
Marketing & PR is a large part of the Next Generation programme, and in this video, you'll receive plenty of techniques and tips to get started.
business.connected: What search engines are looking for from your page
Back to our old friend business.connected, and this time we're looking at all things SEO.
Here, Emma Goode provides an overview of how to optimise your website in order to fly up Google's search rankings.
Enterprise Nation has helped thousands of people start and grow their businesses. Led by founder, Emma Jones CBE, Enterprise Nation connects you to the resources and expertise to help you succeed.